Grace Learns Her Mom's Identity On 'Scream Queens'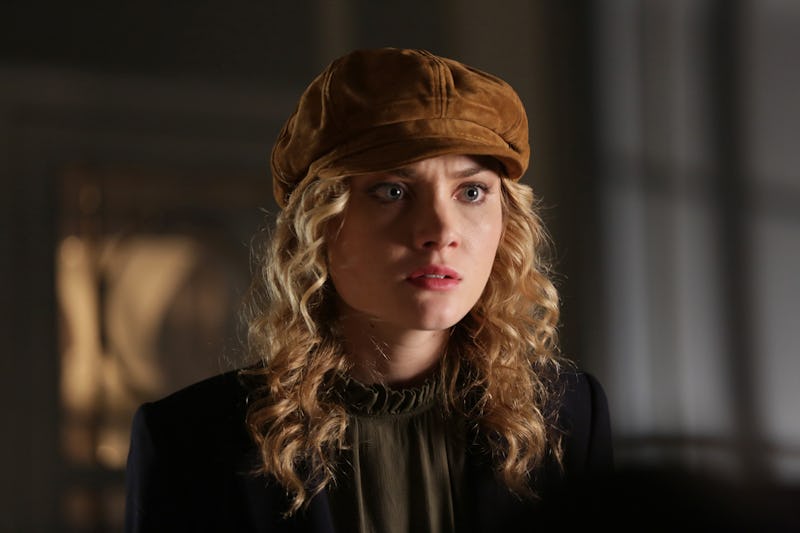 Grace has expressed multiple times that she wanted to join Kappa in order to feel close to her deceased mother, a former Kappa Sister at Wallace University. Little did viewers know that we'd already met Grace's mom on Scream Queens. In fact, she appeared in the opening scene that was set in 1995 — and she made quite an impression. Remember the blonde who was seriously irked that Sophia gave birth in the bathtub because it could potentially ruin her opportunity to jam to "Waterfalls"? As Grace learned in the Nov. 10 episode "Mommie Dearest," that woman is her mother and, as it turns out, Wes was also at the party that night.
Hellbent on taking down Zayday and Grace, Chanel obtained a lengthy criminal record detailing the actions of Grace's mom. After leaving Wallace, she changed her name from Bethany Stevens to Mary Mulligan and married Wes. But her attempt at a clean slate was short-lived, and she was arrested multiple times for crimes including larceny, DUI, and possession of methamphetamines with the intent to distribute. She eventually died in a car accident while under the influence. Grace was devastated to learn that her mom was so different than the person she imagined — and the fact that she had to hear all this from Chanel made it downright unbearable. Chanel totally reveled in delivering the news, until Grace did something completely unexpected and slapped her in the face.
When Grace confronted her dad (who is looking sketchier by the minute), he admitted that their house did burn down — but he committed arson because he wanted to destroy all the evidence of what sort of person Grace's mom was. And he finally provided the "real" reason he didn't want Grace to join Kappa. As he put it, the sorority represented "the worst" of her mom. However, at this point, I'd venture a guess that Wes didn't want Grace in Kappa House because he knew she'd eventually uncover far darker truths. He was at the party that night, and he probably has a whole lot of information about the bathtub baby and Sophia's death that he's not sharing — possibly because he was directly involved.
Grace gives Wes a warning that, since she is her mother's daughter, he should stay far away from her if he wants to protect himself. She's also now figured out that Gigi must have known her mom — as if the dynamic between Grace and Gigi wasn't strained enough already. But now the real question is, how many other secrets is Grace's dad hiding? He claims that he only lied to protect her, but it seems far more likely that he's trying to protect himself.
It was a pretty rough day for Grace, but it ended with Chanel attempting to bond with her over their awful mothers. Both of Chanel's older siblings were disowned, and she was forbidden from attending her high school graduation because she had a zit. (Harsh.) I'd like to think that Chanel is being genuine this time, but Grace should be very, very wary — she's been let down by enough people this season on Scream Queens.
Image: Patti Perret/FOX