14 Books All Hufflepuffs Will Love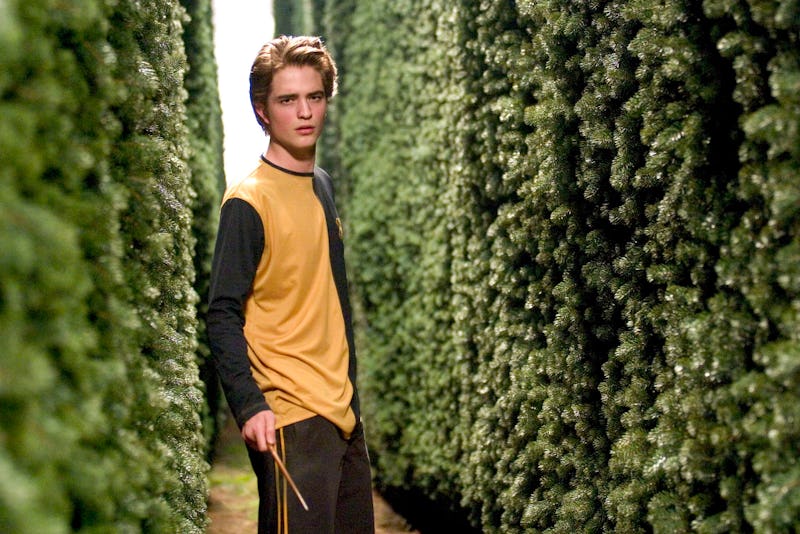 Inclusive. Hardworking. Dedicated. Kind. Loyal. Patient. Good at finding things. Do these traits sound familiar? If you're a Hufflepuff, you probably try to emulate all of those wonderful qualities each day. Though some might put down this Hogwarts house, J.K. Rowling herself once said that "Hufflepuff is my favorite house in some ways." After all, as we know, the Hufflepuffs all stayed to fight in the Battle of Hogwarts not to show off, but because it was the right thing to do. So, go Hufflepuffs!
If you would be sporting the canary yellow and black colors of this house, those great traits aren't the only things you would have in common with your fellow Hufflepuffs. You might also have similar taste in books.
Your hardworking, patient personality means that you're not afraid of picking up a super long and challenging novel. Your loyalty means that you'll stick with a series until the very end. And your tolerant nature probably means you don't love just one genre — you enjoy trying lots of new things, even when it comes to reading. So sit back with one of these picks and enjoy! (PS: The Hufflepuff common room would definitely be the best one for cuddling up with a book on a rainy afternoon.)
1. Anne Of Green Gables by Lucy Maud Montgomery
Would Anne be a Hufflepuff? Probably. She's loyal, enthusiastic, inclusive, and kind, and for the patient readers out there, here's an entire series to claim your attention. I recently reread the first in the series and couldn't stop laughing out loud — it doesn't matter what age you are; this series is sweet and poignant and will leave you with a smile on your face.
2. The Five People You Meet In Heaven by Mitch Albom
In my mind I associate Hufflepuffs with people who have a lot of friends and are good at relationships — probably because, who wouldn't love a Hufflepuff? Anyway, for those Hufflepuffs interested in relationships and how people fit into one another's lives, this is an interesting read. Eddie wakes up in the afterlife, and five people from his past explain the meaning of his existence.
3. The Guernsey Literary And Potato Peel Pie Society by Annie Barrows and Mary Ann Shaffer
Another book about relationships, this epistolary novel follows a British author struggling to find writing ideas post-World War II and the story she finds on the island of Guernsey. It's equal parts sweet, sad, and thoughtful, and by the end you'll be completely swept away.
4. Eleanor & Park by Rainbow Rowell
This sweet YA love story is a great pick for Hufflepuffs who especially value inclusivity. Offbeat Eleanor is having trouble fitting in at her new school, until she bonds with comic-book-reader Park as they sit side-by-side on the school bus. This sweet story will win your loyalty for sure.
5. Persuasion by Jane Austen
In my opinion, this is one of the most romantic books of all time, and Hufflepuffs who are big on loyalty will certainly appreciate the sentiments expressed by Anne Elliot and Captain Wentworth. When the novel begins, these two characters reconnect after a rejected proposal and years spent apart. Are they still in love, or is what they had lost forever? Just read it. Especially the letter at the end. You'll want to frame that on your wall for sure.
6. Now That You're Here by Amy Nichols
This quick YA read is a fun, fast-paced story about a kid named Danny who slips into an alternate universe, and a girl named Eevee who is his only hope to get back. Hardworking Hufflepuffs will appreciate Eevee's dedication to science and her promise to help Danny get back to his home.
7. Dangerous Girls by Abigail Haas
So, you're a Hufflepuff, and you value loyalty? In this YA thriller, you'll spend the whole book trying to figure out who to trust. Protagonist Anna is having a great time on spring break in Aruba with her boyfriend Tate and her best friend Elise — until Elise is found murdered. And Anna is accused. I stayed up all night reading it because I, like Anna, had to find out who were her real friends and who wasn't worth her loyalty. Chilling.
8. The Ocean At The End Of The Lane by Neil Gaiman
For those Hufflepuffs who get a bit nostalgic looking back on childhood, try this novella by Neil Gaiman. The narrator returns home, and ends up remembering his (dark and creepy) past. If you enjoy reading about relationships, but you also have a taste for darker lit, this one's the perfect pick.
9. Love In The Time Of Cholera by Gabriel García Márquez
OK, let's talk about loyalty again. Is there anything more romantic than lovers tragically separated for years? Answer: Nope. If you agree, this love story about Florentino Ariza and Fermina Daza is for you. The prose is beautiful, and a patient Hufflepuff is the perfect person to appreciate all that the story has to offer.
10. A Tree Grows In Brooklyn by Betty Smith
This classic is about a young Irish-American girl and her family in — you guessed it — Brooklyn. The family relationships will leave kind and dedicated Hufflepuffs thinking about this book long after they put it down.
11. Attachments by Rainbow Rowell
Another Rainbow Rowell book is on here? Yep. Because Rowell is awesome. Attachments tells the story of Lincoln, who is tasked with reading workplace email... and then falls in love because of it. Lincoln is definitely a patient person, and this is basically the 20th-century (yes it's set in 1999) epistolary novel, so it's a cool read all around.
12. A Thousand Splendid Suns by Khaled Hosseini
For any Hufflepuff who wants to read a story about loyalty, patience, and fierce females, this is the book for you. Mariam and Laila live in Kabul and encounter threats both in the home and outside of it, but their hardworking spirits cannot be broken.
13. Is Everyone Hanging Out Without Me? (And Other Concerns) by Mindy Kaling
Mindy Kaling is hilarious, ambitious, and incredibly hardworking, and her autobiography is sure to make you laugh while also inspiring you.
14. The Unofficial Harry Potter Cookbook by Dinah Buchotz
So, the stereotype is that Hufflepuffs love food, right? Wow all of your friends in other houses by whipping up some recipes from the pages of your favorite series, and share a mug of Butterbeer together, because kindness and generosity is what Hufflepuff is all about.
If you're a Gryffindor or Ravenclaw, check out your own must-read books
Image: Warner Bros