11 Songs The 'Mockingjay, Part 2' Soundtrack Needs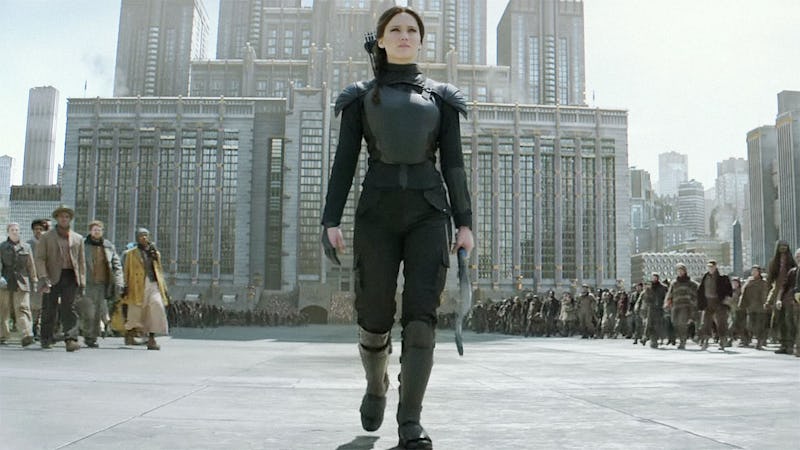 In strange movie news, the final Hunger Games film is gearing up to open theaters Nov. 20 and we're still without a blip of Mockingjay, Part 2 soundtrack info. Nada. Zilch. Zero. It's almost as bad as the long wait for Adele's new album (almost, but not quite as bad because Adele is a musical goddess and we are but her mere mortals). The Hunger Games has done pretty well for itself in terms of music choice and composition to match all the emotional highs and lows fans have felt throughout the previous movies. And, let's be real: once you have Lorde helping put together your tracks, you're pretty much only allowed do better from there.
Maybe it's the the pressure of not exceeding #LordeGoals that's keeping any Mockingjay, Part 2 soundtrack news under wraps? Or should we be gearing up for a surprise soundtrack drop of Beyoncé proportions? Either way, fans are currently still without new music to give us major dystopian and rebellion vibes, so I've come to fill the gap in your iTunes and Apple Music with some pretty dope recs and the lyrics to match, guaranteed to provide you eargasms while you await the film's release.
1. "On My Mind" — Ellie Goulding
It totally fits Katniss and Peeta's relationship.
I always hear, always hear them talking Talking 'bout a girl, 'bout a girl with my name, Saying that I hurt you but I still don't get it,You didn't love me, no, not really,Wait, I could have really liked you, I'll bet, I'll bet that's why I keep on thinking 'bout you
2. "Figure 8" — FKA Twigs
It speaks to the life-or-death fragility that comes with fighting the good fight.
Let me liveThrough your viceMass appealI feel in ten breaths it's a miracle if we're still aliveCan you touch it? Is it real?Paper cards that I feelThe slightest rip is a river that's overflowing me
3. "Bad Blood" — Taylor Swift Ft. Kendrick Lamar
Basically the entire theme song for Mockingjay, TBH:
Did you think we'd be fine? Still got scars on my back from your knifeSo don't think it's in the past, these kinda wounds they last and they last.Now did you think it all through? All these things will catch up to youAnd time can heal but this won't, so if you're coming my way, just don't
4. "Here" — Alessia Cara
Probably what all the characters in Mockingjay, Part 2 must have thought to themselves at one point or another.
Oh oh oh here oh oh oh here oh oh oh I ask myself what am I doing here? Oh oh oh here oh oh oh here And I can't wait till we can break up outta here
5. "Half The World Away" — Aurora
It's fitting for Katniss' home town, District 12, and its destruction.
I would like to leave this cityThis old town don't smell too pretty andI can feel the warning signs running around my mindAnd when I leave this islandI book myself into a soul asylumI can feel the warning signs running around my mind
6. "Confident" — Demi Lovato
Katniss being a complete and total badass is represented well here.
It's time for me to take itI'm the boss right nowNot gonna fake itNot when you go down'Cause this is my gameAnd you better come to play
7. "Adventure of a Lifetime" — Coldplay
It works with the legacy the Second Rebellion leaves, and the people who come out as its heroes.
Turn your magic on, to me she'd sayEverything you want's a dream awayUnder this pressure, under this weightWe are diamonds taking shapeWe are diamonds taking shape
8. "Bang My Head" — David Guetta Ft. Sia & Fetty Wap
The Mockingjay gang overcomes obstacles, even in the face of frustration.
Bang my head against the wallThough I feel light headed, now I know I will not fallI will rise above it allFound what I was searching forThough I feel light headedI should have failed, and nailed the floorInstead I rose above it all
9. "Coming Home" Sigma Ft. Rita Ora
This song understands the struggle of returning to daily life after the Hunger Games end for good.
Home, I'm coming home, I'm coming homeCause I'm tired of being out here on my ownI'm coming home, oh yeah yeah yeahI'm coming home, oh yeahAll of this time I've been living it upAll that's is left is rubble and dustOh oh, I'm coming home
10. "Like I'm Gonna Lose You" — Meghan Trainor Ft. John Legend
This one gets that even at the end of the rebellion, nothing is for certain concerning the future.
I woke up in tearsWith you by my sideA breath of reliefAnd I realizedNo, we're not promised tomorrow
11. "Hello" — Adele
Last but not least, this is fitting the bittersweet epilogue.
Hello, it's meI was wondering if after all these years you'd like to meetTo go over everythingThey say that time's supposed to heal ya, but I ain't done much healing
Whether for the lyrics or the mood the music puts you in, these 11 songs would be great additions on the Mockingjay, Part 2 soundtrack. Or, you know — if one never comes out for some bizarre reason, you've got these sweet backup tunes to jam out to.
Want more Hunger Games? Watch Bustle's drunk recap of Mockingjay, Part 1 below:
Image: Lionsgate