'Empire' Actor Mo McRae Has An Impressive Resume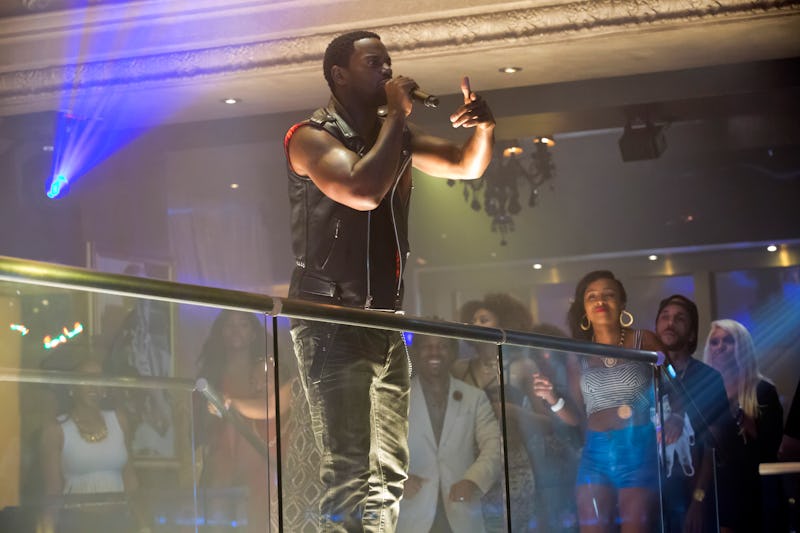 Andre has reestablished himself in Lucious' good graces and is now in charge of Gutter Life Records on Empire. The formerly defunct record label was relaunched by Lucious in hopes of launching street artists' careers, most importantly Freda Gatz. But, as if a gift from Heaven — literally — Andre has also signed J Poppa to Gutter Life. J Poppa is not only an artist on the label, he is also Becky's beau. So don't expect Mo McRae, who plays J Poppa on Empire , to be going anywhere soon (fingers crossed). As we saw at the Gutter Life launch, he's got talent, and if Andre has anything to say about it, he'll go far.
You might be wondering if McRae has any singing experience, since there could be no way this is the first time he's been on stage in front of an audience. Well, the performer might have amazing stage presence, but it might not be from a musical background. As it turns out, McRae has a very respectable background in Hollywood. The actor has appeared in recognizable titles since the early 2000s, and has most recently been seen in some of the biggest films and television series out there.
So what was McRae up to before Empire? Here are some titles you might recognize the actor from.
Wild
McRae played Jimmy in the 2014 film, a reporter who thought Cheryl (Reese Witherspoon) was a hobo drifter.
Sons of Anarchy
McRae was in three seasons of the series Sons of Anarchy (Season 5 - 7). He played Tyler, the leader of the One-Niners.
Murder in the First
McRae starred in the second season of the TNT show Murder in the First. He plays Anthony "Suger" Cascade, the king-pin of a gang.
Lee Daniels' The Butler
This isn't the first time McRae has worked with Empire creator Lee Daniels. McRae starred along side an all-star cast in Lee Daniels' The Butler. He played Eldridge, who is the leader of the Black Panther party.
Ray Donovan
McRae played a wealthy athlete named Deonte Frasier, who enlists Ray Donovan's help after waking up next to a dead woman. He was in three episodes of the series.
We'll have to see where J Poppa's storyline goes on Empire, but judging by his impressive resume, he's keeping busy in Hollywood. Hopefully that doesn't take him away from Becky.
Images: Chuck Hodes/FOX