Holiday Decor Ideas That Won't Break The Bank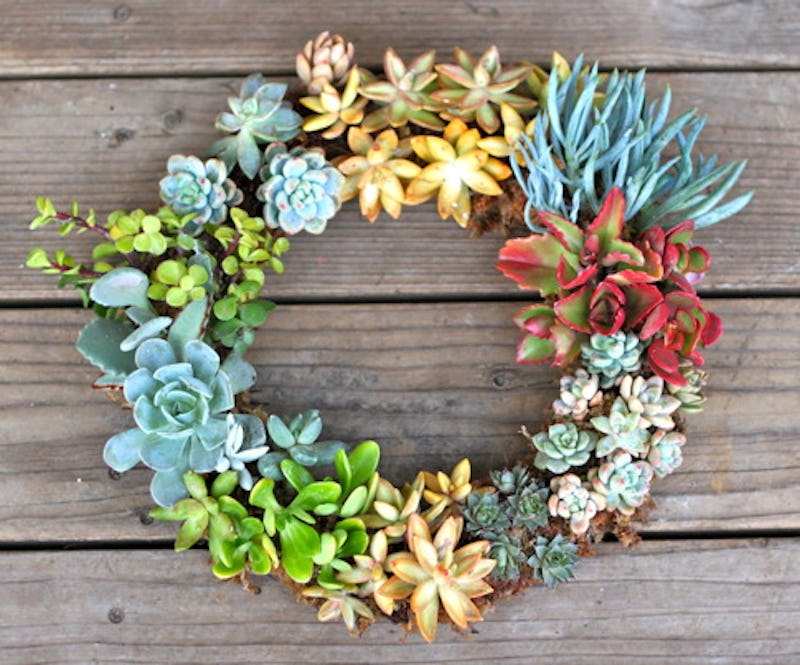 I just moved in with my boyfriend to a beautiful new grown-up apartment and, honestly, the thing I'm most excited about is decorating it for the holidays. I'm not, like, Martha Stewart, but let me tell you, I am pumped to make my house look like it belongs to her — and these cheap but festive holiday decoration ideas are how I'm going to accomplish it. I've never had an apartment before that felt like a home in the way this one does; but now, finally, I can get a Christmas tree without feeling weird about roommates or worrying that the only box that would end up under it was of the empty pizza variety.
Of course, though, I'm also on a budget! I live in New York City, which is expensive all the time, but especially during December, when everyone is traveling and buying overpriced gifts. (Anecdotal generalization: Everyone who has family outside of New York ends up going to their house for the holidays, just because people who live in the suburbs seem to hate the idea of not actually being surrounded by snowy backyards during the holidays for some reason. Meanwhile, I'd just as soon get a box of Chinese food and go ice skating in Central Park on Dec. 25, but my mom would kill me). I'm not going to get a $100 Christmas tree and, like, a commemorative snow globe, you know?
In honor of this mindset, are some ideas for decorating your house for whatever winter holiday you celebrate without blowing your budget. Because you'll probably do that anyway, but it shouldn't be because of a festive centerpiece — and especially not when you can make that centerpiece yourself.
1. Make Your Own Garlands
String popcorn and cranberries, cut paper stars from newspapers, or do that classic construction paper garland you did as a kid. Or you can cut out pictures of Judy Garland and string them together, if you want to be my best friend.
2. Make Your Own Wreath
You ever notice how wreaths cost, like, $100? You can make one yourself using trimmings from trees you can purchase for cheap from your local Christmas tree seller. I love Ithis gorgeous version from Martha Stewart (duh).
3. String Lights Everywhere
They're the cheapest and most festive thing you can buy. Get them now, while they're still cheap, and put them over your headboard, on the trimming outside your house, on your mantle, threaded through your fire escape, wrapped around decorative branches... oh, and, of course, on your tree, if you celebrate a holiday that involves putting a live evergreen in your living room.
4. Put Stuff in Votives
You see this everywhere on Pinterest: Clear votives with a candle in the center surrounded by chestnuts, or pinecones, or mini ornaments, or circular peppermint candies, or whatever. Take your pick and have fun.
5. Have a Grown-Up Advent Calendar
Are you a Christmas celebrator like myself? There are lots of DIY versions of this idea online; I like this tiny Christmas village that you can print out for free (and put candy or nips of booze inside).
6. Display All Your Holiday Cards
Instead of being annoyed that your friends insist on bragging about their kids' dumb accomplishments, thank them for the free holiday decor! Put your enviable card collection on your fridge or mantle.
Because all those homemade ornaments you made as a kid were the best. You can imprint thumbs, greenery, or whatever else you want — or cut out festive shapes like trees and stars using cookie cutters. You also can include cinnamon in your recipe if you want it to smell amazing and look just like a cookie.
This little guy is available on Amazon. Or just buy some bird seed and DIY — these bird seed ornaments are really sweet for a backyard, balcony, or fire escape.
9. Make Your Own Menorah
This branch version from Martha (again, duh), is gorgeous.
10. Do This Amazing Christmas Tree Napkin Fold
For when you have fancy guests over for fancy holiday dinners.
11. Buy a Small Potted Evergreen Tree Instead of a Big Cut One
You'll have it for years to come instead of just for one month. And it will look good even when it's not Christmas.
12. Put Out Bowls of Candy
I mean, you already do this maybe, but what about a vase filled with candy canes? Be Glenn Coco every day.
And let me know if they make your home smell amazing. I bet they do!
14. Fill a Bowl with Clementines
The scent of citrus and cloves equals winter coziness.
Images: Love Maegen, mixtureusa, Elin B/Flickr; Giphy (8); Pixabay (2)