'The Royals' Cast Decodes Emoji Movie Titles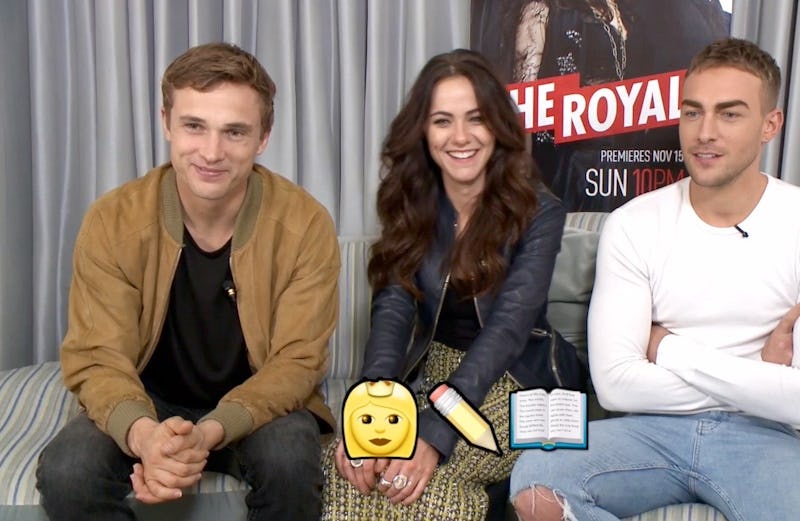 Honestly, you haven't lived until Elizabeth Hurley shouts "Frozen!" at you. But, let's back up a bit. Bustle recently interviewed The Royals cast at a junket at The London NYC hotel (I appreciated the royal-themed location, even if it was unintentional), and, after asking some questions about The Royals Season 2, I played a game with the cast. In keeping with the theme, I asked the group to decode royal movie titles written in emoji — and some of the actors were very good. Some were not as good, but that's OK because fun was had by all. Especially by Elizabeth Hurley. She was very excited about Frozen, OK? Also, The Princess Diaries.
Five of the cast members participated: Jake Maskall (King Cyrus), Elizabeth Hurley (Queen Helena), Alexandra Park (Princess Eleanor), Tom Austen (Jasper), and William Moseley (Prince Liam). Although some did better than others, the best part of the video is watching them work the puzzles out and get really excited when they're right. Also, I can attest to the fact that Park and Austen's friendship is just as delightful IRL as it seems on Instagram. Oh! And, even though he plays a villain, Jake Maskall is super nice.
So, play along with the cast in the video below and see if you can guess which royal movie titles I've written out. And, don't forget to catch all the Season 2 drama on Sunday, Nov. 15 on E!
Image: Martha Sorren/Bustle