'The Real Housewives of Potomac' Is More Diverse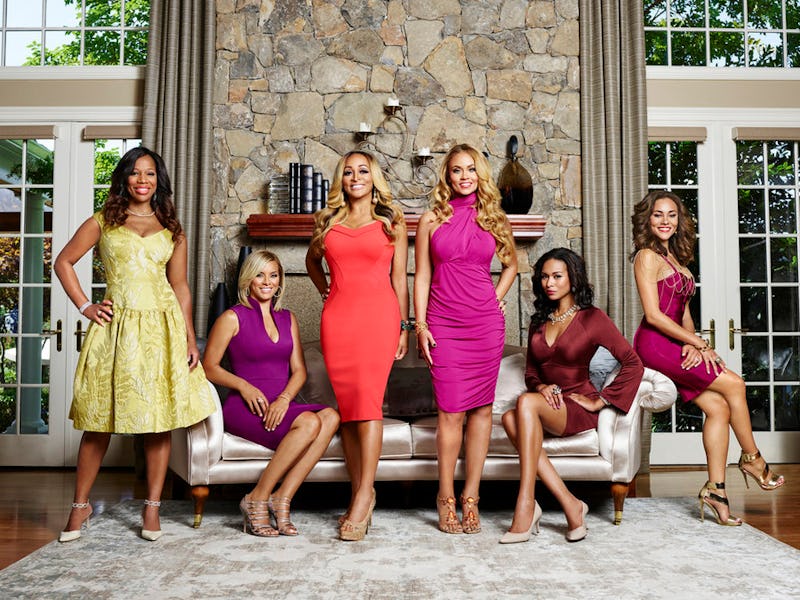 I swear, when I heard that Bravo was adding two more iterations to The Real Housewives franchise, I was as excited as I was when my sister first told me she was pregnant. Probably because it feels like a similarly welcome addition: Bravo is adding to the family that I already know and love and spend my Sunday nights with, after all. And what's not to love about the news? More housewives! More friends! More drama for all of us to coo over lovingly on Twitter and Facebook. But my initial giddiness was quickly followed up with total respect when I learned where the franchise was going next: Potomac, Maryland.
I know, I know. It doesn't have quite the same ring to it as New York City or Beverly Hills, but Bravo is promising a whole new kind of housewife in this new series. The Real Housewives of Potomac will focus on a handful of African-American families who have fought racial barriers and are living in an upscale suburban community just outside of D.C., and I for one am thrilled by the news. Both because I love all things that come from Maryland, and because, with this new cast, Bravo is adding even more diversity to their primetime lineup.
With America's television lineup consistently favoring shows that feature white, straight, and cis-gendered characters, there is serious reason to celebrate Bravo's decision to add another cast of women that do not fit that bill. The more diversity available to us as viewing audiences, the more we will come to see that the straight white male perspective is not universal. There are other people who experience things very differently because of their race, gender, or sexual orientation, and showing their experiences is important to help break down stereotypes and normalize their experiences.
And, sure, no iteration of The Real Housewives is going to be normal, but it will definitely be nice to see the perspective of more diverse women and not just the rich white ladies we're used to seeing on those series.
The network already has a number of reality shows whose stars are predominantly women of color, including The Real Housewives of Atlanta, Married to Medicine, Shahs of Sunset, and Thicker Than Water, and this new series will add to the success Bravo has seen since adding more diversity to their lineup. (The Real Housewives of Atlanta's premiere episode on Sunday, for example, came in second only to The Walking Dead and its spin off Talking Dead.) But, more importantly, RHOP will add to the number of black and brown women represented in popular media.
The new series will premiere on January 17t, and you better believe my DVR is already set and ready to record.
Image: Bravo