Thanksgiving Recipes Made Better With Cheese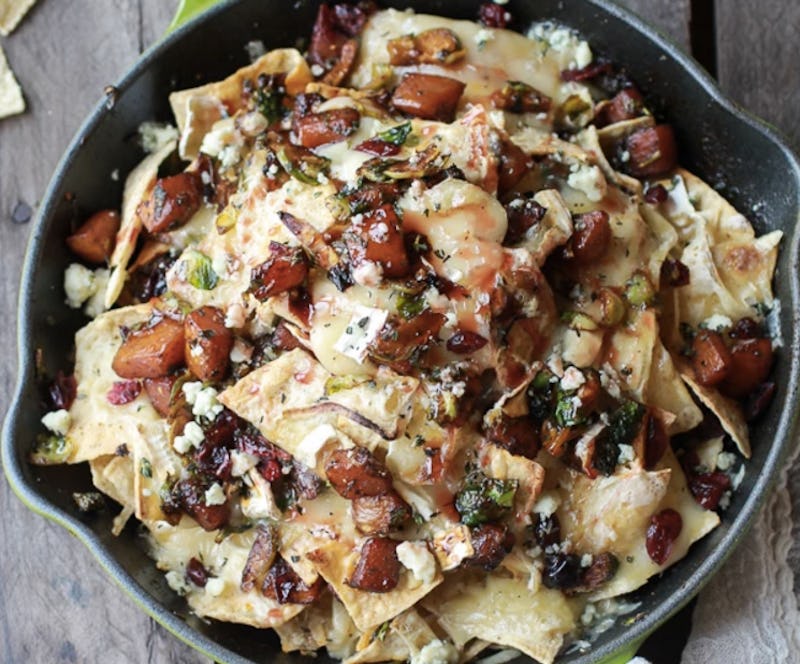 As the holiday most famed for its abundance of delicious food, Thanksgiving is the time to fill up on all of our favorites — and that means indulging in some cheesy Thanksgiving recipes. Sure, we love our menu of mashed potatoes, green beans, and more, but doesn't everything taste even better with a little (or a lot) of extra cheese? Trust us on this one.
When planning exactly how to host Thanksgiving, the menu is obviously the most important part. While you can't go wrong with a classic turkey (or vegetarian alternative), pretty much every appetizer, side dish, and even dessert (be sure to try out some pumpkin goat cheese cheesecake to completely rock your world) can be improved with a cheese-filled version. Cheddar, parmesan, and more all have a place on your table. You're going to end the day feeling super stuffed anyway, so you might as well be stuffed with cheese. I'd consider that a successful holiday.
From goat cheese cornbread to the best Brussels sprout gratin I've ever seen, these 15 recipes are sure to seriously take your Thanksgiving menu to the next level. We can guarantee that you'll never look at the holiday in the same way again.
1. Savory Goat Cheese Panna Cotta
These silky goat cheese appetizers by The Kitchn will have you looking at canned cranberry sauce in a whole new way.
2. Turkey-Shaped Cheese Tray
Just when you thought you had perfected the art of the cheese plate, A Beautiful Mess proves that you can make it even more festive.
3. Easy Creamed Corn With Cream Cheese
If creamed corn isn't already a part of your Thanksgiving menu, you're doing it wrong. Damn Delicious shows how it's done — with cheese.
4. Creamy Spinach Gratin
It's important to get some greens on your table. But Mel's Kitchen Cafe knows they're even better with parmesan cheese.
5. Southwest Cornbread Stuffing
Plenty of shredded cheese and peppers add a southwestern twist to your table thanks to A Spicy Perspective.
6. Roasted Brussels Sprout Quinoa Gratin
Roasted Brussels sprouts are a Thanksgiving must. But with a little creativity, Cookie and Kate makes them even better with a pretty healthy cheesy version.
7. Cheesy Mashed Potato Puffs
It wouldn't be Thanksgiving without mashed potatoes. So why not bake them into Gruyere-filled puffs like The Kitchn?
8. Pumpkin Risotto With Parmesan
For a more substantial side, this autumnal take on an Italian favorite by A Beautiful Mess makes a cozy addition to the table.
9. Wild Rice And Creamy Goat Cheese Stuffing
Mel's Kitchen Cafe's wild rice and bacon stuffing pairs well with any traditional Thanksgiving fare, but goat cheese gives it some extra oomph.
10. Rosemary Parmesan Sweet Potato
Skip the marshmallows this time around, and reach for some parmesan instead, Cookie and Kate-style.
11. Cranberry Goat Cheese Honey Cornbread
Even your bread basket can get in on some cheesy action. A Cozy Kitchen makes a light, cheesy cornbread to start off the feast.
12. Triple Cheese And Corn-Stuffed Portobello Mushrooms
Portobello mushrooms are a great choice for a vegetarian Thanksgiving, but that doesn't mean they have to be boring. Averie Cooks piles these 'bellos high with plenty of corn and cheese.
13. Cranberry, Butternut, And Brussels Sprout Skillet Nachos
As the best appetizer ever or even an unusual main course, Half Baked Harvest's autumnal nachos pretty much redefine our concept of Thanksgiving food.
14. Green Bean Mushroom Tart
Skip the green bean casserole, and try out A Spicy Perspective's green bean mushroom tart with blue cheese instead. It works well as a side dish or a hors d'oeuvre.
15. Pumpkin Cream Cheese Pie
It wouldn't be Thanksgiving without pie. Averie Cooks combines traditional pumpkin pie with cheesecake for the best way to end a feast ever.
For more fall food ideas, check out Bustle on YouTube.
Images: Mel's Kitchen Cafe (3); The Kitchn (2); A Beautiful Mess (2); Damn Delicious; A Spicy Perspective (2) ; Cookie and Kate (2); A Cozy Kitchen; Averie Cooks (2); Half Baked Harvest