And 'The Voice' Top 12 Is..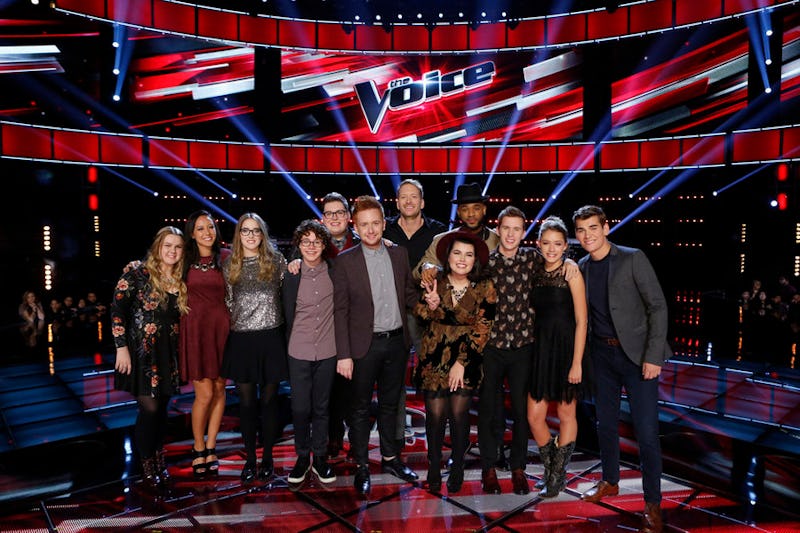 It was a rough night on The Voice tonight — the pool of 24 contestants was cut IN HALF. After much anticipation, The Voice Top 12 was revealed, which sadly means that 12 extremely talented artists were sent home. On the bright side, there were no huge upsets. Sure, a few fan-favorites were sent home, but that's because they really weren't up to the standards of the rest of the advancing talent. So, who were the lucky 12 that will be moving on to the live shows? *Drum roll, please*
The Top 12 is...
Team Gwen: Jeffrey Austin, Braiden Sunshine and Korin Bukowski
Team Blake: Barrett Baber, Zach Seabaugh and Emily Ann Roberts
Team Pharrell: Madi Davis, Evan McKeel and Mark Hood
Team Adam: Jordan Smith, Shelby Brown and Amy Vachal
Quite the lineup. Seriously, this group is SO talented — the live shows are going to be more intense than ever. You may notice a few notable names missing, though. Those are Victor Karaly (Team Gwen), Ivonne Acero (Team Blake) and Darius Scott (Team Pharrell.) Also missing? All four of the coaches' comeback artist picks. While it's sad to see these talents go, I truly believe that this season's Top 12 are the 12 that deserve to be there.
All 12 of these talented performers can't win The Voice title, unfortunately. So who has the best shot? The frontrunner is most definitely Jordan Smith. He's been a fan favorite since his powerful performance of Sia's "Chandelier" and moving speech about self-acceptance in the Blind Auditions. Since then, he's earned glowing reviews from the coaches week after week. Pharrell even claimed that Smith's voice was "signed by God" in the Live Playoffs. If that's not an indication of the fact that he'll win the competition, I don't know what is. Unless something goes horribly wrong in the upcoming weeks, Smith will be The Voice Season 9 winner for sure.
Image: Trae Patton/NBC