7 Comfy Heels For When You've Had Too Much Eggnog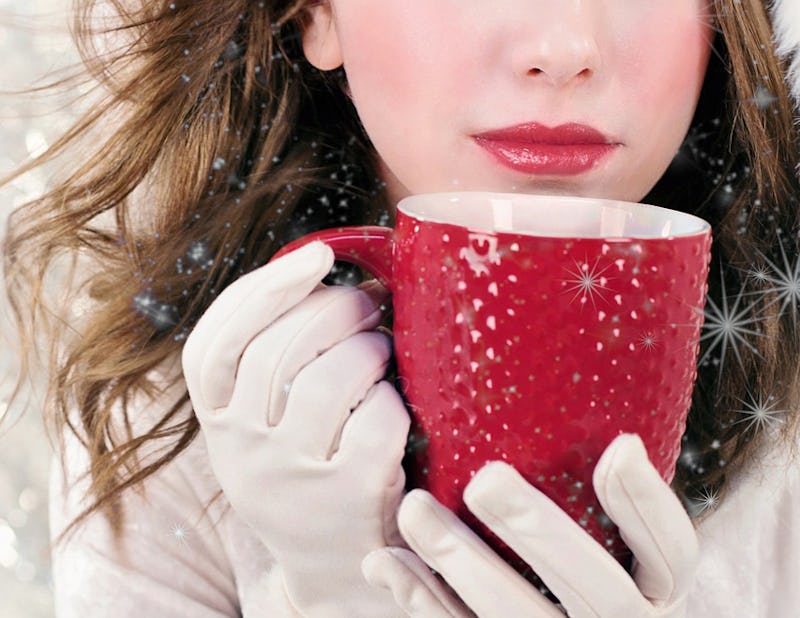 We've all been there. You been to one too many holiday parties, and you didn't eat enough while sipping on that super warming hot toddy of yours. Things are getting a bit stumbly, so learning how to walk in heels after too much eggnog is crucial. Shopping these stylish, but sturdy heels will get you down the stairs and to your Uber way better than those four inch stilettos. Plus, let's be honest, you'll probably be far more comfortable throughout the evening.
Thankfully, shoes are always in season, always gorgeous, and always a smart purchase. No matter what your attire for the day or evening is, you've got a plethora of footwear decisions to make, and during the holidays that actually comes in handy. Sure, you can rock those crazy high pumps, but for those parties when you imbibe just a bit more than normal, your ability to walk is going to be called into question, and no one wants to be the person walking on asphalt with your shoes in their hands. Plus, if you're rocking tights, they're sure to get ruined sans shoes.
If you're planning to hit up some holiday parties this year, your footwear will indeed come into play. So, which shoes are going to be the most functional and fashionable?
Platform Booties
TOMS "Desert" Wedge Bootie, $88.95, Nordstrom
Platform booties give a great heel-like look without the instability of a heel. Plus, they're super cute!
Ballet Flat
Unisa Cattsi Ballet Flat, $39.95, DSW
How colorful and beautiful is this incredible flat? No heel means no wobbles.
Riding Boots
Bamboo Buckled Riding Boot, $45.99, Charlotte Russe
Riding boots are a winter staple, and most people already have them in their closet. Break them out when you're headed to a casual party for comfort, warmth, and no worries while you sip on that eggnog.
Winter Wedges
Dashing to Dinner Wedge, $34.99, Modcloth
Who says wedges are only for summer? These gorgeous t-strap wedges are perfect for the holidays, and wedges are markedly more comfortable and stable than pumps.
Combat Boots
Gia-Mia Women's Combat Boot, $35.96, Target
Going rocker chic for a party? Combat boots are so stylish, and they're ideal for trekking around time for multiple holiday parties.
Chunky Ankle Boots
Liliana Footwear Brown Laguna Chunky Boot, $32.99, Zulily
The chunkier the boot, the closer to God. Okay, not really, but the chunkier the boot, the less likely you are to trip on cobblestones.
Shimmering Loafers
Darby Glitter Loafers, $215.00, J.Crew
Want to shine for New Year's Eve and rock a shiny shoe? Peep these beautiful loafers.
Want more style tips? Check out the video below, and be sure to subscribe to Bustle's YouTube page for more hacks and tricks!
Images: Jill111/Pixabay; Courtesy of Brands