Women Writers Write Funny Screenplays, Too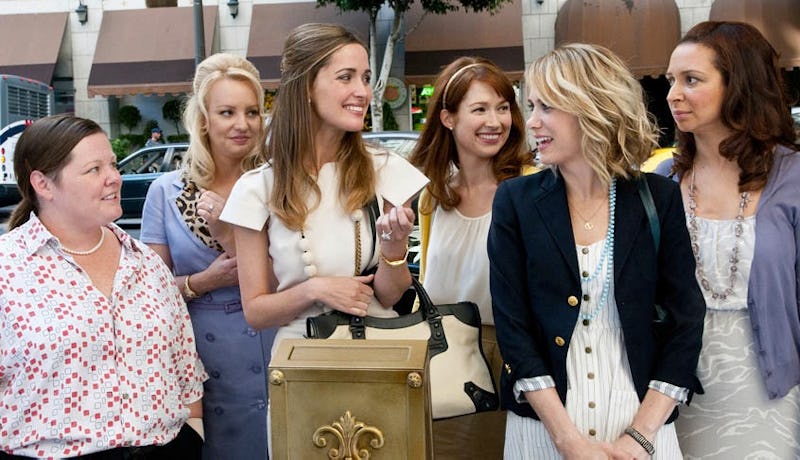 Despite what Christopher Hitchens said in his infamous 2007 essay "Why Women Aren't Funny," women are and always have been. A new list from the Writers Guild of America, West ranked the 101 Funniest Screenplays, and the ranking continues to prove that women are funny, highlighting some of the best female screenwriters in Hollywood. But, before we go patting ourselves on the back, we need to delve a little deeper into the list and the women and female films it honors.
When Harry Met Sally gets the privilege of being the highest ranked film written by a woman, Nora Ephron, at number 15. The "I'll have what she's having" line — said by director Rob Reiner's mother — from that film is one of the most widely quoted, and, if you go to Katz's Deli in the Lower East Side of Manhattan, you're bound to still hear someone saying it while sitting in the same seat Meg Ryan did to show how good she was at faking it. Following closely behind, at number 16, is Bridesmaids, written by Kristen Wiig and Annie Mumolo. The 2011 film is the first movie on the list that stars women, boasting seven female leads, by far the most on the list. Not to mention that there are actual conversations between these women that have nothing to do with men, making Alison Bechdel very happy.
Female writers wrote a total of nine movies on the list, seven of which were made after 1985. Hagar Wilde co-wrote the Cary Grant/Katherine Hepburn screwball comedy Bringing Up Baby, based on her own story, in 1938, making her the female writer of the oldest film written by a woman. The film, which anded at number 24, is the fifth oldest film on the list. Wilde was a writer in the late '30s, early '40s, and went on to write only two other films: the Cary Grant film, I Was a Male Order Bride, and the 1945 film, The Unseen.
Annie Hall lands at the top spot, and, though it was written by two men (Woody Allen and Marshall Brickman), the film does focus on the titular character of Annie Hall played by Diane Keaton. So, la-di-da, I would still consider this a win for females in comedy.
These are just a few of the benchmarks having to do with women on the list. But, let's break it down even further to see how women fared overall, shall we?
12 Female Writers Are On The List, Total
This includes Nora Ephron (When Harry Met Sally), Annie Mumolo & Kristen Wiig (Bridesmaids); Hagar Wilde (co-wrote Bringing Up Baby), Anne Spielberg (co-wrote Big), Tania Rose (co-wrote It's A Mad, Mad, Mad, Mad World), Pam Brady (co-wrote South Park: Bigger, Longer & Uncut), Amy Heckerling (Clueless), Monica Johnson (co-wrote Lost in America), Tina Fey (Mean Girls), Randi Mayem Singer & Leslie Dixon (Mrs. Doubtfire). Five out of the 9 female-written films on the list were written solely by women.
3 Female Writers Landed In The Top 25
We've already noted that Nora Ephron's When Harry Met Sally and Bridesmaids fall at 15 and 16 on the list, but Hagar Wilde just makes the cutoff, landing at number 24. The next female writer to be mentioned on the list is Anne Spielberg, who co-wrote Big with Gary Ross. She lands at 44.
33 Female-Starring Films Made The List
For consistency, "female-starring" here includes movies written by men and women that have top-billed actresses, even if they're in supporting roles, which is rather broad. Bridesmaids, Mean Girls, Moonstruck, Election and Clueless are the films that best exemplify "female-starring," focusing on the journey of a woman. Unsurprisingly, three out of these five films are written by women. Films like Annie Hall and The Apartment are better examples of the lists "female-starring" films in which the female lead is important to the story, but more of a supporting player than the true star. It should be noted that three films on the list — Tootsie, Some Like It Hot and Mrs. Doubtfire — all feature plot lines that look at men playing women, but do not count as female-starring.
2 Female Written And Directed Films Made The List
Clueless' Amy Heckerling is the only woman on the list who directed the movie that she also wrote, landing at number 71. Penny Marshall helmed Big (#44), which was co-written by a woman. Valerie Dayton, who co-directed Little Miss Sunshine (#64), is the only other female director on the list.
4 Films Are Based On Books Written By Women
The Mel Brooks-penned Young Frankenstein, which lands at number 6, was based on the characters in Mary Shelley's Frankenstein. Tina Fey's Mean Girls (#84) was based on the book Queen Bees and Wannabes by Rosalind Wiseman. All About Eve (#96) was based on the short story and radio program "The Wisdom of Eve" by Mary Orr. And Mrs. Doubtfire at No. 99 was based on the British novel Alias Madame Doubtfire by Anne Fine.
No Female Writers Of Color Were Included On This List
When it comes to these funny screenplays, white women are the only women represented. Richard Pryor is the only man of color who made the list as a screenwriter with 1974's Blazing Saddles (#8). Eddie Murphy makes the list as an actor in three films — Trading Places, Beverly Hills Cop and Coming To America — and also wrote the story that Coming To America is based on. However, he did not write the screenplay for that film. There are no films on the list that star women of color.
No Woman Is On The List More Than Once
This may seem like we're making mountains out of mole-hills, but there are quite a few male screenwriters repeated on the list, including Woody Allen, who has a total of seven writing credits, and Mel Brooks, who has a total of three. All well-deserved, but wouldn't it have been nice to see a woman on their twice? I think so.
It's easy to complain that more women should have been accounted for on this list — 12 out of over 100 writers isn't a great average. Former Los Angeles Times writer Paul Brownfield agrees, explaining on WGA's site, "Comedy screenwriting has long been a playground that women and writers of color have not had enough time in. The work of Richard Pryor on Blazing Saddles, Tina Fey on Mean Girls, Amy Heckerling on Clueless, and Hagar Wilde, co-writer of Bringing Up Baby, makes you wonder what a list would be if the playground had been more inclusive all along." While history may not have been on our site, it still would have been nice to see more "female" films on the list, movies that specifically featured funny women of all ages and races being funny.
But, with more female comedies being made now more than ever, there is hope that more will make the list in the future. Bridesmaids is only four years old and already has a spot in the top 20. What the list hopefully will do though is get people thinking about the truly funny movies that made this list — and the ones that didn't — that are written by women.
Image: Universal Pictures; Giphy (8)