'TVD' Spoilers Tease Major Salvatore Family Drama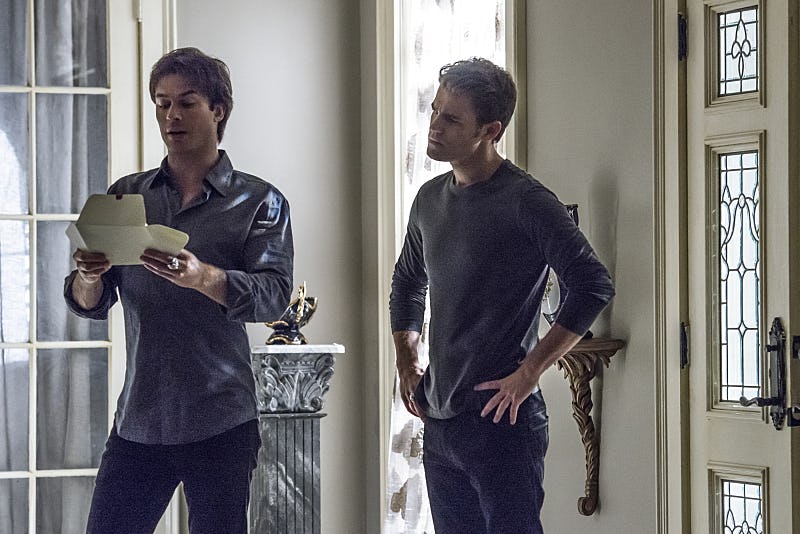 There's nothing quite like a family dinner in Julie Plec's universe and Thursday night's episode of The Vampire Diaries, "Best Served Cold," isn't going to be an exception. At the end of last week's episode, Lily brought Julian back with the Phoenix Stone on TVD , leaving Stefan and Damon to figure out what exactly they plan to do with yet another threat in Mystic Falls. So, naturally, Lily inviting them to what'll essentially be Julian's coming out party isn't going to go well, according to Vampire Diaries Season 7 set spoilers from Paul Wesley and Ian Somerhalder. "They go to this party and Stefan has one thing and one thing only on his mind — which is taking out Julian," Wesley says. Sounds like a typical Mystic Falls gathering, amirite?
If you haven't been keeping up with TVD this season (shame on you), Lily's essentially taken over the Salvatore Mansion with the Heretics, who have essentially destroyed Mystic Falls. So, really, no one is happy. Stefan and Damon already have their issues with being displaced from their home and their mother destroying their town, so adding a former boyfriend to the mix isn't a thrill for them. In fact, it's going to bring up some truly awful childhood memories.
"You see Stefan and Damon as 6 years old and 8 years old, or 8 years old and 10 years old, and you see that they had an abusive relationship with their father," Wesley says about an upcoming flashback in Thursday's episode. But, while getting "insight into Lily's psyche" by taking a look at their family history is going to stir some empathy in Stefan, Damon is absolutely not going to have it. "Parents really screw up their kids. Stefan, luckily, really weathered the storm, but Damon just never recovered," Somerhalder says, "It's going to actually create a lot of friction."
Fans already learned last week that Stefan and Damon have VERY different plans for dealing with Julian's return. "Stefan is very aggressive about it," Wesley says, "He obviously has this enormous vendetta against Julian and he wants to immediately take him out and Damon is a little bit more political. Usually it's Damon being irrational and Stefan being rational and it's the opposite." Damon has a significantly more slow-burning plan for his mother's former lover.
"Julian is that guy that comes into Lily's life that they know is just really not a good guy," Somerhalder says about Stefan and Damon's past with Lily and Julian. "Damon and his sadistic mind wants to draw it out — he wants her to find that passion again for this man, he wants her to experience true love again," the actor says. "Then, once she's settled and happy and super content and living in my house, when she's at this peak of happiness in six months and she thinks everything's OK, then Damon wants to swoop in and hand deliver Julian's heart to her. And literally just crush her."
But this isn't just Damon falling back into his post-Elena destructive behavior. "You really see in the episodes following this one why Damon is the way he is," Somerhalder says, "His mom screwed him up and he has no bones about saying it and he never goes back on his word. 'I hate her, you destroyed me, you broke my heart and I hate you and I don't want you to be happy, And, furthermore, I want to orchestrate how to make you the saddest you can possibly be,' and he means it."
Sure, another Stefan and Damon divide — especially after how great their relationship has been since Season 7 began — is going to be tough. But, really, is there anything better than when Damon sets his mind on destruction? This sounds like the return of the Damon we fell in love with in Season 1. And Lily has absolutely no idea what she's in for.
Images: Richard Ducree, Tina Rowden/The CW; Giphy