Everyone Should Envy Missy's "WTF" Looks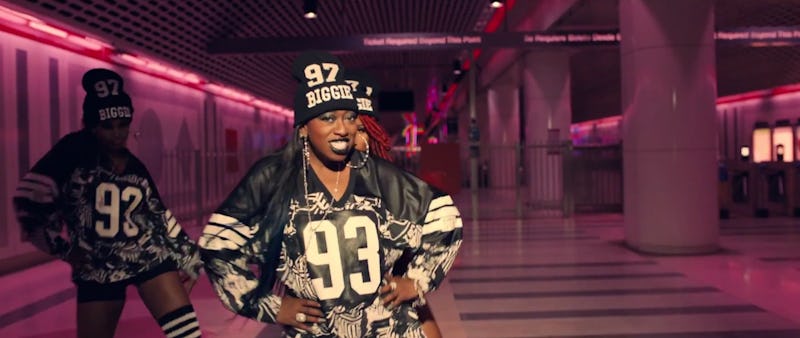 Well, now we know where Missy Elliott has been these past seven years. It's been seven years since her Step Up 2 track "Ching-A-Ling" put the rest of the movie's soundtrack to shame, and a full 10 since her last solo release. And now Missy Elliott is back with "WTF (Where They From)," a glorious diss track that basically targets all the silly posturing in the music industry. It sounds like vintage Missy, so it might seem that not much has changed sonically in her absence. But throughout the video, she sports six different lip styles — and I say styles because they're not just colors, they're textural and multidimensional and sometimes multicolored — proving that Missy Elliott spent the last seven years mastering, perhaps perfecting, her lip game.
In the past few weeks, we've seen a couple "WTF" moments in music videos: Adele's now-infamous "Hello" flip-phone; Drake's twitchy, James Turrell-inspired "Hotline Bling" visuals. (Is it an accident that when I first heard "WTF (Where They From)" I thought Missy was rapping "make them think you Drakin'" instead of "drinkin'" — as if Drake could be used as a verb?) Missy has apparently been watching them too, and has now created an entire jubilant takedown. The first line, after all, is "The dance you doing is dumb."
But she also demonstrates that she can out-glam any and all of the aforementioned artists. Missy Elliott's video is buoyed by such a strong lip game that it's hard to keep up. Even a look that only gets a full five seconds of screen time is as jaw-dropping as the one before it. The lyrics are rife with body positivity and pride, and the visuals are as attention-seeking and proud to match. (As Genius reports the lyrics, "I'm so fat in the back, make the boys all collapse," and then a few bars later, "I'm so futuristic / Big lips and big, big, big hips.") In case you were left behind somewhere between the bedazzled silver and electrifying blue lip, here's a breakdown of all Missy's many faces.
1. Silver Rhinestones
For their Spring/Summer 2016 collection, Prada made headlines not for the clothes (though those, too) but instead for the stunning matte-gold lip color each of the models wore. Missy has upgraded that precious metal look to a bedazzled masterpiece. The first look sets the tone for the rest of the video. It tells us that Missy is back.
2. Interstellar Black
Every time I look at this one, I get a different color vibe from it. My first impression was a deep hunter green, followed by gunmetal, and now it looks almost navy. (I've watched this video a lot.) Thus my new name for it: "Interstellar Black." It's practically a galaxy on her lips.
3. White With Black Liner
This lip look, coupled with the neon blue eye color and half-gold-bedazzled facial makeup and the spotted Adidas jacket, makes Missy look like an updated Lichtenstein painting. Basically, this is a work of art.
4. Blue On Blue
She turns her back to the camera and when she makes a full spin around, gone is the white lipstick. In its place is a two-toned lip color: bright blue in the center and navy towards the edges.
5. Neon Blue
One of the simpler colors Missy sports during the video, the neon blue contrasts perfectly with the low light and muted wardrobe. According to an interview with Paper Magazine, Missy's makeup artist used Cailyn Pure Luxe for this one.
6. Gunmetal
This color combined with the space-age track suit gives Missy an alien aesthetic. The sound might be all 2006, but the look is 2060 by way of the '90s.
Missy Elliott undertakes six different incredible looks in the amount of time it takes me to put on one lip color. The video is just three and a half minutes long, yet each aesthetic choice is given the same weight as if it should have its own video. And maybe it should.
Images: Atlantic Records (7)