50 Feminist Picture Books For Kids' Holiday Gifts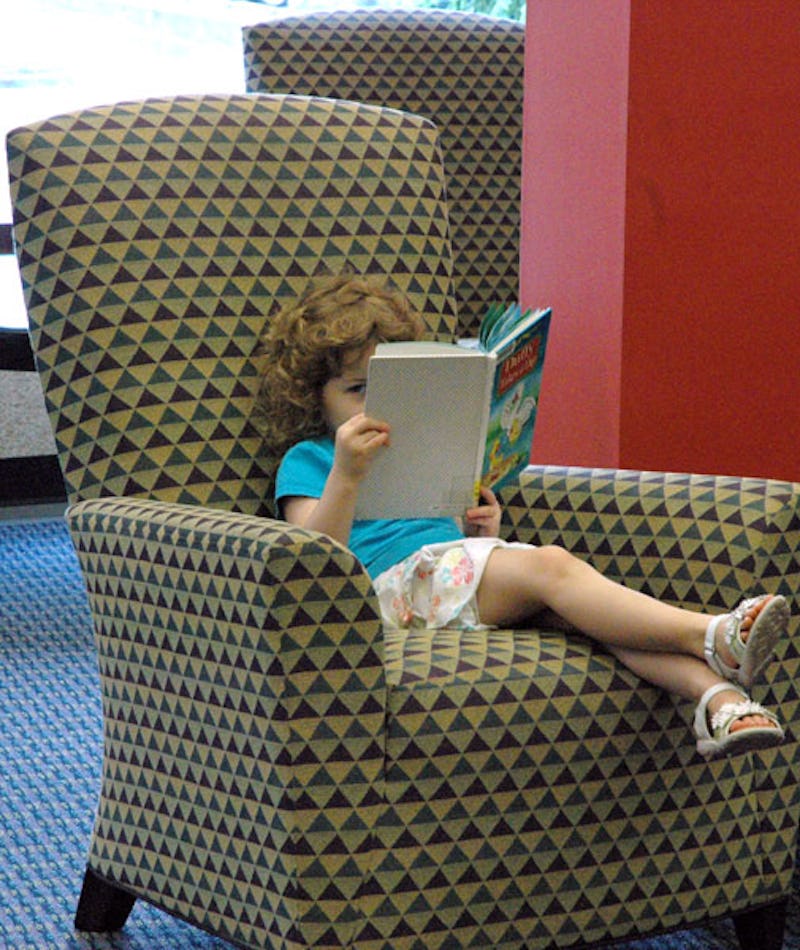 Nieces and nephews are hands down the absolute best relatives. They're fun, they think you're cool, and you get to play fast and loose with the whole "authority figure" thing. Also, they usually don't live with you, so you get all the fun of having kids without the responsibility. Win-win.
I'm a big fan of the #GiveaBook movement. Toys and games are fun and all, but it's much more fulfilling to give a gift that enriches a child's life. And if you can throw a bit of feminism into the mix, all the better, right?
When you go looking for great children's titles, you might be surprised to find just how many of the picture books you grew up with are actually feminist. And the number of such books grows with each passing year, as more and more authors seek to be inclusive of all children and families, and mindful of various environmentalist and economic causes. Those may seem like heavy issues for a kids' book to tackle, but trust me, these titles do a great job.
This list of 50 feminist picture books isn't exhaustive by any means. With a mix of classic and contemporary titles, both fiction and biographical, you're sure to find something here to share with your nieces and nephews.
It's difficult to share Malala's story with children, but this picture book makes it simple and nearly scare-free.
This classic feminist picture book centers on Princess Elizabeth as she hunts down the dragon that incinerated her castle and kidnapped her prince.
Just how much can a mum do? She can swim, bike, fix stuff, and tell stories. And, of course, she can be a mum.
Amelia Bloomer liberated herself from dangerous and ridiculous clothing in the 1800s by inventing a new pants-like garment for women. Told with fun and whismy, this is her story.
Rosa's mother works long hours at the Blue Tile Diner. Every night, she puts the change from her tips in a big jar, hoping to save enough to buy an armchair for her family to share and enjoy.
Grace wants to be one of the two princesses in her town's parade, but she'll soon discover that there's more to girl royalty than pink frills and tiaras.
Grania O'Malley was a fierce 16th century Irish pirate. The Pirate Queen tells her life story, from attacking men on her father's ship to sassing Queen Elizabeth I.
Rosie's aunt Rose wants to fly, and Rosie's going to help her do it. But their relationship isn't a one-way street; Rose has some sagely wisdom to help Rosie out.
Elmer would rather bake and watch a fierce musical performance than play outside and watch sports. But in the face of a family emergency, Elmer proves that even sissies can be heroes.
10. Me ... Jane by Patrick McDonnell
Much has been said and shown about Jane Goodall's illustrious career in anthropology and primatology, but now there's a picture book to tell children all about her childhood.
11. Tar Beach by Faith Ringgold
This whimsical city tale about an eight-year-old's relationship with her 1939 Harlem home is rich with African-American history and culture.
Katy has a very important job in town. No matter the season, this hardy tractor builds and clears the roads that people use every day. But a blizzard tasks Katy with her most important job yet.
Jane Yolen's The Ballad of the Pirate Queens centers on Anne Bonney and Mary Reade, who alone defended Captain Jack Rackham's ship, Vanity, against the governor's forces.
This retelling of the classic Little Red Riding Hood finds Red outsmarting the wolf in order to stay alive.
15. Piggybook by Anthony Browne
An overworked and underappreciated mother sticks it to her husband and sons in this Anthony Browne tale.
When plumage just wasn't enough anymore, 19th-century fashion required whole taxidermied birds to be used in hat-making. She's Wearing a Dead Bird on Her Head! shows how the dubious trend sparked the Massachusetts Audubon Society into being.
The first book in Babette Cole's Princess Smartypants series introduces us to the eponymous heroine, who's happily single and sets lofty standards to avoid being forced into marriage. But when a prince shows up who can beat all her challenges, things might get complicated.
A young girl helps her aunt save up to buy her dream car in this lovely tale about a woman supporting both herself and a family that lives in another country.
This true story about a woman inspired by Amelia Earhart focuses on Maggie Gee, one of only two Chinese-Americans to serve in the Women Airforce Service Pilots during World War II.
One of Noah's moms reads him a bedtime story about a peace-loving dragon in this heartwarming picture book.
21. I Am Jazz by Jessica Herthel and Jazz Jennings
Based on the true-life story of transgender girl Jazz Jennings, I Am Jazz explains her experience in a way that informs cisgender kids and relates to trans* kids.
22. Hillary by Jonah Winter and Raul Colón
This picture book biography of Hillary Rodham Clinton pairs her inspirational life story with beautiful illustrations.
William wants a doll, but everyone else thinks it's a bad idea. He finally finds someone who understands him in this lovely picture book.
24. Ballerino Nate by Kimberly Brubaker Bradley
Nate just wants to take ballet lessons, but his brother has him worried. Will he have to give up his clothes and wear a tutu in order to dance?
After escaping slavery, Belle changes her name to Sojourner Truth and begins campaigning for gender and racial equality.
Forced into conventional gender roles by her father and brothers, Princess Violet retaliates by disguising herself as a boy and competing in the joust.
This adorable tale about a group of crayons who go on strike opens up space for conversations about equality and fairness.
Shaolin nun Wu Mei helps her young student escape a terrible arranged marriage in this gorgeous picture book.
A farmer doesn't trust his daughter to inherit his farm, but when her brothers show themselves to be inept, it's up to Mary to prove her worthiness.
Lovable mouse Maisy becomes a firefighter in this cute board book.
More than 30 years before women even had the vote, Belva Lockwood ran for president. This is her inspiring story.
Marisol McDonald's favorite things clash, like PB&J burritos and wearing polka dots with stripes. This Peruvian-Scottish-American girl refuses to give herself up in order to make others more comfortable.
33. I Like Me! by Nancy Carlson
This fat-positive book will make everyone smile a little bigger when they read its dual message of self-love and self-acceptance.
Journalist Ida B. Wells refused to accept the injustices she saw around her. Whether it was a railroad company trying to steamroll her rights or the tragic lynching death of a friend, Wells always fought for what was right.
Dr. Seuss' classic environmentalist tale can still teach today's kids about the importance of conservation.
Dyson likes to climb trees while wearing his tiara, and loves all things pink and sparkly. Inspired by the author's own son, My Princess Boy is a fabulous tale of acceptance.
In Taliban-controlled Afghanistan, Nasreen's grandmother enrolls her in a secret school for girls in the hope that books and friends might heal the wounds inflicted by the disappearance of the child's parents.
This wonderful classic centers on a small country home that gets swallowed up by big, noisy city.
Perfect for kids eight and under, What Makes a Baby talks about conception and pregnancy without gendering or heteronormativity.
You might remember the story of Bessie Coleman from the 1998 picture book Nobody Owns the Sky. This 2002 biography follows the first African-American pilot on the road to getting her aviation license.
After he overuses the word, Roger finds himself banned from saying "fabulous." He'll have to work hard to turn others around to his fanciful worldview.
You'll bash right through the patriarchy with this feminist picture book that celebrates individuality.
When she was 19 years old, Sarah Edmonds disguised herself as a boy named Frank Thompson and joined a Union regiment in Michigan. This is the story of her Civil War adventures.
A young boy gets a skateboard for his birthday. Unbeknownst to him, however, his mom has a secret skateboarding identity.
Hiromi's Hands tells the true story of Hiromi Suzuki, who overcame sexist tradition to become one of New York City's first female sushi chefs.
Activists, musicians, writers, and athletes all have a space to shine in Kate Schatz's Rad American Women A-Z.
47. Wild by Emily Hughes
This lushly illustrated picture book tells the tale of a little feral girl who is taken into "civilization" by some very strange animals who look oddly like her. Emily Hughes' Wild is a celebration of nature and the pursuit of happiness.
After Grace finds out there has never been a Madame President, she immediately enters her school's mock election. Grace for President gives kids a crash course in the democratic process, and is also an endearing tale of one girl's political aspirations.
Half a century after environmentalist Rachel Carson published Silent Spring, Laurie Lawlor celebrated her work with the publication of this great picture book.
Another alphabet book, A Is for Activist relates the tenets of activism — such as being an ally and working for a better future — in a way that is broadly applicable to whatever cause you champion.
Image: KOMUnews/flickr