11 Reasons Why You Should Give A Book This Holiday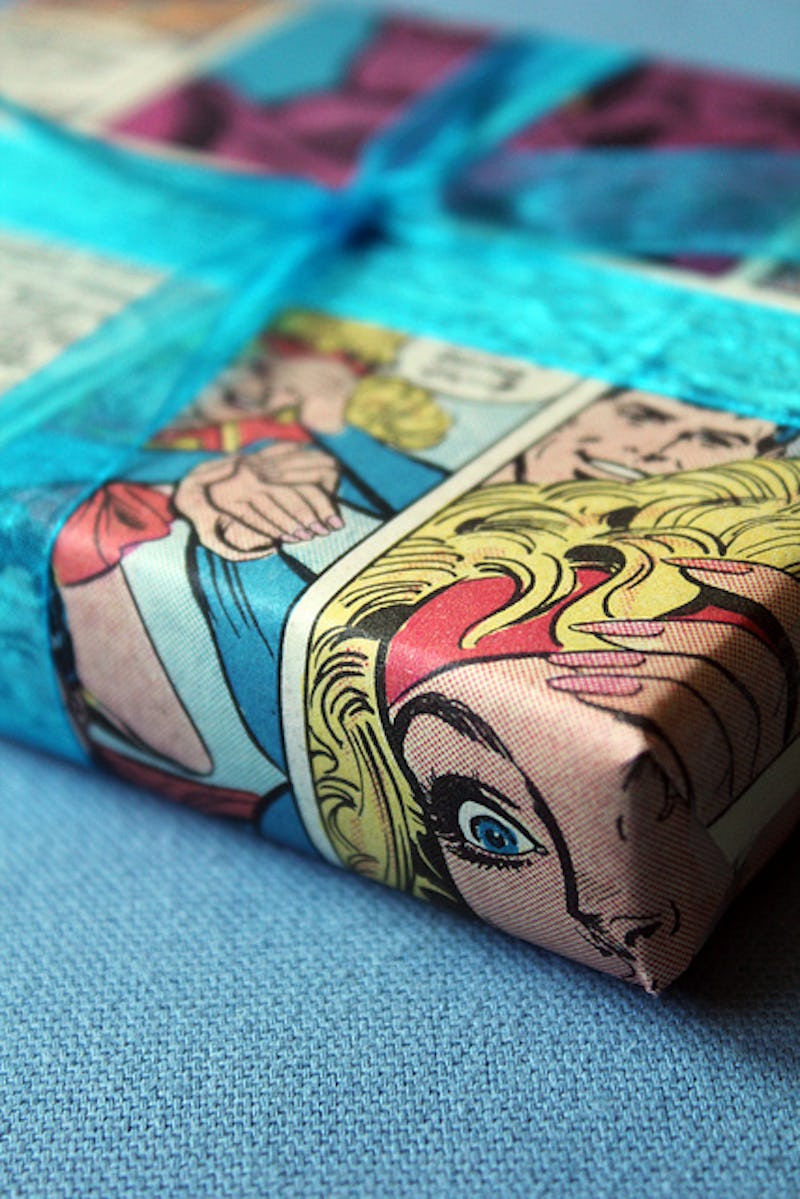 Every year, people fill up their holiday shopping carts with the latest video games or the hottest new tech item, but it's time to break the mold because there are plenty of reasons why you should #GiveaBook this year. No, it's not just because there's a cool hashtag for it (well, that's part of the reason), but it's because books are the gift that keep on giving, and I mean this literally.
Not only are books amazing, incredible, and powerful works of art, but around the holiday season, they reach a whole new level of awesomeness. Last year, Penguin Random House launched the #GiveaBook social media campaign that not only encouraged people to give books as holiday gifts, but also became a way to donate books to children in need. And this year, they are at it again.
Between November 16 and December 24, each time the hashtag #GiveaBook is used (limited to once a day per user), Penguin Random House will donate a book to First Book, an organization dedicated to providing children with access to books. As if you needed another reason to give the magical gift of reading to the people you love!
Wait, you do need more reasons to choose a book as your holiday gift of choice this year? Because that cute sweater you want to buy your sister won't be cool forever, and you know your mom will never actually use that ice cream maker you thought of getting her, here are 11 reasons why you should #GiveaBook instead this year:
1. Books Never Go Out of Style
Unlike the bucket hats and butterfly clips you asked Santa for Christmas in 1999, books don't go out of style with the passing of time. They're always "in," no matter how old they are. Just ask Shakespeare fans, they'll tell you.
2. They Provide Hours of Entertainment
It happens every year: you give your younger sibling, your own kid, or another child a toy at Christmas time, and within an hour of playing with it, they get bored with it. Books would never do that. From daring adventures to hilarious mishaps, they provide hours of entertainment, even if they only take minutes to read.
3. They Double As Cards
If you give someone a book as a gift, you can use the inside cover to inscribe a sweet sentiment. It serves the same purpose of a card, only it doesn't get tossed out with the next day's trash.
4. You Can Find One to Fit Everyone
Whether it's trying to guess your dad's slipper size or your cousin's shirt size, finding something that fits someone else has its fair share of challenges. But books? From short picture books to 1,000-page epics, there are so many different books out there, you are guaranteed to find one to fit anyone on your list.
5. Books Are Easy to Wrap — and Can Be Opened Again and Again
If you've ever tried to wrap a weird shaped toy or an animal figurine then you know how much of a pain it is to wrap basically anything that isn't a square or a rectangle. If you give the gift of a book, you won't have that problem, because they're (mostly) rectangular and a dream to wrap. Not to mention, every time the recipient goes to read the book, they open their gift again and again.
6. They Can Create Memories and Traditions
Books are amazing because reading is amazing, especially when you do it with someone you love. If you give the gift of books, you aren't just giving an item, but an experience. Whether you give a book for a kid to read with their mom or a novel for your beau to read beside you, a book is never just a book, but a whole new memory, and maybe even a new tradition.
7. With a Book, You Can Send Someone On Vacation
While you'd love to pull a T. Swift and take everyone you know to paradise, you just don't have that kind of cash. That doesn't mean you can't give your loved ones a (mental) vacation, though. Books take readers to new and exciting places, from tropical beaches to bustling city streets, so if you #GiveaBook it's basically like giving them a trip to somewhere, only they don't have to get dressed to go.
8. They Are Fun AND Good For You
It's not often the things we want are the things that are good for us (I'm looking at you, cheesecake), but when it comes to books, that isn't an issue. Not only are books fun, exciting, sexy, moving, motivational — a whole list of awesome things — but they are also good for the mind and soul. What better reason to give one as a gift, right?
9. There Are No Batteries or Accessories Required
Nothing is worse than opening a gift and finding out that the batteries are not included. That won't be a problem if you give books instead, because once the wrapping paper is off, they're ready to be enjoyed, no assembly needed.
10. If You #GiveaBook, A Child Who Needs One Will Get a Book
If there is one reason to #GiveaBook this year, it's so you can give a book to a child in need. 'Tis the season for giving and kindness, after all, so get your hashtag ready.
11. Because Books Are the Greatest
Reasons 1 through 10 should be enough to get you into your closest bookstore, but if they aren't, all you really need to know is one thing: books are the greatest things ever. Whether it's a novel or a biography, science fiction or romance, YA or adult, books truly do make the best gifts.
Images: Quinn Dombrowski/flickr; Giphy (11)