9 Tattoos Every '90s Kid Will Be Obsessed With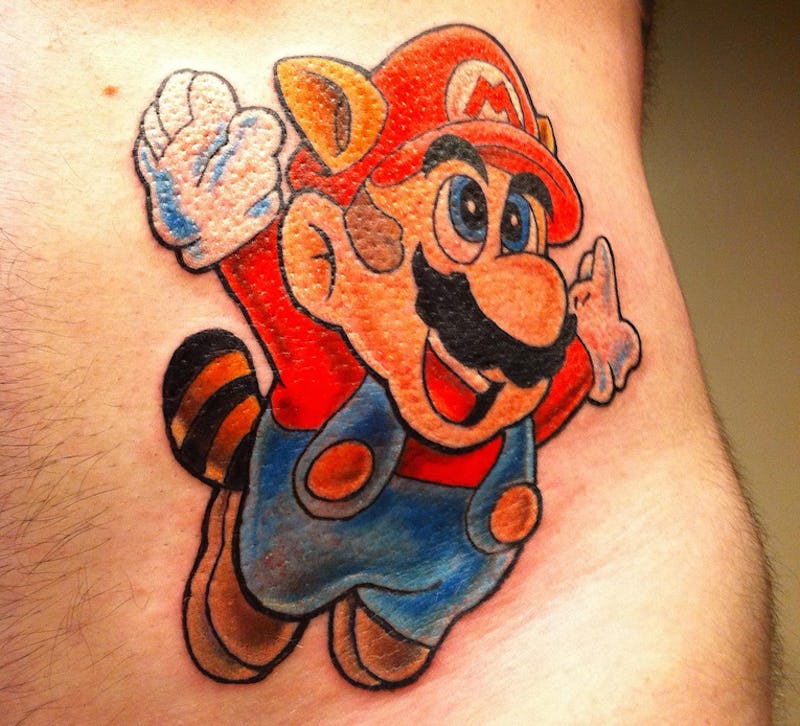 Do you still enjoy a regular round on your Gameboy while listening to *NSYNC on repeat? Do you revel in the revival of tattoo chokers, plaid, and the Canadian Tuxedo? Then some '90s inspired tattoos might just be the perfect way to express your obsession.
Raised on a cultural diet of Spice Girls girl power, troll doll trinkets, and Tamagotchi, the '90s are a period I look back on fondly. Whether you were the sort of kid who always looked immaculate in matching Disney co-ords or identified as a tomboy who loved dungarees and light-up sneakers, it's undeniable that the '90s had some pretty hefty influences on our stylistic choices as kids. Today, however, it seems that the era is back with a vengeance in all its velveteen, platformed, Clarissa Explains It All-shaped glory.
No matter how you like to wear the '90s trend, there's one accessory that will add a unique finishing touch to any outfit and showcase your love of '90s music, TV, and toy gadgetry for all time: The '90s-themed tattoo.
So whether you hung off Clueless's Cher's every word, lusted over the lyrics of Craig David, or were too busy "relaxin' all cool" to bother with any of that stuff, you'll likely appreciate these nine tattoos.
1. Barbie Girl In A Barbie World
Our '90s BFF Barbie had many fashion lessons for us, from how and when to coordinate workout outfits with friends (always) to what to wear with glittery blue eyeshadow (anything and everything). Why not rekindle your friendship through a pink, glittery tattoo that the plastic fantastic lady herself would approve of?
2. Viva Forever
Do the Spice Girls still make you wanna Zig-A-Zig-Ah? If you're living in a Spice World day in, day out, then this tattoo is calling your name. Just think of how proud preteen you would be.
3. Sega's Sonic The Hedgehog
Whether you've been a devoted lover of Sonic since the very beginning or only re-discovered your obsession thanks to the upcoming launch of Sonic Boom: Fire & Ice , there's something about the speedy blue hedgehog that perfectly encapsulates the spirit of the '90s. Maybe it's his relentless levels of energy, his striking blue and red look, or his unashamed love of hamburgers and thick shakes.
4. Pokemon's Pikachu
With the '90s game console wars sparking Nintendo versus Sega rivalry as heated as the Ash versus Gary saga, there was no way I could feature a Sonic tattoo without also including my old faithful: Pikachu. Ash Ketchum's loyal companion throughout Pokemon Yellow and a firm fixture of the anime series, Pikachu is a cute yet fiery sidekick who always has Ash's back. With this tattoo, he can have yours as well.
5. Craig David
Rising to super stardom in 1999 after featuring on Artful Dodger's single "Re-Rewind," Craig David was "Slicker Than Your Average" garage singer-songwriter. With his recent R&B revival following Craig David's guest appearance on BBC 1Xtra's Kurrupt FM back in September, and in the wake of recent news that David is collaborating with Diplo and Chase & Status on new music, there couldn't be a better time to commemorate the musician.
6. Coolio Lyrics To Showcase Your Love For Clueless's Tai
Remember your reaction the very first time you watched Elton coaxing Tai back to health by getting her to sing "Rollin' With The Homies?" Well, now you can re-live that nostalgic moment every single day with this sweet '90s throwback tattoo design, while also rekindling your love for yellow plaid.
7. "In West Philadelphia, Born And Raised"
The Fresh Prince Of Bel-Air taught us many cultural lessons, from the importance of helping friends out of sticky situations to the instant mood-lifting benefits of dancing like nobody's watching. So why not pay tribute to the hit '90s TV show's fountain of life knowledge with a giant picture of Will Smith's face? If it's good enough for Ed Sheeran, then it's good enough for me.
8. Scooby, Dooby Doo
Originally broadcasted on CBS from 1969 to 1976, Scooby-Doo's adventures have been a thing far before the 1990s. But with a TV series, three films, and countless TV re-runs happening in the '90s — plus four video games and a comic book series — it seems safe to say that Scooby Doo's popularity during the decade is undeniable.
9. Lisa Frank
From rainbow unicorns and striking butterflies to hearts, stars, penguins, and beach scenes, Lisa Frank's array of gorgeous technicolor designs delighted elementary and middle school kids throughout the '80s and '90s. Why not remind yourself of your love for your school lunch box, pencil case, or folder's designs with an intricate, brightly colored tat?
Clearly, there's a solid way to ensure the '90s live on forever.
Want more ink-spiration? Check out the video below, and be sure to subscribe to Bustle's YouTube page for more hacks and tricks!
Image: ThePugFather /Flickr