'The Royals' Princess Maribel Has Got A New Face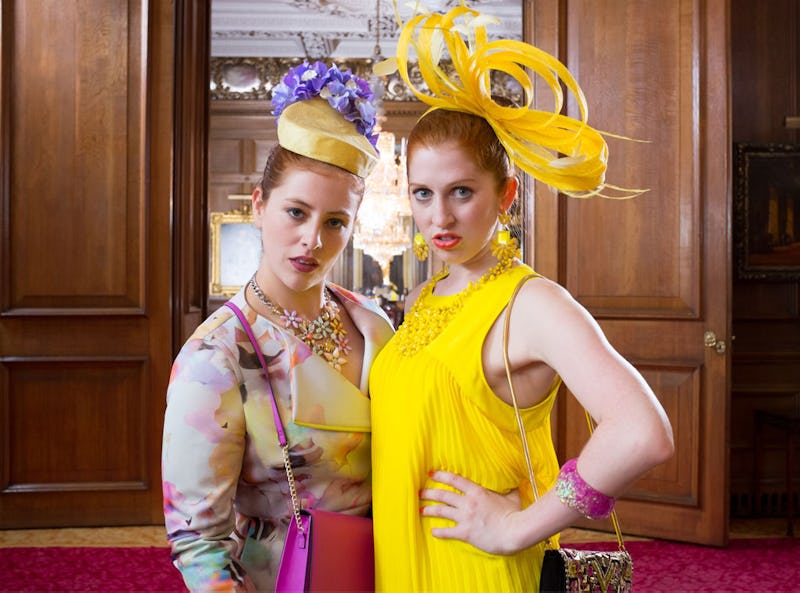 No, Princess Maribel did not die of chlamydia like her sister, Princess Penelope, wished in the Season 2 premiere of The Royals, but there is definitely something weird going on with one of Cyrus' daughters (beyond the usual outrageous antics). Although Maribel appeared on the Season 2 premiere, she was completely wrapped up in bandages — begging the question: What happened to Princess Maribel? And perhaps more importantly: Is that the original Princess Maribel actress, Hatty Preston, in there?
While Queen Helena claimed in the episode that Princesses Maribel and Penelope are "not even a step above imbecilic half wits," The Royals fans are not that dim. So it was hard not to notice that Maribel barely appeared and then didn't even speak during the new season's first episode. I already pity how the sisters are constantly used for crude comic relief, so what gives? Why is Princess Maribel incapable of going to the polo match, leaving Penelope to just fondle a statue alone?
Based on Princess Penelope's dialogue (or should I say monologue?) where she told the bell-ringing Maribel, "I don't know why you decided to get it all done at once," one can assume that Maribel decided to get lots of plastic surgery in one fell swoop. Thus, the bandages. Of course girlfriend decided to go under the knife now that her dad is king.
Unfortunately, this bonkers plot point was a necessity since actress Preston left The Royals . Although there has been no official word from E! or the showrunners over at The Royals, according to her Instagram post below, Preston bid the show farewell in June.
Per her statement, it seems that the decision to leave the show was hers, which is a shame since the actress who portrays her sister, Lydia Rose Bewley, is still around.
Part of the allure of these two ridiculous characters was their connection and banter back and forth, but The Royals has evidently put off casting Bewley's counterpart just yet with this bizarre plastic surgery plot. And although I was taken aback at seeing mummified Maribel, I should have had some clue based on another Instagram post. In the comments section under her adorable post below (awww! look at the cast all hanging out together!), Preston responded to one commenter saying she wouldn't return, but that "Maribel will still be there I believe but not with my face on her."
So, after a few bandaged episodes, Maribel will most likely be revealed to look like a brand new person, because she will actually be a brand new person. (I'm still wondering how the show will explain her voice changing?) And since you know it's a serious problem when Maribel can't even verbally or physically respond to receiving chocolates from a suitor — even if that suitor was sent by her conniving aunt trying to usurp her claim to the throne — she better heal from her transformation real quick. Fans and her anti-monarchist, faux suitor Mr. Morefield are wondering what we should expect once Maribel gets out of those bandages, even as fans wish Preston the best on her life post-The Royals.
Images: E!; fyeahtheroyals/Tumblr (2)