Here's How To Shop Black Friday At Home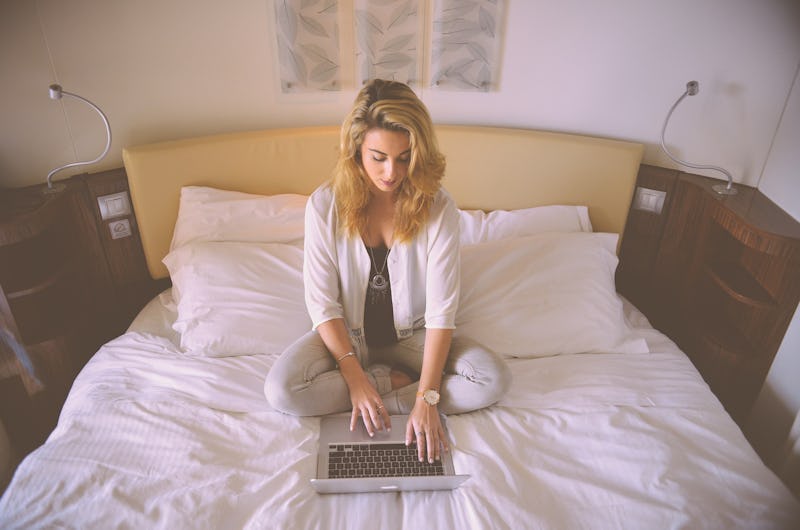 The day after Thanksgiving, you're probably going to be recovering from all the turkey, and if not, you'll at least be sleeping in. While some enjoy trudging out into the Black Friday cold, those of us who don't still want a good deal. So here's how to shop Black Friday deals online. After all, if you can nab some of the best deals from the comfort of your or your parent's couch and in your pajamas, why wouldn't you?
In previous years, online sales have been reserved for Cyber Monday which began in 2005. Cyber Monday allows internet shoppers everywhere to get incredible deals — like the Urban Decay Naked II Vault — with sales on electronics, fashion, beauty, and more. However, some retailers have decided to branch out in e-commerce and see how their sales fair on the world wide web. Retailers like Wal-Mart, Joss & Main, Amazon, Baublebar, and Best Buy are all slatted to have sales not only in stores but also online. This means that if you want to nab a new iPad or bedding set, you can do so while stuffing your face full of Thanksgiving leftovers in your pajamas from the comfort of home. I can't think of any better way to shop than that.
So how do you shop the 2015 Black Friday online deals?
Keep An Eye on Ads
Not all of the Black Friday deals have been released. Many are coming sometime next week, so keep your eyes peeled in order to have the best shot of snatching items up.
Make A List
Your favorite deals will probably sell out quickly online. Make a list and prioritize what you'd like and who you're shopping for. You'll have the best chance of grabbing gifts if you know what you're going for early on.
Watch Out For False Deals
An argument can be made that Black Friday is simply clever marketing. Research the sales prices with those on other sites and be a smart shopper before the fact so you can avoid fake deals.
Be Selective
There are some items that aren't recommended for purchase on Black Friday. Be sure to analyze what you're looking to buy to get the most bang for your buck.
Make A Budget
While the deals are amazing on Black Friday, be sure to establish what you want to spend. You don't want to break the bank.
Collect Coupons
There are quite a few retailers who allow you to stack coupons on Black Friday. In addition to already incredible deals, you could be looking at additional savings via coupon codes. Check out sites like RetailMeNot and nerdwallet.
Set Your Alarm
Time is money on Black Friday. If you've ever shopped in stores, you know how quickly items can fly off shelves. Imagine how quickly online deals will go! Be sure to set your alarm early to give yourself the best chance at the items on your list.
Image: StokPic/Pixabay