Trouble Ahead For Jasper & Eleanor On 'Royals'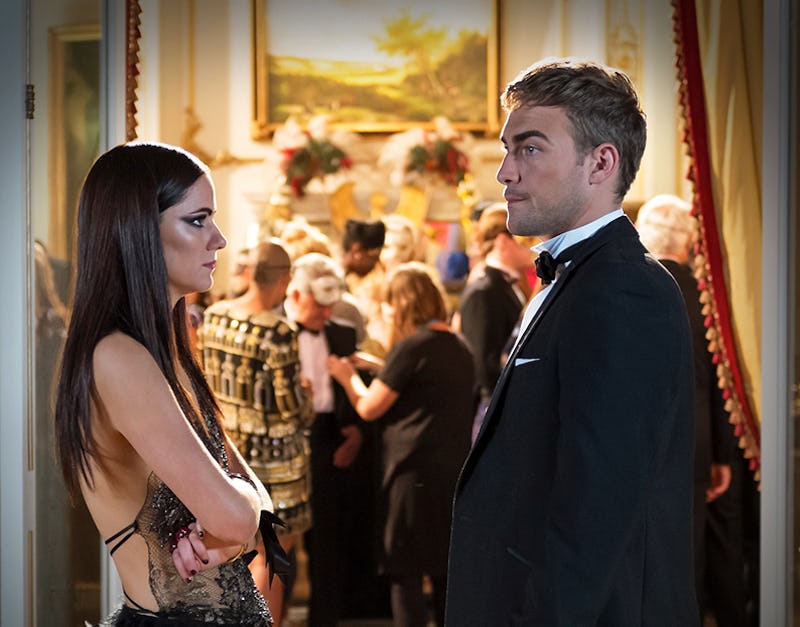 One of the big shocker's during the Season 2 premiere of The Royals is that Beck is back. Eleanor's former flame returned at the end of the episode to tell her he left his wife, for good this time, so presumably he's totally there for Eleanor and ready to be with her. Of course, this could complicate matters for Jasper and Eleanor's own relationship, or lack thereof, at this point. Bustle spoke with The Royals actors Alexandra Park and Tom Austen about this Beck wrinkle, and how it will affect the fan favorite Jaspenor 'ship this season.
Basically as of now, Eleanor is not interested in Jasper or anything he has going on, but Jasper is desperate to win her trust back — even teaming up with her brother Liam to stay around her. "As much as Jasper does want to help Liam and be friends with Liam there's of course quite a large ... ulterior motive in terms of trying to get Eleanor back," Austen admits.
Will that work for Eleanor? Well, Park admits that while Eleanor is preoccupied with mourning her father (if he even is her father), and now also preoccupied with Beck, it can't hurt that Jasper is still there. "The alternative, which would be for him to not be around, is not going to help," Park says. "That's his way of sticking in the palace and getting involved in the family and proving himself in some sort of way ... he's still choosing to stay in the palace and be around her and the family."
As for Beck, Jaspenor fans may not have to worry too much about him. "He's got his issues as well," Park says of Beck. Plus, as Austen says, "Jasper's having none of the Beck situation," so we can probably expect him to put up a fight to win his girl back.
What else can we expect from the love triangle this season? Park and Austen tease that some fun scenes on a yacht are just ahead, and I definitely can't wait for that.
Image: Screengrab/E! (2)