Vanessa Williams Joins 'The Good Wife's Campaign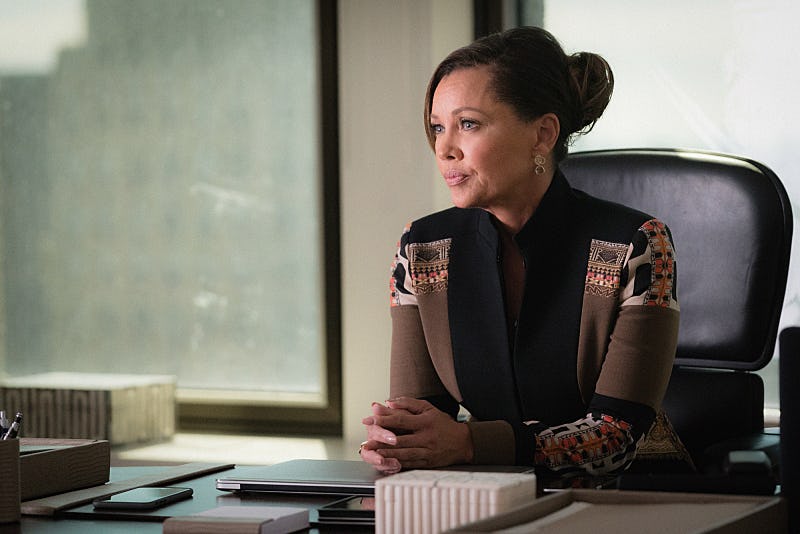 Things got a little more interesting for Peter's presidential campaign with the arrival of Courtney Paige on The Good Wife this week. Courtney, played by Vanessa Williams, was introduced in "Driven" as a powerhouse CEO looking for a candidate to back in 2016. The last candidate she publicly endorsed was John Edwards (poor thing), and this time around, she's looking for someone with a strong family. So, to vet Peter and his marriage, she requests a dinner with both the candidate and his wife. But, other than her business clout and questionable taste in politicians (let us not forget that Peter is a cheater and a fraud), little has been revealed about Courtney so far.
She may have only been in "Driven" for a few scenes, and within those scenes she may have been on the receiving end of some racist remarks — Peter's mother, for instance, told her she was "an inspiration to all urban children" — but the fact that she's played by Williams indicates that Courtney be around for at least a few episodes this season. It also helps that the episode ended with her concluding that the Florricks' marriage was real and boring (HA) and giving Peter her endorsement.
But, it looks like Courtney is going to be much more than just one of Peter's political backers. From the moment she walked into Peter's office, Eli was smitten. He's a fan, having followed her career for quite some time, and there was definitely a spark between him and Courtney. It's been a while since Eli has had any romance, and Courtney definitely seems like she'd be up for the drama. So, instead of focusing on what Courtney's arrival means for Peter and Alicia, we should be wondering what it means for Eli Gold.
Editor's Note: Previously, this article referred to Williams' character as Courtney Boalt, rather than Courtney Paige.
Image: Michael Parmelee/CBS