Sawyer Fredericks' New Song Has Beautiful Lyrics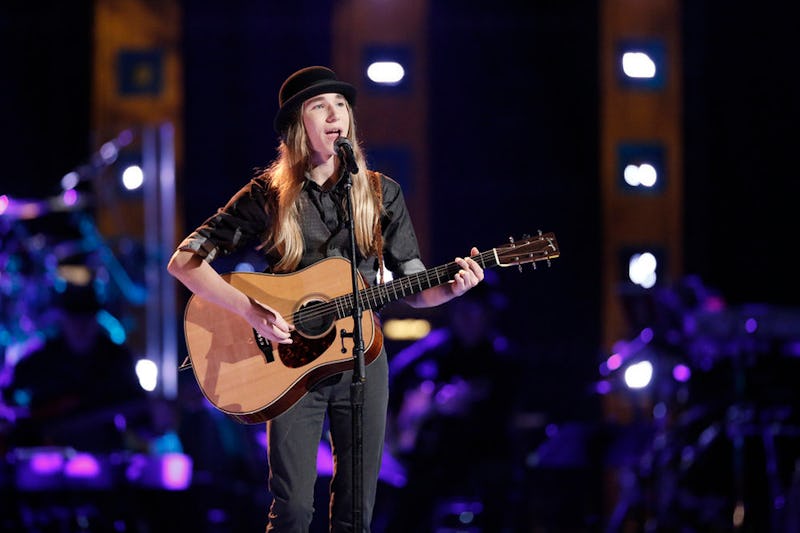 Last week was a big week on The Voice: The live playoffs began, and Season 8 winner Sawyer Fredericks stopped by to perform his new single "Take It All." The champ from last season showed the current contestants how it's done, rocking his original tune from his new EP. Sawyer Fredericks' "Take It All" lyrics are emotional and moving, just like you'd expect from the powerful voice who took home Season 8's trophy. The 16-year-old singer's self-titled EP contains four original songs, including one with former Voice contestant Mia Z, and it already has rave reviews on iTunes.
Those four songs will be part of Fredericks' forthcoming debut album, which is scheduled for release in the spring. "I'm really excited to be able to share my original music with the world," he said in a statement to The Leader Herald. "I am very happy to say that I wrote or co-wrote every song on the album. I am very grateful to Republic Records for the amount of respect and creative control they have given me, considering I am a new artist." In addition to "Take It All," the EP contains the songs "Lovers Still Alone," "Stranger (featuring Mia Z)," and "Still Here."
"Take It All," at its core, is an upbeat song about heartbreak. Let's dive into the lyrics, shall we?
"My head is spinning round and my heart is on the floor / Even louder than the roar of thunder banging on my door / So take it all, take it all"
Sounds like our young Sawyer has found love in these opening lines. It's a complicated emotion that Fredericks makes clear in these lines — love is confusing, hard to ignore, and vunerable.
"I left my world wide open, it felt like a dream / You found me as another, I barely knew my name / Take it all, take it all"
These lyrics continue the expression of Fredericks' vunerability. It sounds like this love affair was much like a fantasy and really changed him — perhaps even helped him figure out himself.
"Take the hurt in my chest, take this pain in my eyes / Take the fear in my soul, take the tears that I cry"
And the heartbreak arrives in the first half of the chorus. The love affair has ended and the tears have begun.
"You called me out of my head, and I was ready to fall / You were all that I need, so take it all, take it all"
The second half of the chorus signals that Fredericks was falling hard, but his partner in love did something to "call [him] out of [his] head."
"My body's almost broken, it can't contain my soul / The storm is going quiet, but I still feel the cold"
The lyrics of the second verse are full-on heartbreak.
"I left my world behind me, I'll never be the same / But these memories are still screaming loud, calling out my name / Take it all"
Further proof that this love affair has changed Fredericks in the song, yet he is still haunted by the memories of the relationship.
"Hey now, it's hard to let go, of everything that I used to know / Hey now, there's nothing left to hold, darling I can't make it alone"
Alas, the bridge is the "I gotta move on" lyrics. Letting go of an old love is tough, but doable. Just take it all.
Image: Tyler Golden/NBC