You Can Hang With The Gang From 'Apres Ski'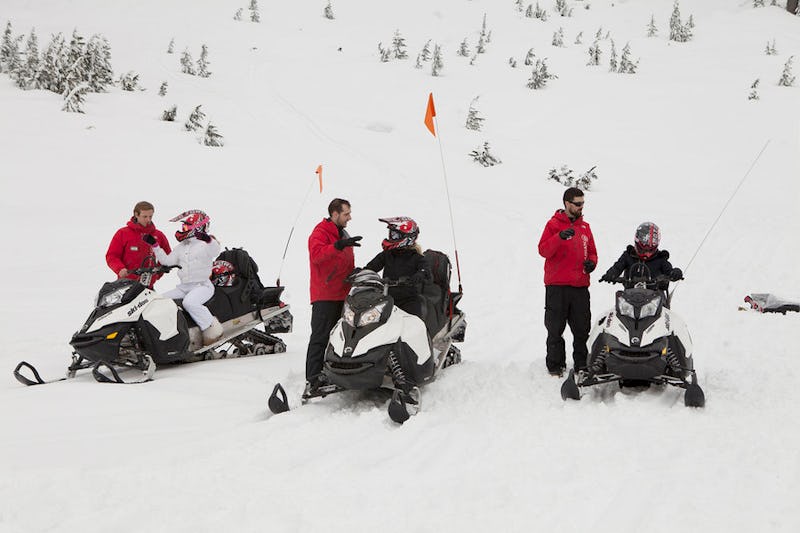 Strap on your skis (or snowboarding boots, if you're into that sort of thing), because Bravo's Après Ski is here! Basically a Below Deck for the mountain sort, Après Ski shows off the fabulous skiing lives of the rich and maybe famous, and the not-so-fabulous lives of the concierge staff that has to wait on them. But, can you book with Après Ski travel company Gibbons Life, so you can stay at the Whistler Blackcomb where all of this magic takes place? Well, yes and no.
You see, Gibbons Life is an offshoot of Gibbons, a luxurious Whistler hospitality group known for pampering its clientele in between runs on Whistler's world-class slopes. Launched in 2014, Gibbons Life is a basically a high-end concierge service, fully equipped to plan out and give every traveler a one-of-a-kind Whistler experience. Want to go snowshoeing out of a helicopter? They can do that. Need to rent out an entire restaurant for an especially romantic meal? Done and done.
Gibbons Life offers an array of partner resorts in which travelers can chill out and relax (the Four Seasons Resort & Spa and Fairmont Chateau Whistler are also among the luxe digs), as well as many restaurants and adventurous excursions. Basically, it's the choose-your-own adventure of luxury travel. The team on Après Ski is there to take the guesswork out of planning and just let you have a great time. Just be warned — a customized vacation in one of the most exclusive and gorgeous places in the world is not going to be soft on your wallet. Because each trip is customizable I can't give an exact cost, but it's not going to be on the dollar menu.
Since my wallet has flies coming out of it and not Whistler-ready money, I've decided to dream a dream and come up with a few experiences I'd love to have the team at Après Ski ready for my next (faux) vacation to Whistler.
A Snowmobile Race Followed By Custom Massages
I tend to feel the need to speed, so what better way to prove you're the fastest than to race some snowmobiles in fresh powder? First one down the mountain (which would be me) gets the gourmet lunch of their choosing, hand-spooned into my mouth by one of Après Ski's finest. After I'm done eating, a fine 90-minute massage will be waiting for me to aid in my digestion.
Couples Shiatsu Massage For My Puppy & Me
I'm one of those people who are obsessed with my dog. I'm not going to apologize for that. She is a perfect queen of a puppy, and she deserves to be pampered along with me. I need a couples massage with my darling girl right next to me, preferably in front of a roaring fire. Afterward, we'll wear robes, lounge around the resort, and have a butler get me Taco Bell. What an evening!
A Bucket Of Popcorn & A Front-Row Seat To Watch Staff Arguments
Since Bravo is filming the folks at Gibbons Life for television, Andy Cohen certainly knows how entertaining they are. In that same vein, why not make a vacation around watching the staff? How meta would that be? I tune into their squabbles on television, so what would it be like to sit in front of them (with snacks, of course)?
Clearly, I have low expectations when it comes to a customized vacation, so you can watch Après Ski on Bravo instead and see some far-out getaways for Whistler's finest.
Images: Eike Schroter/Bravo; Giphy (4)