Sawyer Fredericks' New Songs, Ranked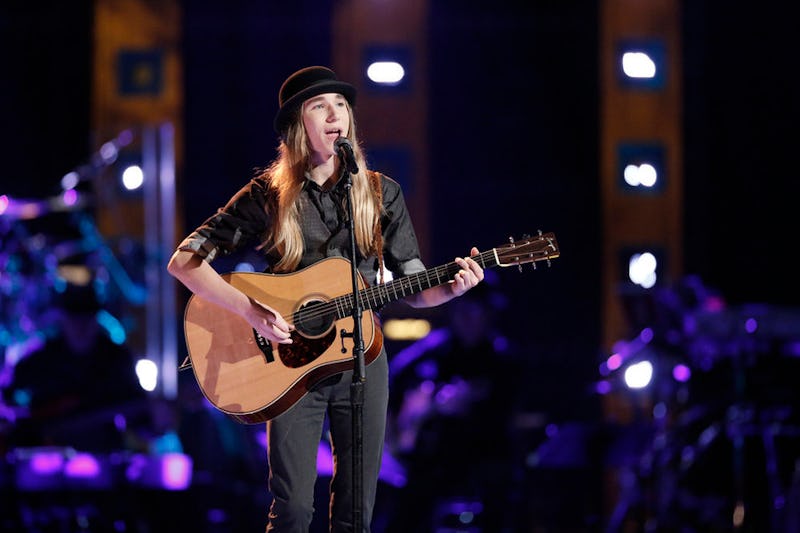 Sawyer Fredericks is a well known fan favorite from The Voice. During his run and eventual win on season 8 of the show, people fell in love with his humble, farm-bred attitude and his adorable looks. It may have also helped that he had talent oozing out of his ears too. Fans have been following his progress since the show and have eagerly awaited the release of Sawyer Fredericks' album. After he continued to comment on social media about being the studio, it only heightened the anticipation. Well lucky for us, he finally released a self titled EP "Sawyer Fredericks" on Nov. 11.
The album contains four original singles and honestly, I was shocked upon my first listen because it was so delightfully diverse. Every song has its own story with it's own personal sound. It was also a nice surprise to hear fellow The Voice alum, Mia Zanotti make an appearance on one of the tracks as well. Keeping it all in the family! The EP is a great listen and now I find myself waiting eagerly for more from this young artist. I am sure he has some seriously amazing stuff in his back pocket for when he releases a full length album.
Here are my thoughts about each of the four singles, and a ranking of them.
4. Lovers Still Alone
This is definitely what could be deemed the ballad of the EP. It's slow and very country-infused which is not completely my cup of tea, to be perfectly honest. For those who are more inclined to throw on some cowboy boots, this song will enthuse them to the highest degree because it really is beautiful in a country kind of way. Looking at it purely from that perspective, it's a completely solid ballad, and Fredericks' voice really can't be ignored.
3. Stranger (Me & You) ft. Mia Z
I have to say, this kid can do blues. This song featuring his fellow Voice alum is deliciously bluesy with just a hint of country. The collaboration between these two amazing artists is so natural and incredible. They were made to sing to each other. Its sound is such a great departure from anything that I am used to but I found myself really digging it. And, I am not a country song girl, so that's saying a lot.
2. Still Here
This one seems like it is just a boy and his guitar and that's when Fredericks truly shines. It's soft and melodic while showcasing his skills. It's an easy listen and something to relax to after a long day. The lyrics are moving and accompanying sound is lovely and stripped of any fancy musical stylings. Such a great soft tune.
1. Take It All
This is the debut song off the EP that he performed on The Voice last week. I have to say, I absolutely adore this track. It's so upbeat and poppy without being too sugary sweet or alienating fans of his sound. The clapping/stomping effect in the background makes it so catchy, you can't help but tap your feet or bop your head to it. That's the sign of a killer single, friends. Fredericks' voice really lends itself nicely to the easy flowing chorus. It feels like such a carefree song for any occasion.
All in all, the album is fantastic. The versatility of this artist is second to none, and music lovers of any genre will find a favorite in the bunch. I think we will all be waiting with baited breath for the full album to follow.
Images: Tyler Golden/NBC