Life Lessons From Stassi's 'Queen Bees' Days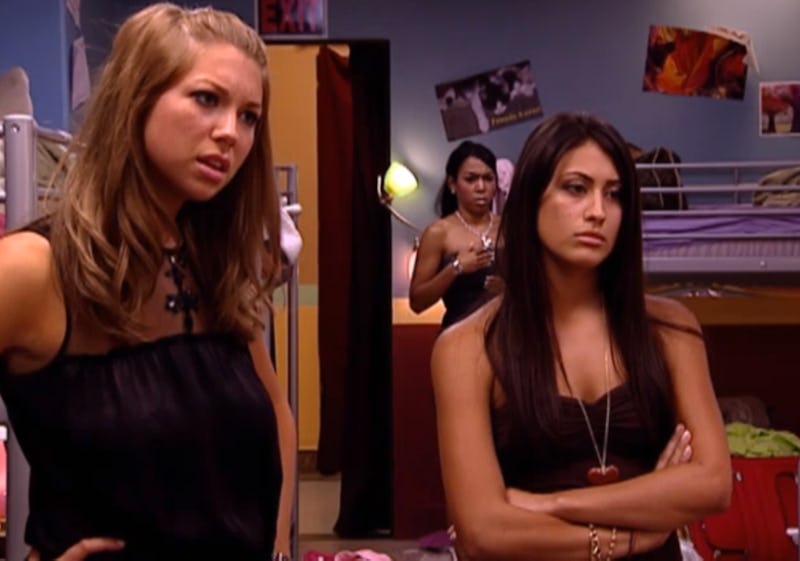 In the summer of 2008, the first and only season of a reality series about seven strangers who were picked to live in a house (and told start being polite and stop being real, er, rude) premiered on The N. That show was reality competition series Queen Bees (not to be confused with Ora.tv's Queen Bee ). The eight-episode show chronicled the ups and downs of, as the trailer puts it, "seven mean girls facing the ultimate challenge: being nice."
The "queen bees" competed in various challenges that put their niceness to the test, and once an episode, Dr. Michelle Callahan evaluated each contestant's progress. A Mean Girls-meets-preschool star behavior chart played a big role. Whoever, as America's Next Top Modelwinner/Queen Bees host Joanna House put it, "change[d] the most" would win $25,000 (and sharpened interpersonal skills!).
A while ago, it was brought to my attention that one of the seven "mean girls" happened to be 19-year-old Stassi Schroeder. Yes, a few years after she appeared on The Amazing Race and a few years before she started working at SUR, the Vanderpump Rules queen bee was a contestant on Queen Bees.
How did I let myself forget that Stassi was on this great, albeit short-lived program?! I asked myself. I must revisit this show, STAT.
Sadly, I have yet to track down full episodes of Queen Bees online. (I did find one site that promised downloadable eps of the now-defunct series, but I chickened out before I clicked the link. This sounds too good to be true, I thought I pulled my hand away from my laptop trackpad. What if it infects my computer with 10 thousand viruses? Sorry Stassi, but I can't have that.) So for now, I'm sticking with the clips made available on the TeenNick website. No, it's not the same as watching entire episodes, but it'll have to do.
The clips may be brief, but they are brimming with jewels of wisdom. Here are the invaluable lessons I learned from Queen Bees:
Lesson #1: When In Doubt, Go With "Poodle-Like"
Is "poodle-like nose" a compliment, or is it a dig? Who nose! But it's a solid way to describe just about anything.
Lesson #2: Similes Are Like Metaphors
Perez Hilton's t-shirt makes a terrific point.
Lesson #3: There Is Such A Thing As Too Many Billboard Cooks In The Billboard Kitchen
Look at Stassi crushing it in the center, though!
Lesson #4: Any Scene Shot In Night Vision Green Might Remind The Audience Of The Silence Of The Lambs
The whole time I watched this weird speed-dating scene, I wondered if/when Buffalo Bill was going to appear, small dog in tow.
Lesson #5: Handwritten Notes Don't Always Heal All Wounds
But they do make for excellent television.
Image: The N