Who Is the Winner of 'Queen Bee'?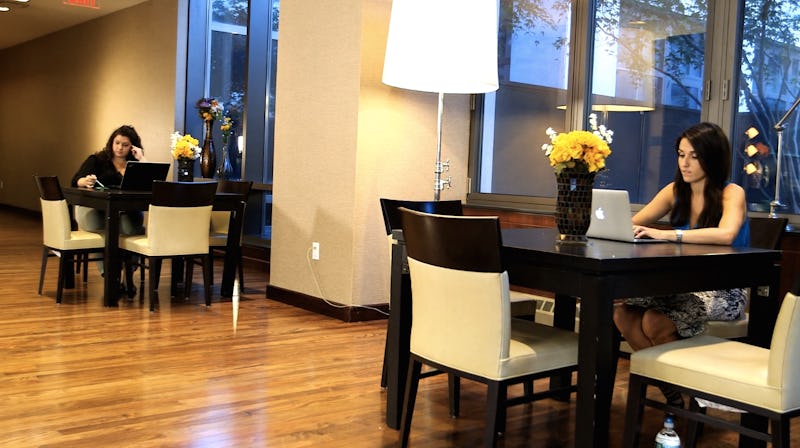 The two remaining entrepreneurs finally went head to head for a final challenge in Tuesday's episode of Ora.tv's Queen Bee and it was intense. Their last challenge was to, of course, present a business proposal to the judges that they had only a short while to put together — and both women excelled so much that it was hard to tell which one deserved the crown. Last week, the decision about which potential Queen Bee to send home in the first elimination was easy because one of the women clearly underperformed when compared to the other competitors. This week, however, Sugar Kiss Bake Shop's Gabriella Pullano and BeltCraft's Mo Wilkie were neck and neck.
At the end of the day, the winner of Queen Bee needed one thing: marketability. When both women presented their business proposals, the judges had to decide based on which woman had a strategy, an idea, that had the potential to actually, well, launch a business. Both Mo and Gabby had proven themselves capable of thinking on their feet and utilizing their advice and natural skills to come at the problem of selling their product from different angles, but did their product and their business plans have the potential to pull in real buyers? Were they a safe investment? Who was the safer investment?
Whether you agree with the judges' decision or not, the woman who got the Queen Bee crown definitely earned it. At this stage, it's fair to say that either woman could have won and I still would have been as pleased as I am now. However, Queen Bee presents people with the opportunity to continue to support these young entrepreneurs in their business endeavors, so if your favorite Bee didn't win then you have a chance to correct that grievous oversight. And even if your favorite Bee did win, then you have a chance to buy some of the incredible products featured on the show from the strong women who worked so hard to get their business out there.
Check out the episode below.
Image: Ora.tv