2014 is the Year of the Butt Selfie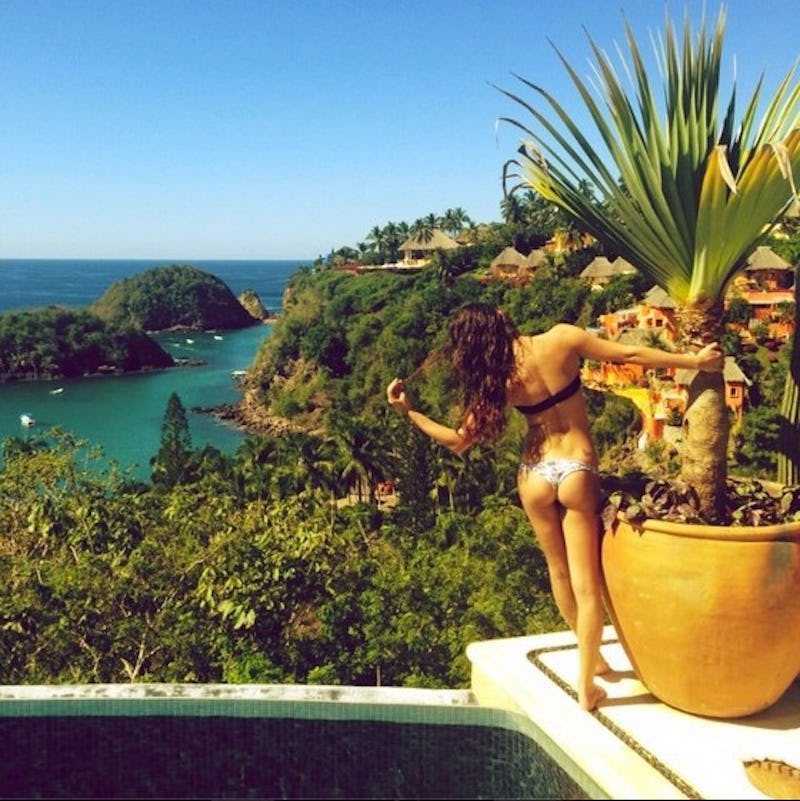 I'm calling it now: 2014 is the year of the butt selfie. Last year paved the way for "selfie" to be recognized as the word of the year, so naturally 2014 has to take it to the next level. Lea Michele is most responsible for this trend, ushering in the new year with a shot of her rear that she took while vacationing in Mexico. "New day. New year. #Bringit2014" she captioned the pic of her very revealing bathing suit bottoms. So far 2014 is bringing it, at least where the butt is concerned.
Michele's reveal caused quite a stir, even amongst her fellow actors. Idina Menzel, who once worked with Michele on Glee (playing her estranged mother), took to Twitter on Thursday to talk about how Michele made her want to take a butt selfie of her own! "On vacation in Caribbean/ desperately want to take a pic of my ass in bikini like @msleamichele but never seems to be the right light.huh." she tweeted. Not surprisingly, Menzel received lots of support on Twitter urging her to take the shot anyways, but she jokingly replied:
She did say she could do it with the help of photoshop, but that unfortunately she never learned the program. Speaking of photoshop, Kim Kardashian, never one to be left out of a trend, stepped up to the butt selfie plate a few days later and delivered her own shot. Her toned derrière was eventually proved to be the work of photoshop, but who's really surprised about that?
And Kendall Jenner hopped onto the trend train with big sis Kim on Friday. "Barging in on Kim's booty selfie" the teen captioned her Instagram snap.
2014 is only 12 days old, so we'll just have to sit back on our photogenic backsides and see how the year progresses for the butt selfie. Let us know on Twitter @bustle if you'd ever join in on the year's new trend.
Images: msleamichele/Instagram