Liar, Liar Workout Pants on Fire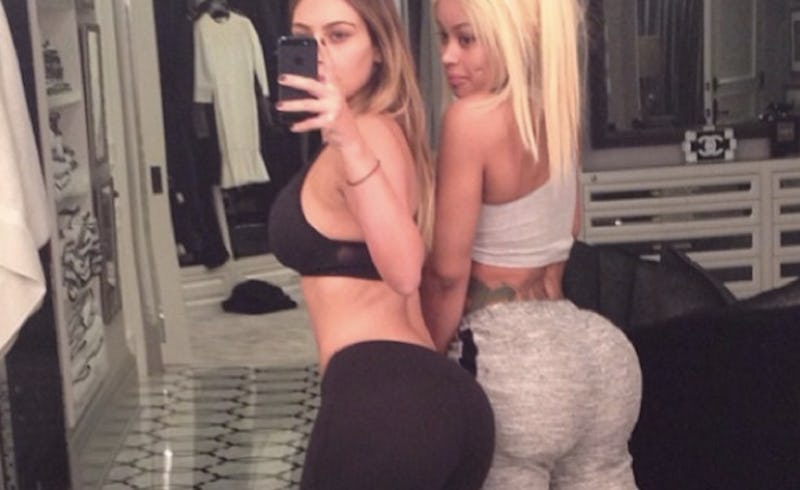 What the hell, yo! The Kim Kardashian's workout selfie with Blac Chyna that purported to show her perfect post-baby body was allegedly PhotoShopped. And now we don't know what to believe anymore. Kardashian's rep denied that the image had been altered when they commented on the allegations to E! News — but the proof is in the pudding or, in this case, the altered door and wonky sweater in the background.
If you're thinking, "So what? I'm not surprised," because it's definitely not the first nor the last time Kardashian's done this — you're missing the point. Ever since the reality star reemerged from her self-induced, post-baby hibernation, she's been all about "I Got My Body Back All By Myself." And when we say "all about it," we mean the future Mrs. Kanye West made a HUGE deal about the fact that she's getting her figure back without surgery through good old-fashioned hard work and dieting. She's been flaunting the return of her famous curves on Instagram every chance she gets (remember that infamous wedgie pic? of course you do) and already appeared on an Us Weekly cover that proclaimed, "MY BODY IS BACK!"
The KUWTK star has been absolutely in our face about her so-called return to form, so yeah, the fact that she posted an altered PERSONAL photo is insulting and incredibly contradictory to her point.
For the less PhotoShop inclined — you can see the proof in the distortion of the door in the background of Kardashian's photos.
Unless she lives in a mirage, the proof that she's been telling us one big, long-winded lie for months is right there. The distortion in the first photo is the result of Kardashian pulling her waist in to look smaller and in the second photo it's from pulling her boobs out, and her stomach in.
It's even worse that unlike Miranda Kerr, who came up with a semi-believable excuse for her PhotoShop scandal, Kardashian's letting her rep continue to cultivate this fake image by making them just deny, deny, deny.
This isn't just about the fact that she PhotoShopped one of the thousands of photos of herself because that's never going to stop — it's about Kardashian making us unable to believe most anything she says. Something as simple as a wobbly door frame just brought down Kim Kardashian. So far, it's 2014's brightest star.
Images: KimKardashian/Instagram