Celebrate 'Star Wars' In Style With Hot Topic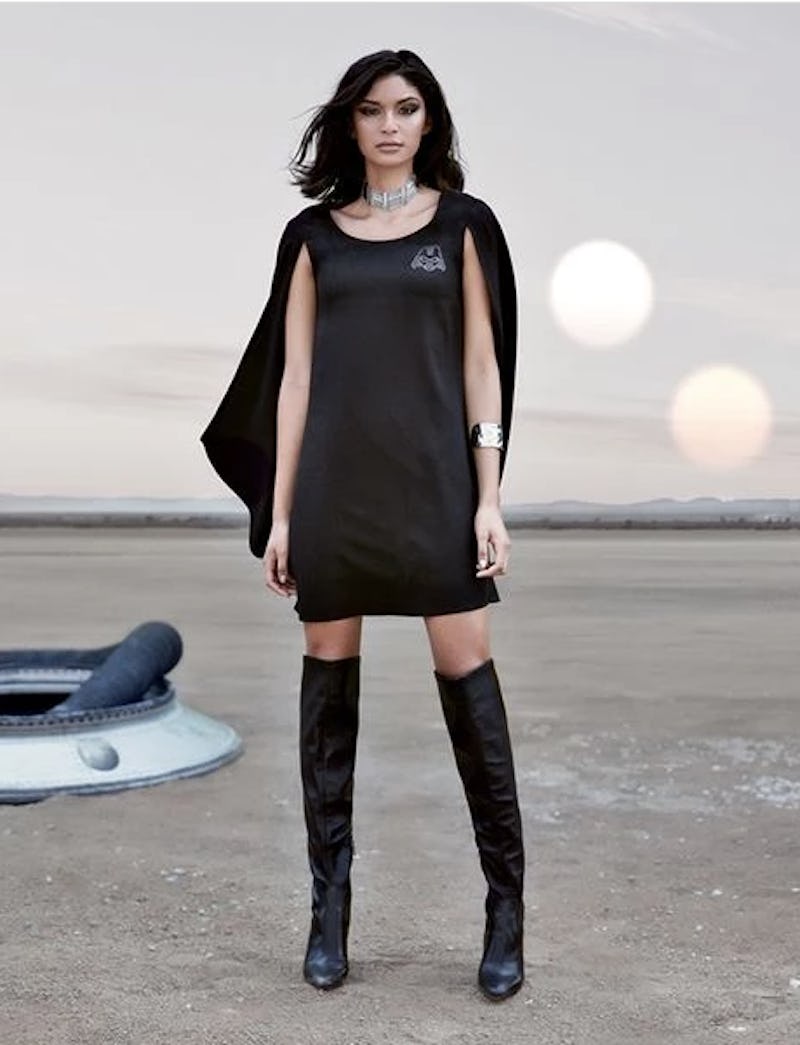 You won't have to wait a long time in a galaxy far far away for these fabulous fashion picks. Hot Topic launched a Star Wars clothing line with Her Universe, and the outfits are more high fashion than you might think. It's been a while since geek-chic was done right, so this is kind of a big deal.
The excitement started with CoverGirl's Star Wars makeup line and continued with an out-of-this-world Irregular Choice shoe line, and now the force is awakening yet again with this fashion range, which Racked describes as featuring "white princess-y Leia dresses and Nasty Gal-esque little black Darth Vader cape dresses." What could possibly be more perfect? This is an awesome way to show your love of the franchise without having to compromise your style. No graphic tees and character-themed hoodies here! This line is pure fan fashion.
"There is definitely a need for geek chic, not just as a fashion trend but it's also an under-served market," Her Universe founder and designer Ashley Eckstein tells WWD.
Whether you're swinging a red, blue, or green lightsaber, Her Universe has something for you. The collection is filled with caped dresses, chic bomber jackets, and even some sweaters. Every piece is priced under $100 and designs come in sizes ranging from XS to 3X. Be prepared to feel the force with these fabulous new looks.
1. Darth Vader Cape Dress
Darth Vader Cape Dress, Hot Topic, $45.15
Channel your inner dark side with this fierce cape dress. With a smokey eye and thigh-high boots, you will definitely be the ruler of style.
2. Boba Fett Bomber Jacket
Boba Fett Bomber Jacker, Hot Topic, $41.65
There's no better way to suit up for a stylish battle. Boba Fett's olive green shade makes for the perfect neutral.
3. Leia Dress
Leia Dress, Hot Topic, Coming Soon
This dress is the only all-white outfit of the line. Unfortunately, you'll have to wait for this adorable Princess Leia confection, which is listed as "coming soon" on the website.
4. Darth Vander Faux Leather Jacket
Darth Vader Faux Leather Jacket, Hot Topic, $48.65
Bad has never looked so good. This fitted faux leather jacket is exactly what Darth Vader would wear if he were to forgo that cape.
5. R2-D2 Sweater
R2-D2 Sweater, Hot Topic, $49.50
If you're looking for something cozy, then this R2-D2 sweater is for you.
6. BB-8 Bomber Jacket
BB-8 Bomber Jacket, Hot Topic, $41.65
Channel a chic droid in this orange and grey bomber jacket — the perfect option for chilly weather.
7. Darth Vader Sweater
Darth Vader Sweater, Hot Topic, $49.50
Go all out with this fabulous sweater that combines quirky with cool.
A walk on the dark side has never been so fashionable!
Want more beauty tips? Check out the video below, and be sure to subscribe to Bustle's YouTube page for more hacks and tricks!
Images: Hot Topic (7)