The Best Cameos In 'The Night Before'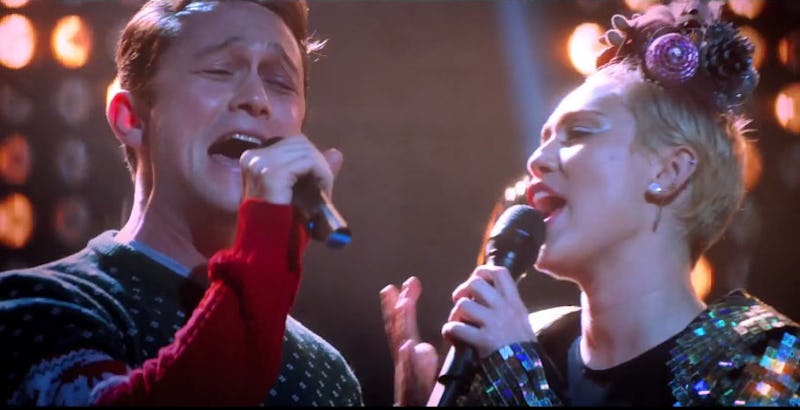 At this point, when it's announced that Seth Rogen is making a new movie, you can pretty much guarantee that it's going to be filled with a variety of his famous friends. From This is the End (Michael Cera? Rihanna? Emma Watson?!) to Neighbors (The Lonely Island, is that you?), many of the actor's films have featured plenty of comedic A-listers, and the celebrity cameos in The Night Before , Rogen's newest film, live up to the sky-high expectations. There are a few familiar faces you'd expect to see in a Rogen-led movie, but just as many shockers, and together, they make up a hilarious roster of A-listers who've joined forces to make the craziest Christmas movie you'll see this year.
From Miley Cyrus to Mindy Kaling, all of the cameos featured in The Night Before are ones for the history books. Each one brings something new and ridiculous to the table, whether the person in question is smoking weed with Rogen or dueting on "Wrecking Ball" with Joseph Gordon-Levitt (trust me, it's as amazing as it sounds). So without further ado, here are the nine greatest celeb appearances seen in The Night Before , in theaters Friday:
1. Miley Cyrus
The most highly-anticipated cameo in the film thanks to her quick appearance in the trailer, Cyrus does not disappoint. She's the celeb entertainment at the holiday party the stars attend, and while prepping for her performance, helps Gordon-Levitt's character, Ethan, realize that he wants to reunite with his ex, Diana (Lizzy Caplan). She then invites him onstage to duet while she sings "Wrecking Ball," and then helps him propose. It's as great as it sounds.
2. James Franco
To no one's surprise, Franco makes an appearance in the film as a version of himself, whom Mindy Kaling's character (more on her below) is interested in hooking up with. He also proposes a threesome with Rogen's Isaac. It's a long story.
3. Tracy Morgan
Morgan narrates the movie, and at the very end, he's seen as Santa, telling the story of the gang's adventure to his band of elves. I mean, why not?
4. Ilana Glazer
Broad City's Ilana Glazer plays Rebecca, an eager fan who football player Chris (Anthony Mackie) meets and soon sleeps with. But it turns out that Rebecca was just after his money and weed, and they engage in a huge fight that sees them running through the streets of New York and learning valuable, holiday-themed lessons from one another. Trust me, it makes sense.
5. Nathan Fielder
Nathan for You fans will be pleased to see that the comedian has a role as the limo driver who transports the group to and from their adventures all night long.
6. Mindy Kaling
Although her role as Sarah, a friend of Diana's, is meatier than a cameo, it's hard to see Kaling in a movie these days without thinking, "that's Mindy freakin' Kaling!" It's a welcome surprise when she appears on-screen.
7. Jason Mantzoukas
The League actor has a quick appearance as a Bad Santa, a member of Morgan's North Pole workshop.
8. Randall Park
The comedy veteran, recently seen on Veep and Fresh Off the Boat, plays Ethan's hot-tempered boss, who does not have time for lazy elves working his holiday parties.
9. Kanye West
OK, this one doesn't really count. The musician doesn't actually appear in the movie, but his presence is most certainly felt when Ethan, Isaac, and Chris play West's "Runaway" on a Big-like piano in a department store.
No R-rated comedy these days is complete with a group of A-listers causing mayhem, and The Night Before is certainly no exception.
Images: Giphy (8); Columbia