What Is The Church Studios, Anyway?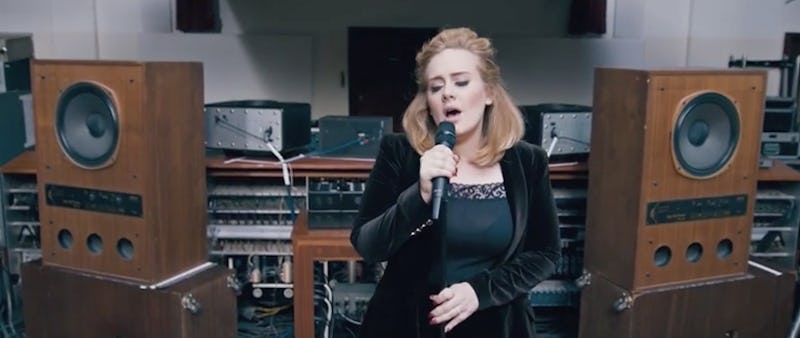 Somebody get me a cardigan, because I have the chills all over again. And it can only mean one thing: Adele just debuted a new song. Yes, recorded right in The Church Studios, Adele released a live video of "When We Were Young," and it's already become a great track to miss your ex to in only a few short hours. It's only after six replays and several tears that you start to think: wait a minute, "The Church Studios," where the hell is the Church Studios? Where was the video for "When Were Young" shot?
Well, through all my journalistic expertise, I was able to dig up some answers. The Church Studios is a studio (shocker) in London that (wait for it) is half of a renovated Church. While the church itself has been around since the 1850s, the studio end didn't come into prominence until about 1984. Dave Stewart and Annie Lennox (who make up the musical duo The Eurythmics) were renting the upstairs Church room to lay down some tracks, and eventually converted it into a full blown recording studio. It was there that they recorded their hit album Sweet Dreams, and, from that point forward, The Church Studios became an iconic place for artists to let the music flow.
Since then, it's housed a series of important musicians for recording sessions. Some artists who have preached at the church are U2, Bob Dylan, Elvis Costello, Depeche Mode... you know, top tier musical folk who have definitely flooded your iTunes in some way, shape, or form. The studios has also gone through many rotations with owners. It is currently helmed by UK producer Paul Epworth, having adopted Church Studios when it was under peril of bought out by property developers in 2013.
In short, The Church Studios may not be as easily recognizable as, say, Abbey Road. (To be fair, the Beatles had broken up long before it could be used as one of their album titles.) Still, it's an interesting footnote in music history and has housed more than a few significant talents... with Adele just being one of the most recent editions. Also, a studio that used to be a church? Awesome.
It'll be three long days before Adele releases 25 on November 20, and, with "When We Were Young," anticipation is hiiiiigh. 'Till then, watch the video below again (because, let's be honest, six times isn't nearly enough) with a newfound appreciation for the Church Studios.