This New Couples' Sex Toy Offers Breakup Insurance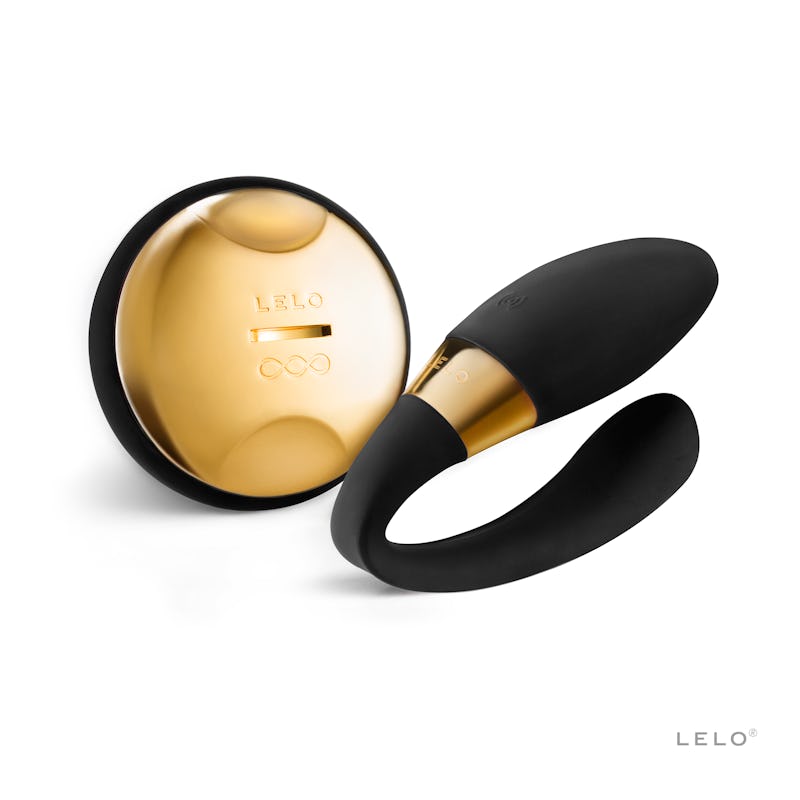 Now that vibrators have become somewhat mainstream, couple's sex toys are all the rage. Long gone are the days of women pulling out a vibrator from her drawer of goodies to share with her partner. Instead, couples are investing in vibrators that they can both enjoy together. It's about time.
Because you absolutely needed another sex toy option for the next time you walk into a sex toy store, LELO has introduced yet another couple's sex toy to add to the party of couple's sex toy. Similar to other sex toys that are enjoyed together by partners, the LELO TIANI 24k is meant to be worn during intercourse so both parties can really get the most out of the toy. While we often think of vibrators as being just a woman's toy, I can't even tell you how many male partners I've had who love the sensation of a vibrator against their penis, balls, and that soft spot behind the scrotum, the perineum. Basically, couple's vibrators are exactly what your drawer of goodies need, and anyone who says differently is truly missing out.
While this isn't the first time that LELO has come up with an exciting sex toy, the LELO TIANI 24k is definitely in a league all its own. For starters, it offers Couples' Insurance, something that no other couple's vibrator does, but I'll get to that in a second. Here are six reasons to try the new LELO TIANI 24k Gold Sex Toy.
1. It's Made Of Gold
If you're the type of person who believes that their vagina should only be stimulated by gold, diamonds, or something equally chichi, then the LELO TIANI 24k Gold Sex Toy is for you. The name alone points out the reasons why gold-lovers should be jumping at the chance to give it a try.
2. Couples Find That Couple's Massagers Are Great For Their Relationship
According to LELO, of the 5,000 customers who were surveyed, 71 percent of couples found that in using a couple's vibrator, there was an improvement in their sex lives. Another 83 percent of couples who use sex toys have found that they have a positive affect on their relationship, too. And, no, vibrators are not addictive so just get that out of your head.
3. More Than Half Of People Report Better Sex Thanks To Couples' Massagers
Another interesting fact that LELO's study found is that 57 percent of those surveyed could attest to sex being three times better when they use couple's vibrators with their partners. THREE TIMES BETTER, people.
4. It Has Couples' Insurance
As I briefly mentioned above, the LELO TIANI 24k Sex Toy comes with Couples' Insurance. No joke. LELO promises that should you and your partner break up within 12 months of purchasing the toy, they will gladly replace it with one of their other awesome products. But, LELO is also quick to note that they don't expect a big surge of people needing other toys more specific for solo use, because when it comes to keeping couples together the LELO TIANI 24k Sex Toy has that in the bag.
As LELO's Director of Marketing, Steve Thomson, explains, "LELO is not simply about bringing people together, we're about keeping them together, and we're prepared to prove it." Well then; that's some major confidence on their part.
5. It's Designed To Please Both Partners
While some couple's vibrators focus on stimulating the woman in the scenario more than the man (we do need a bit more effort after all), the LELO TIANI 24k Sex Toy has two motors in it and eight vibration patterns and speeds, so both partners can really live it up. It's also waterproof, so you can use that baby anywhere.
6. It's Currently 50 Percent Off
Because Couples' Insurance, gold, two motors, and the fact that it's going to bring you and your partner even closer together, isn't enough, there's also a discount involved. LELO suspects the LELO TIANI 24k is going to be such a huge hit this Christmas that they're currently offering a promotion that gets you a cool 50 percent off the product. Instead of $399, it's currently available for $199, and in the world of couple's vibrators that's a bargain.