I Used A Couples Vibrator For The First TIme, And It Was Weird And Awesome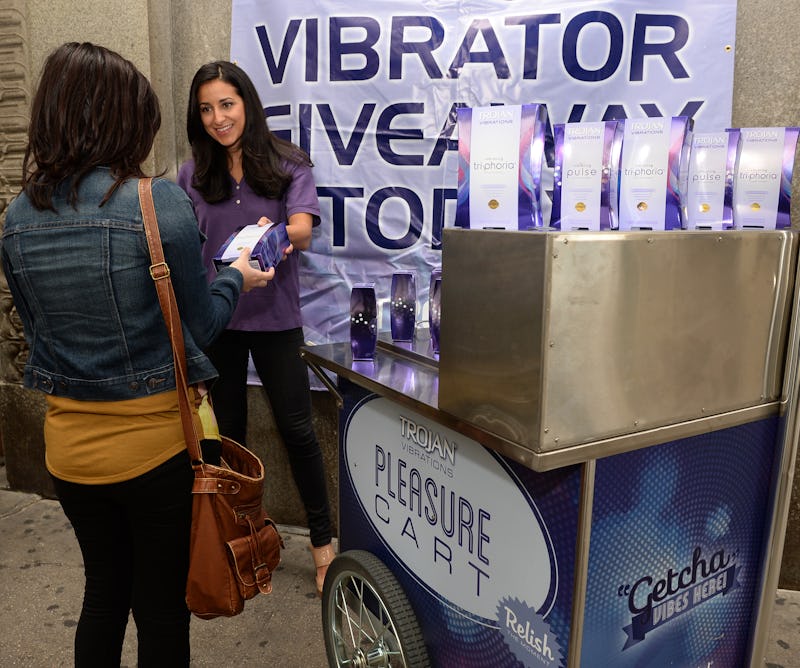 Michael Buckner/Getty Images Entertainment/Getty Images
The idea of using a couples vibrator has historically terrified me for two reasons: terror of vibrators, and terror of couples. It was only earlier this year that I used a vibrator for the first time, so it is not surprising that I could not yet imagine navigating sex that involved both a man and a machine. And after years of being single, I couldn't imagine myself in a relationship either. In my experience, single culture is not such that people whip out vibrators or toys for random hook-ups. Investing in a couple's vibrator, in many ways, meant investing in being a part of a couple, which requires a certain level of this-is-real intimacy that is pretty foreign to me.
Other women fear couples vibrators because they worry that their partner will feel threatened by the suggestion of incorporating one into sex, as though this implies his sexual inadequacy. However, this is rarely the case: a 2011 LiveScience study found that most men are not intimidated by their partner's vibrator use. The same study found that using a vibrator in the context of a relationship, whether heterosexual or homosexual, is related to increased sexual satisfaction. Some women are also reluctant to experiment with toys because they're worried they'll experience a decrease in sensitivity during sex with humans, sans vibrator. This fear, too, appears to be unfounded: only three percent of women experience vibrator-induced numbness.
Armed with all this info, a new We Vibe 4 Plus couples vibrator, and a partner I was ready to explore with, I decided to give it a shot.
We Vibe 4 Plus Couples Vibrator , $89, Amazon
THE TOOLS:
The We Vibe 4 Plus falls on the less terrifying end of the Vibrator Fear Spectrum. (On the other end of the Spectrum, you'll find these medieval torture device look-a-likes.) The toy, pink and small and smooth to the touch, comes with an extensive instruction manual, a spaceship-looking thing that charges it, and a remote control. While bringing any old vibrator into the bedroom can be a major bonus, this is interesting in that it's specifically for couples sex, sort of like a cock ring.
We Vibe 4 Plus Couples Vibrator , $89, Amazon
Its corresponding app lets you create vibration playlists (the phone connects to the vibrator because the future is crazy) and browse through pictures, tips, and tricks that are quite useful even if you don't feel emotionally prepared to shell out $179.
The device is shaped like an oblong C; one end of the vibrator goes inside you (the G-spot stimulator), while the other, bigger end rests on your labia (the clitoral stimulator). Once you secure the vibrator on your vagina, it will fit snuggly, and you can adjust your vibration settings, either via your iPhone or the small remote control that comes with it. It fits so snuggly that you could even wear it to work or on a dinner date (the former is probably a bad idea, though the latter could make for some sexy foreplay with your partner). I ran around and did squats and jumping jacks wearing my We-Vibe, and not only did it stay put, but I burned a few cals. During intercourse, a penis can penetrate under the G-spot stimulator, though per usual, a penis is by no means necessary.
While the device is pretty user-friendly, you'll definitely want to explore before incorporating it into intercourse. You may, for hypothetical example, be confused for days about which part goes in you and which part goes on your clitoris, simply because you were too lazy to read instructions. You'll want to figure this out first, for maximum pleasure. Some other things you'll want to figure out: which vibrations you like. Slow? Fast? Undulating? Staccato? Which setting do you like on your clit, and which do you prefer on your G-spot? (Yeah, you can set different modes for each part.) These are just a few of the questions you must contend with. You control the mode ("pulse," "wave," "echo," etc), the duration of that mode, and its intensity.
I spent one afternoon playing around with all the settings, and I concluded that the wave setting, which undulates in intensity, was my favorite, on both the external G-spot stimulator and the clitoris stimulator. (Wave on clit and "cha-cha-cha" on G-spot was fun, too.) You'll have to fool around to see which you like best.
The device's versatility is overwhelming. You can put it in your butt, around the shaft of a penis, even "under your chin during oral sex," according the Tips and Tricks section of the app. I don't even know what that means.
Through the app, making a vibration playlist is entirely easy, even if the last playlist you made was in 10th grade when you got broken up with. You set the mode, duration and intensity, and then save it in your phone under any name you'd like, whether "With my Boo" or "Alone and Horny" or "Shower Funtimes." My favorite custom playlist, which I call "Hell Yeah," is set to go from pulse, to wave, to tide, for three minutes each.
GETTING STARTED:
Overwhelmed by possibilities, I decided to start small and simple: one part inside, one part on the clitoris. Danngggg was all I really had say about that. Danngggg. It wasn't immediately clear to me that I needed to involve my partner. Note: Experimenting by myself was fun, but way more fun with lube. While this latest We-Vibe model does not come with lube, you'll definitely want to have some on hand.
When I felt ready to incorporate the vibrator into sex with a vibrator, there was some confusion and nervousness about fitting the penis under the part that went inside me. Again: lube, lube, lube.
THE MAIN EVENT:
The extra clitoral stimulation felt great, but honestly, it took some getting used to. At first, I felt like there was too much going on, which made it hard for me to completely relax and feel present. If you decide to use the We-Vibe 4 with a partner, you must first accept (and embrace) that there will be a lot of futzing, adjusting, and a substantial amount of laughter. And that's kind of the point: adding a little bit of fun and awkward and weird to sex. For example: nine times out of 10 you'll accidentally knock the remote control off the bed. It's not so easy keeping track of different technologies (vibrator, remote, iPhone) when you're in the midst of sexual intercourse.
At the very least — and this is true with both personal and couples vibrators — you'll develop a stronger sense of what you like and what you definitely don't, and that information is invaluable.
CONCLUSIONS:
The thing about couples vibrators (and the thing about couples) is that each individual will have a wildly different experience, and the success of the device (or the relationship) is your ability to make it work for you. Personally, I wasn't crazy about having a penis and the G-spot stimulator inside of me at the same time. I was surprised to discover that, just like there are a thousand ways to skin a cat, there are even more ways to enjoy a couples vibrator. So, when it felt like too much, I thought: Why not swap the penis with a finger, or a tongue? The only limiting factors here are your imagination and initial terror.
Maybe your man will like it around his penis. Maybe you'll like it inside you when your girlfriend goes down on you. Maybe you'll like it in your butt. How you use the thing is totally up to you (that is, after you've spent a few hours reading the manual, fooling around with it, and synching up your phone to the vibrator or figuring out how to work the remote control.) My favorite use of the vibrator was during foreplay with my partner, or completely alone.
I'll definitely use this vibrator again, both alone and with my man friend, until we find its most perfect use for us. The next frontier? The bathtub. 100 percent waterproof, baby.
We-Vibe 4 Plus Couples Vibrator , $89, Amazon
Images: We-Vibe