Patina Miller Is Back In 'Mockingjay, Part 2'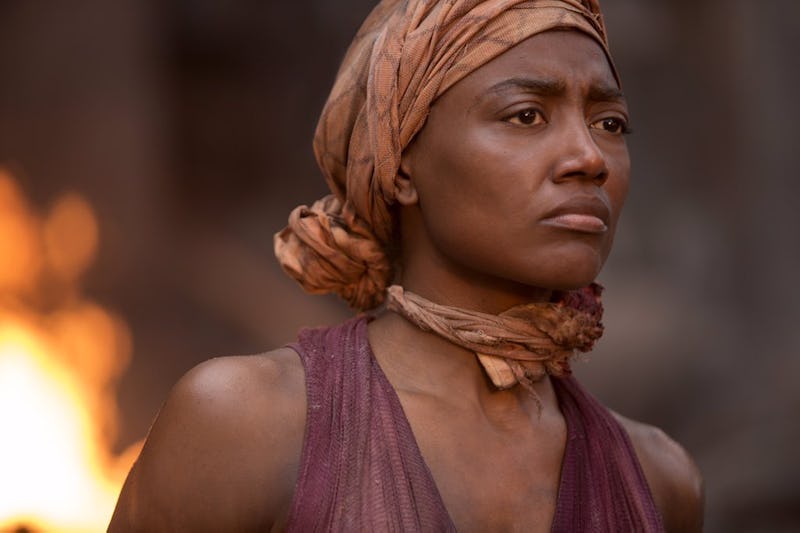 Fans who haven't spent hours reading and re-reading Mockingjay or watching and re-watching Mockingjay, Part 1 might not remember Commander Paylor. But that doesn't mean she isn't an important character. In fact, Paylor plays a crucial role in the rebellion against the Capitol and the future of Panem in The Hunger Games. Still, for a lot of people going to see Mockingjay, Part 2 this weekend, the leader might seem like a brand new character. So, who is Commander Paylor in Mockingjay and who plays her in Mockingjay, Parts 1 & 2 ?
Paylor was first introduced to audiences in Mockingjay, Part 1 , in a brief sequence mid-way through the movie. After Katniss agrees to become District 13's Mockingjay, she takes a trip to District 8 to film some propos at a local hospital. It is there that the Girl On Fire first meets Paylor, leader of District 8. Paylor gives Katniss a tour of her decimated District, including the hospital housing countless injured in the rebellion, as well as families looking for shelter. As a result, she is one of the only members of District 8 who survives the bomb strike that hits during Katniss' visit. Unfortunately, Paylor isn't seen or heard from throughout the rest of the film, but she does reappear in Mockingjay, Part 2 .
In the Mockingjay book, Paylor doesn't cross paths with Katniss again until the revolution is over. Before Katniss is set to execute President Snow, Paylor helps expose President Coin's corruption to Katniss, and after Katniss kills President Coin, Paylor is elected President of Panem.
It's unclear, exactly, whether or not Paylor's character will follow the same journey in Mockingjay, Part 2. In brief glimpses of Paylor seen in the trailers, it looks like Paylor will be more involved in the fights against the Capitol than she was in the books. This is a good thing, mostly because of the actress who plays Paylor, the goddess Patina Miller. Miller currently stars on CBS' Madam Secretary, but before that she made a huge splash on Broadway, earning a Tony nomination for her starring role in Sister Act: The Musical. Though she didn't take home the prize in 2011, Miller was awarded a Tony two years later for her role in Pippin.
Miller's role in The Hunger Games saga might be relatively small, but the actress has apparently loved every second of it. "Playing Commander Paylor was wonderful! Her heart & resilience were great to tap into," Miller wrote on Twitter.
Bottom line: Paylor is a welcome addition to the group of badass women featured in Mockingjay. My only regret is that the actress doesn't get to sing, too.
Images: Lionsgate