Natural & Organic Beauty Brands You Need To Know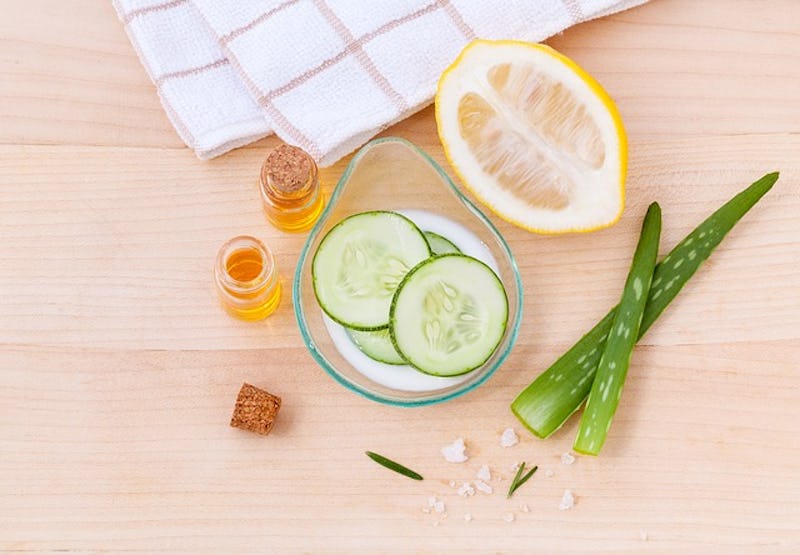 Skincare fans, it's time to listen up. We've all heard of the incredible Origins, LUSH, and Tata Harper, but there are plenty of other all-natural or organic beauty brands that you need to know about. Whether you're looking to decongest your skin or perk up your complexion, there is an all-natural solution for you. With some people trying to move away from sulfates, dyes, and artificial fragrances, organic, cruelty-free products are popping up everywhere. Wondering what "organic" actually means when it comes to your skin care? According the U.S. Department of Agriculture, a product must contain at least 70 percent organically produced ingredients — like whole plant or food items — to use the word "organic" anywhere on the labeling. In order to call a product just straight up "organic," it must contain at least 95 percent organically produced ingredients. No byproducts or extracts here. Just natural, pure forms that can do wonders for your skin.
When shopping around, look for items that offer non-toxic, non-comedogenic, or fair-trade organic ingredients. It's a healthy alternative to your traditional beauty options. The many of the lesser known brands below even get there ingredients from farms located right here in the USA. So, go ahead and change up your day-to-day skin care routine. Here are a few all-natural or organic beauty brands that should definitely be on your radar.
1. SkinnySkinny
Skinnyskinny Toner, $24, skinnyskinny
Skinnyskinny Organics is an organic skin care line based out of Brooklyn, New York. Their products are free of parabens, sulfates, synthetics, and perfumes, so it's perfect for anyone who has sensitive skin issues. My favorite product from the line is the Chamomille and Mashmellow Root Toner. It instantly calms the redness in my skin.
2. MeowMeowTweet
MeowMeowTweet Soap, $12, meowmeowtweet
Just how cute is that packaging?! If you're looking to fall back in love with bar soap, try their Pink Rose Clay bar. It smells exactly like roses.
3. Yarok
Yarok Feed Your Youth Serum, $30, shop.yarokhair
Created by hairstylist Mordechai Alvow this cruelty-free line uses exclusively certified organic ingredients for their products. If you have dry, brittle hair that's in desperate need of moisture, try their Hair & Scalp Treatment. It's absolutely divine.
4. Fig + Yarrow
Cleansing Nectar, $30, rodales
Fig + Yarrow is made in the USA, and uses only organic or wildcrafted ingredients to formulated their products. For my lazy girls, I suggest using their Cleansing Nectar. It's a one-stop-shop for all of your cleansing and toning needs.
5. Skin & Tonic
Skin & Tonic Moisturizer, $40, rodales
Born out of London, this simple, non-nonsense brand is great for those who are looking for effective products free of synthetics and preservatives. Check out their Calm Balm if you're looking to soothe any dry, winter skin issues. It's a total lifesaver.
6. Belmondo
Belmondo Exfoliant, $35, rodales
Scrub away dead skin, and renew your natural glow with Belmondo's exfoliator, The Dunes. It'll reveal your best skin yet. Plus, the line is cruelty-free, organic, and uses fair-trade ingredients when possible.
7. Ursa Major
Ursa Major Tonic, $26, ursamajorvt
Ursa Major is a cruelty-free, gluten-free, and totally vegan skin care line that you need to know about. Their 4-in-1 Essential Face Tonic is perfect for those who want to take care of their skin in one simple step.
8. 100% Pure Cosmetics
100% Pure Eye Cream, $25, 100percentpure
I have a deep love affair with this brand. It's completely amazing. Perk up your eyes this winter with their coffee bean charged eye cream. It's perfect for early mornings.
9. RMS Beauty
RMS Living Luminizer, $38, RMS Beauty
Created by master makeup artist Rose-Marie Swift this organic color cosmetics line is absolutely sensational. The products are high quality cosmetics using organic ingredients Check out their luminizer. It's a universal highlight that will give anyone a gorgeous glow.
10. Briogeo
Briogeo Shampoo, $22, S ephora
Here's a line that really packs an eco-friendly punch. Briogeo products are vegan-friendly, cruelty-free, and made without silicone, synthetic fragrances or dyes. Plus, their shampoos smell amazing!
11. Earth's Nectar
Earth's Nectar Scalp Oil, $19, S ephora
Fight off dry skin and hair loss with this luxurious, yet lightweight scalp oil. Earth's Nectar was originally formulated for girls with curls, however, this scalp oil will work for any hair type.
12. Drunk Elephant
Drunk Elephant Serum, $90, Sephora
If you're looking to completely transform dull, congested skin, then you need to know about this line. Specifically, Drunk Elephant's T.L.C Framboos Glycolic Night Serum. While this line isn't formulated with 100 percent all-natural ingredients, it is completely non-toxic to the skin and fragrance-free.
13. Human + Kind
Human + Kind Cleanser, $20, Sephora
Melt away makeup with this beautifully packaged facial cleanser. This line boasts products that are cruelty-free, gluten-free, hypoallergenic, and noncomedogenic.
You don't need loads of chemicals to have effective skin care! These amazing beauty brands are breaking the mold by using all-natural or organic ingredients to make out-of-this-world products.
Images: Pixabay (1), Courtesy of Brands