Kelly Clarkson's New Video Is All About Families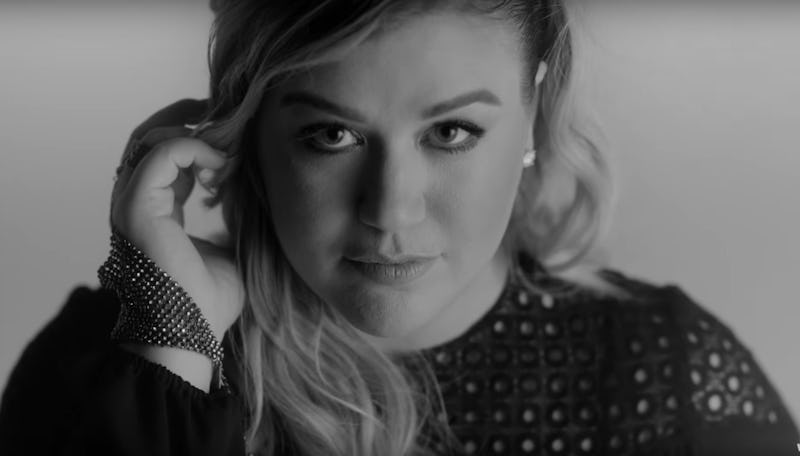 Kelly Clarkson is all about powerful music videos. The very first American Idol has made a habit of producing videos that bring out all sorts of feels, from "Breakaway" to "Already Gone." Her new work is proving to be no exception. On Thursday, Kelly Clarkson released the "Piece By Piece" music video, one that corresponds with the title track from her most recent album, and it will make you want to hug your mom. The new video celebrates mothers and daughters, alternating between black and white shots of Clarkson singing and women of all ages — some of them bearing pregnant bellies. It ends with a touching scene that features Clarkson holding her baby daughter, River Rose.
Clarkson admitted in an interview that "Piece by Piece" is about the drastically different relationships that she has with her father and her husband, Brandon Blackstock. "My husband came into my life and he was the complete opposite of how my father was. He was present. He wins for being around," Clarkson told CBS' Gayle King this week. In the song Clarkson, who announced in August that she is pregnant with her second child, sings heartfelt lyrics like "I will never leave her like you left me / And she will never have to wonder her worth / Because unlike you I'm going to put her first," and "piece by piece, he'll restore my faith / That a man can be kind and a father should be great." Seriously heavy stuff. I mean, aren't you already dialing your parents?
Clarkson has had to cancel the rest of her Piece by Piece tour due to some undisclosed vocal health issues, so it's great to see that she's not letting vocal rest stop her from sharing her music —particularly music with such an incredible message — with her fans. She's always been very open with her fans about her life and her struggles, careerwise or otherwise, and it's nice to see that even being put on vocal rest hasn't deterred her love for this album.
Now, pick up the phone and tell your parents that you love them. Kelly Clarkson would want you to.
Images: Giphy; KellyClarksonVEVO/YouTube