A Quest To Find The Perfect Brow Product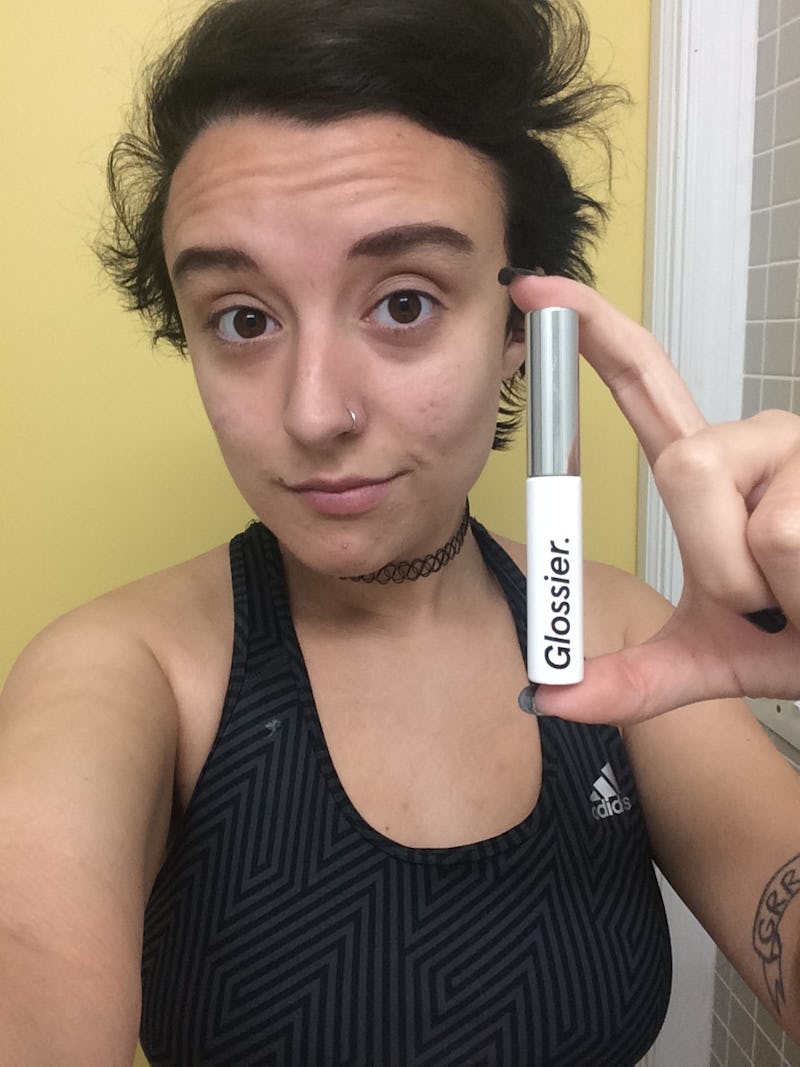 I am very passionate about my eyebrows; and recently, I was actually introduced to the concept that I have the power to transform my brows into something spectacular with a little bit of product. Naturally, it has become of utmost importance to me to find the best brow products out there: The tools needed to help me towards my path of total bad-assery. As someone with light and patchy eyebrows, this information has changed my life for the better.
My ideal product is one that delivers both bold color and thickness. I recently dyed my hair black, so the need to amp up the darkness in my brows is more pertinent than its ever been as well. But I also have considerable unevenness in my eyebrows, thanks to a botched at-home wax job years ago that my left eyebrow still seems to be recovering from. Finally, I was after a product that's easy to apply and as neat as possible. Finding something that can successfully fill in these problem areas and make for mostly seamlessly-shaped and matching brows would be the golden ticket.
And so I tried a bunch of different products on my search for the perfect brow. Here's what I thought about each.
Anastasia Beverly Hills Tinted Brow Gel, $22, amazon
I was very intrigued by Anastasia's Tinted Brow Gel for two reasons. Firstly, Anastasia is known among beauty lovers as one of the best brands for brow products out there. Secondly, the tinted brow gels were just what I needed in terms of livening up my brow routine while straying from my usual dark brown color. I chose the Caramel one because I was obsessed with the idea of gold-hued eyebrows, which was what the packaging seemed to promise.
The product that delivered me glittering gold brows wasn't as lightweight as Boy Brow, but it was easier to layer without any smudging, clumping, or unevenness. The formula tamed and shaped my eyebrows so perfectly that I didn't feel the need to follow up the application with sealing/taming gel.
After drying, Anastasia's Tinted Brow Gel feels a little stiff, and moving my eyebrows later in the day was somewhat weird. By the nighttime, the product had begun to flake a considerable amount as well, but the color and sparkle of the gold were still just as vivid as when I first applied it.
e.l.f. Eyebrow Treat And Tame, $6, amazon
Next, I returned to an old favorite: e.l.f., since its quality products for ridiculously affordable prices have never failed to impress me. I was initially worried about how the gel would look, since it appeared to be very dark in the bottle. However, once applied, the hue matched my natural hair color (read: my roots) perfectly, and delivered a totally easy application.
The gel's color spreads and layers easily with no mess or clumping, creating natural-looking color along the way (if you are looking for bolder brows, however, this may not be the product for you). The resulting shade matched the color my eyebrows used to be when I was younger, pre-waxing disasters.
My only complaint is that the brush used to apply the color and taming gel feels rough and dry, which irritated my skin a bit.
Benefit Cosmetics Gimme Brow Volumizing Fiber Gel in Medium/Deep, $19, amazon
Benefit is also another long-time love of mine for its adorable packaging and catchy product names. I was excited to try its Gimme Brow, hoping the product would live up to its namesake. And, well, it did. Its precision brush was similar to Glossier's tiny applicator, but even more precise. It caught and tamed every stray hair, which thrilled me.
The formula was completely no mess/no clump/no smear (hallelujah), and its subtle and easy application reminded me of e.l.f. with a slightly bolder take.
My only qualm with this product has to do with the smell. Once you open the bottle and as you apply, the strong odor of chemicals will invade your nostrils. Luckily, the smell fades almost immediately after application. The color, on the other hand, stays and stays.
Brow Tech To Go In Brunette, $28, amazon
From its vivid lipsticks to the flawless foundations, I've never been disappointed by a Smashbox purchase. However, I wasn't as thrilled about its Brow Tech product as, say, its awesome BB cream. The product is half thick eyebrow pencil (with an almost charcoal texture) and half taming gel. I was disappointed that it didn't do much for me in terms of thickening. But since it's a pencil, that's probably an unrealistic expectation anyway.
The pencil itself glides on very easily, and is way better an experience than slowly scratching my eyebrows off with a classic pencil. Its gliding texture made applying the color so much easier than when using a brow pencil, with the color going on evenly and neatly sans any real effort. Unfortunately, the color was lifted somewhat substantially once I applied the gel to seal it.
This product is perfect for anyone who uses brow pencils and prefers the subtler look they provide, but who wants a break from the sensation of a sharp pencil so close to the eye.
Rimmel London Brow This Way Sculpting Kit, $6, amazon
Thanks to Rimmel, I quickly realized how valuable a sculpting kit is and that applying pomade-like color to your eyebrows with a fine brush is a formula for perfection. Brow This Way delivered me bold brows, and way more control than previous gel brushes offered. The formula was perfect for seamlessly covering over my bald spot. It was as though it wasn't even there! What more is there to say, really?
NYX Eyebrow Gel, $10, amazon
Ladies, gentleman, and everyone in between: I'd like to introduce you to my favorite thing in the whole world. I cannot speak highly enough about NYX's Eyebrow Gel, as it made my brows the most on fleek they've ever been, as well as serving as the perfect eyebrow filler. I was very scared to try this product since it does come in a tube and looks like it requires some precise application with a fancy brush (cue memories of me royally fucking up the application of many a liquid lipstick).
Luckily, it's easier than it looks. Take it from me: A person who fails terribly in most makeup application scenarios. The product is essentially spreadable ink, and actually applies very neatly and evenly despite its potential for messy disaster. My brows looked bold, matte-ified, and perfectly tamed without the aid of a treatment gel. The product didn't come with an application brush, so I used one of the brushes from the sculpting kit.
Boy Brow, $16, glossier.com
First up was Glossier, the beauty brand that I've been obsessing over since its launch in 2014. The brand recently released the adorably-packaged "Boy Brow," which boasts the ability to thicken your brows and give them incredible hold. Both were true, and Boy Brow really held these brows in place while also acting (and feeling) like a pomade, thickening the hairs and leaving room for building and layering.
This makes the product great for hiding my bald spot, of course, but it also makes the product a little goopy and easily smudged when you try to fix certain parts of your work. This was frustrating for me, since my brow product-applying skills are far from perfect on the best of days. Additionally, it's important to note that the product is only offered in three shades.
However, the formula is incredibly long-lasting, staying put until you actively try to remove it at the end of the day (and it is super easy to remove with a simple swipe of a makeup wipe).
So there you have it: The wonders of the perfectly sculpted brow.
Want more beauty tips? Check out the video below, and be sure to subscribe to Bustle's YouTube page for more hacks and tricks!
Images: Meg Zulch; Courtesy Brands