6 Weird Face Masks To Make At Home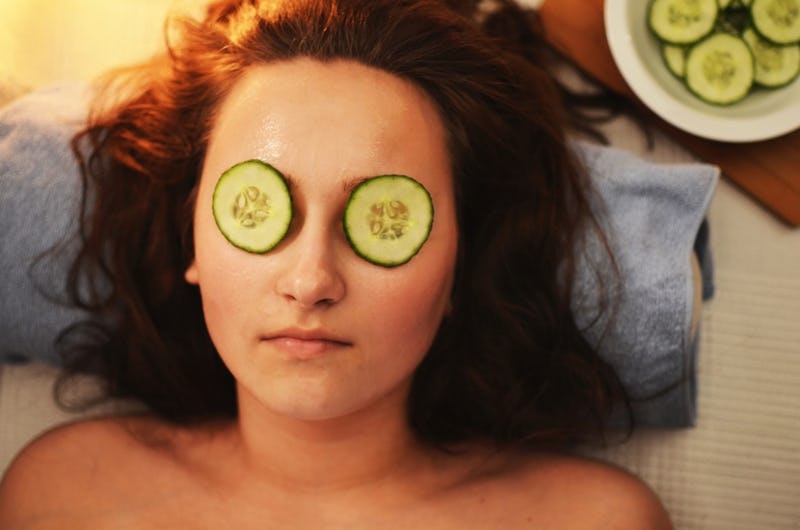 If you're short on cash, but craving yourself a spa night, then you may be wondering what kind of face masks you can make at home. Because everyone agrees that it's pretty great to spend some time lolling around the house in nothing but a robe and green face mask. And the shiny skin you get to sport afterward? Even better.
I'm a big fan of any DIY skin treatment. It's probably because I am usually on a budget when it comes to beauty products (even though I love them oh so very much). Someday when I'm old and rich, I'll have a sink lined with fancy lotions and sprays. But right now I kinda have to stick to whatever I can find in the drugstore.
If you're in the same boat, then I suggest checking out what you have in your fridge. It's really amazing what you can whip up with things you already have lying around. But since we've probably all tried the oatmeal face mask or the brown sugar scrub by this point, why not mix it up a bit and see what other weird stuff you can smear on your face? Turns out the more exotic fair from the back of your fridge can actually work some magic on the skin. So forgo boring yogurt face masks, and give something new a try.
Here are some unique, but beneficial, face masks that you can make using stuff in your kitchen.
1. Coffee Grinds Facial
If you take a look at expensive face creams and masks that promise to tighten your skin, you'll see that a lot of them have caffeine as a main ingredient. According to Sarah Howard at Beauty Banter, it's because caffeine helps tighten the skin by reducing inflammation, thus leaving your skin glowing and bright (and who doesn't want to be glowing and bright?)
The recipe, which can be found here, consists of things you probably have lying around after breakfast. Coffee grinds, honey, milk, lemon juice... and a little bit of cocoa powder. You can even make the mixture into a paste to place under your eyes to help relieve dark circles. As someone who is constantly tired, I'm very into this idea.
2. Gelatin Peel-Off Mask
I've heard of a lot of crazy beauty treatments, but never a Jell-O face mask. My first impression was that this mask would be sticky and gross, but it actually peels off oh so satisfyingly (which may be reason enough for you to try it). All you'll need is some gelatin, green tea, lemon, and two egg whites and you'll have yourself a fun little science experiment to put on your face.
3. Toning With Vinegar
There seems to be no end to the things vinegar can do, and that includes helping make your skin look pretty. According to Reader's Digest, "Using vinegar as a skin toner dates back to the time of Helen of Troy, and it's just as effective today. After you wash your face, mix 1 tablespoon apple cider vinegar with 2 cups water as a finishing rinse to cleanse and tighten your skin. You can also create a homemade facial mask by mixing 1/4 cup cider vinegar with 1/4 cup water. Gently apply the solution to your face and let it dry."
4. Butter & Strawberries To Fight Acne
The first thing that comes to mind when I think of an acne treatment is definitely not butter. But apparently this mask is very moisturizing, as well as quite the pore de-clogger. That's because the strawberries contain alpha hydroxy acids (AHAs), which can unclog pores and help fight acne, according to StyleCraze. And the butter plays the part of the moisturizer. Makes sense!
5. Moisturizing Mayonnaise
All you need for this face mask is a jar of mayo. Spread it on your skin, leave it on for 15 minutes, and then gently wash it off. Because it contains eggs and soybean oil, mayonnaise works as a natural emollient that will help soothe dry skin, according to Emily Woodruff for Total Beauty.
6. Mustard-y Goodness
Here's another one ingredient mask, and this time all you need is mustard. According to Woodruff, "Mustard seeds contain sulphur, a bacteria killer that will keep your skin in balance. They're also rich in vitamin A, C and K, which prevent free radicals." Test this mask on a small patch of skin to make sure you aren't going to have a reaction, and then smear it all over your face (you can even use an old makeup brush to smooth it on, if you want to feel fancy). After 15 minutes, rinse it off with warm water and reap all the mustard-y benefits.
It's fun to treat yourself to a face mask at home, especially when you can make it yourself. The next time you want to mix up a beneficial concoction for your face, consider giving some weird ingredients a try for glowing, healthy skin.
Images: Pexels (1); Giphy (6)