Tips For Packing Light On Your Next Trip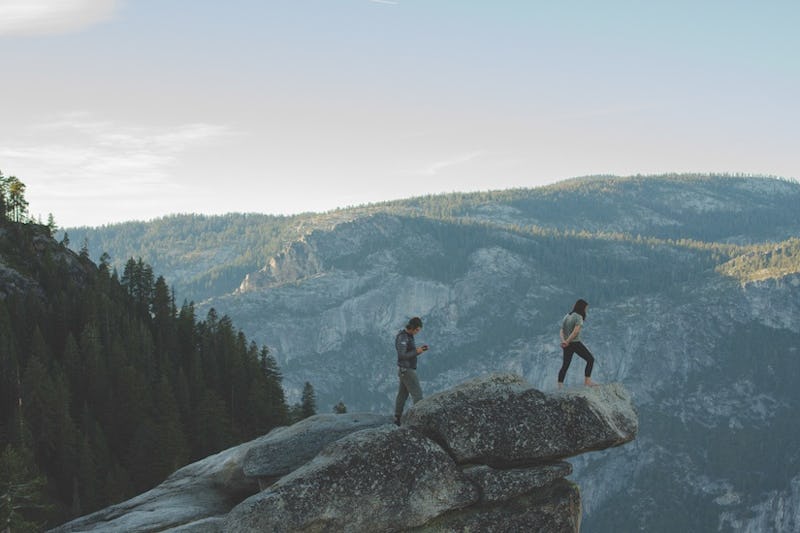 So you've booked a weekend away and now all you have to think about is what to pack. For those who always fill their luggage to breaking point, finding ways to pack light isn't always the easiest thing. I was once in your shoes; I would turn up to the meeting point at the start of the vacation with my suitcase, duffle bag, backpack, and purse, and I would be ridiculed for the entire rest of the trip. I always wondered how air hostesses and jet-setting business people managed with their teeny, tiny wheeled suitcases which look like they would hold Barbie's entire wardrobe, but only a human-sized pair of socks and knickers.
On a recent trip with my fiancé, we were allocated one suitcase to share, along with a small item of hand luggage each. I knew I needed to cut down on what I was taking on vacation because technically half of the suitcase was earmarked for his belongings. This was a hard, but very valuable lesson for me in packing light because, whether I liked it or not, I had half of the space I would normally use. Here's what I, a self confessed ex-overpacker, learned from being forced to pack light.
1. List Your Necessities
List your necessities and do not be tempted to deviate from your list. By necessities I mean items such as: Personal care items, medication, phone charger, and bathing suit. Everyone's list will be different but the rules are the same. As the Huffington Post recommended, "Write down exactly how many shirts, pants and shoes you will need, taking into account the climate of your destination. Also, don't forget to use logical numbers to determine necessary clothing — for example, the number of shirts you bring probably shouldn't exceed the number of days you'll be away." If you stick to your list, you'll probably be less likely to overpack.
2. Roll Don't Fold
In their video entitled, "10 Insanely Easy Packing Hacks" BuzzfeedYellow advises viewers to roll clothes as, "This will maximize space and reduce wrinkles." It saves on space and saves me from having to iron at my destination, which makes this possibly my most favorite packing hack.
3. Make Use Of All Your Space
Never explored all of the zip pockets and elasticated compartments within your luggage? Now's the time. Also, don't forget to utilize the items which you are packing: Stuff socks and underwear in boots and shoes and if you're taking a handbag make sure to fill it with items such as jewelry or toiletries.
4. Step Away From The Appliances
Appliances like hair dryers, heated rollers, and wide-plate straighteners will take up a substantial amount of space in your suitcase. Ask yourself if you are really going to have time to spend on styling your hair in the morning. If you're in and out of the pool or the ocean, or if you're hiking or backpacking, are you really going to take the time to make your hair look flawless? Besides, most hotels have hair dryers in their rooms anyway. Also, if you're traveling with a friend who views their beauty appliances as essential items, you might be able to borrow theirs if you really need to.
5. Designate A Star Garment
Choose a piece of clothing which you can form the basis of most of your outfits around. This could be a pair of jeans, a little black dress, or a pair of shorts which you can wear with a variety of tops and accessories so that it looks like you're wearing a whole new outfit each time you wear it. This will save you tons of room.
6. Be Brutal
Do you really need five tops, six dresses, and three pairs of jeans for a weekend away? Sure you might have more outfit changes than in regular life but it would be slightly weird to change for breakfast, lunch, and dinner especially when your friends packed two entire outfits for the whole weekend. Stick to your list (see Point 1) and do not be tempted to add anything else.
7. Give Your Shoes The Boot
In an article for Condé Nast Traveler, flight attendants told Jaime and Jacinda of PrettyPrudent, that when packing, to limit your footwear to a pair of flip-flops, flats, and sneakers. They continued by informing readers of a helpful tip, "Save room by wearing the bulkiest shoes you are bringing to the airport; if it is fall or winter and you want to bring boots, just plan on wearing those on the plane."
Stick to these tips and your overpacking days could be behind you.
Images: JenelleBall, SafouanBesrour/Unsplash; Pexels; Giphy (5)