'Jane The Virgin' Won't Be Gone For Long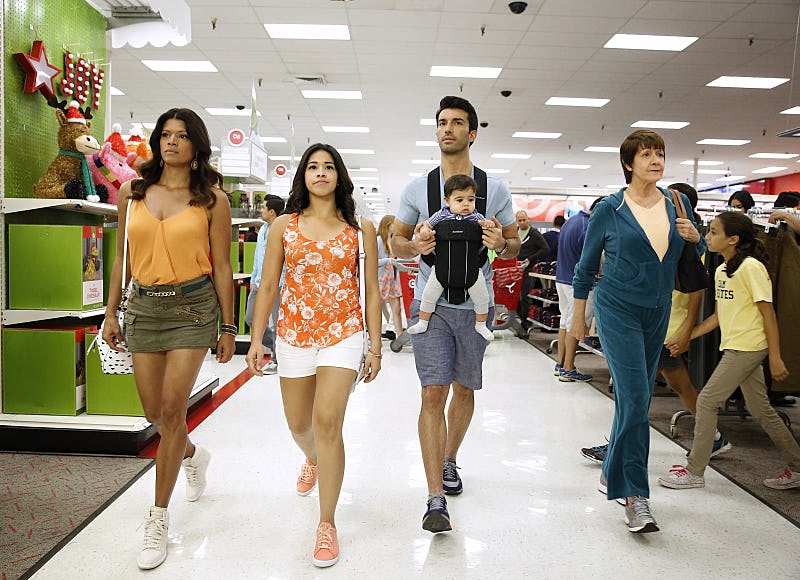 If you're anything like me, then you're pretty much obsessed with all things related to television. For you, watching TV series isn't a fun pastime or hobby — it's a lifestyle. And as a fellow obsessor, you know that we prefer to watch our favorite shows as often as possible. So you can imagine how upset I was when I looked at next week's TV schedule and realized that a new Jane the Virgin episode was nowhere to be found. That's right, folks, we're going to have to awake from our turkey-infused comas and power through Cyber Monday without checking in with our beloved Villanueva clan. (As if the Mondays after a holiday weren't bad enough already.) So when exactly will Jane the Virgin return? Thankfully, I have a feeling we won't be waiting all that long.
As of now, Jane the Virgin's CW schedule doesn't go any further in advance than the month of November, so the precise date of its return is still unknown. However, if last year's lineup is any indication, then this temporary hiatus will only last for a week. Much like this year, the series didn't air a new episode the Monday after Thanksgiving, but came back in full force the following Monday on Dec. 8. So if the show keeps with tradition, we should have Jane the Virgin back on our small screens no later than Dec. 7.
But you won't just have to take my word for it for long. Normally, when a show won't be back the following week, a brief promo is aired at the end of the latest episode, informing viewers of when they can expect the series in question to return. So as long as you don't switch off your televisions too quickly after "Chapter Twenty-Nine," the network should give you an exact date as to when this cruel hiatus will be over. And while that's all well and good, keep in mind that this is kind of a quick test run as far as hiatuses go since basically all shows will be taking a longer break during the Christmas holiday season. But hey, that's a worry for another day.
Luckily, though, the Jane the Virgin cast is very present on social media, so even when we experience an episode dry spell, fans are usually still able to check in on their favorite stars and see what they're up to behind the scenes or off set. So indulge in that delicious Thanksgiving feast and take comfort in knowing that JTV will be back in your life faster than you can say "who the heck ate all of my leftovers?!?!" This guy knows what I'm talking about…
We've all been there. Happy Thanksgiving, everyone!
Image: Greg Gayne/The CW; talesofnorth/Tumblr; lyranasestrelas/Tumblr