Richard Linklater Writes Amazing Female Characters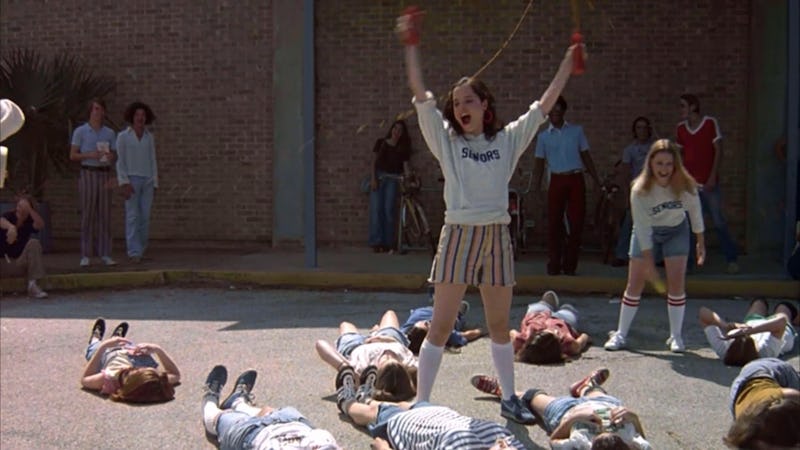 Richard Linklater's focus as a filmmaker has ranged from youth culture to lucid dreaming to rock music to homicide. Whether his sights lay on basic premises (as in Dazed and Confused and SubUrbia) or high-concept functions (like in Waking Life or A Scanner Darkly), the writer-director has never been one to spare hearty characters. Although fans might be focus on the Matthew McConaughey-, Ethan Hawke-, and Ellar Coltrane-occupied roles of Linklater's filmography, the filmmaker has created an awful lot of wonderful female characters as well. In fact, he's created so many great ones that we'd be doing them a disservice if we didn't reflect on the best Linklater female characters.
With his next movie, Everybody Wants Some — now set for debut at 2016'2 South by Southwest Film Festival — the world can expect yet another helping of the Texas native's rich and often loud characters coming down the line. Until then, we have the past two decades of Linklater-helmed titles from which to draw out some of our favorite female characters of modern independent cinema. From Slacker to Boyhood, the director's films have paired amazing actresses with heroic, villainous, funny, heartrending, and almost always offbeat characters that are more than commanding of our attention.
In preparation for Everybody Wants Some, which stars actresses like Zoey Deutch and Dora Madison, here's a ranking of the best female character's from the films of Richard Linklater.
12. Sooze
From: SubUrbia
Played by: Amie Carey
After making a subject of his own youth culture in Dazed and Confused, Linklater returned to Gen X in SubUrbia, only this time with a bit more cynicism in tow. Amie Carey's spiky-haired Sooze shines in a gang of do-nothings and chipper nihilists as an passionate but altogether misguided young feminist who hasn't quite figured out where to target her energies.
11. The Linguist
From: Waking Life
Played by: Kim Krizan
Admittedly, the humans of Waking Life function more as living essays than they do as full-fledged characters. Kim Krizan — co-writer with Linklater of Before Sunrise — ranks high among these theses, offering an interesting take on the nature of, and the human's relationship with, language.
10. Amy
From: Tape
Played by: Uma Thurman
Though not without its flaws, Tape does open up an interesting conversation about the nature of consent, and of female sexuality in a larger context. As district attorney Amy, the subject of a foggy memory about a sexual encounter from years past, Uma Thurman creates a hearty thriller vibe in harmony with Tape's real world aesthetic.
9. Marjorie Nugent
From: Bernie
Played by: Shirley MacLaine
Octogenarian millionaire Marjorie Nugent made for no slouch in the entertainment department. Whether she's snapping at bank tellers or enjoying a night at the theater via her trademark binoculars, Shirley MacLaine's Marjorie is a saucy hoot from beginning to end — well, from beginning to when she's suddenly offed midway through the picture.
8. Donna
From: A Scanner Darkly
Played by: Winona Ryder
It might be misleading to classify A Scanner Darkly's Donna as a female character. However, we see some of the trippy film's most human and empathetic moments through the vessel of a drug-addled Winona Ryder.
7. Cynthia
From: Dazed and Confused
Played by: Marissa Ribisi
Curly-haired Cynthia might be the coolest high schooler to grace the screen in Linklater's beloved Dazed and Confused. Though saddled with the company of wimpy Tony and loudmouthed Mike, Cynthia remains at ease and focused on the chief priority of having fun.
6. Summer Hathaway
From: School of Rock
Played by: Miranda Cosgrove
Rivaling star Jack Black as the most delightful presence in School of Rock is a 10-year-old, pre-fame Miranda Cosgrove, playing uppity teacher's pet Summer Hathaway. The crafty and collected Summer ultimately becomes one of Dewey's secret band project's greatest assets (after disgustedly rejecting the title of "groupie," of course).
5. Samantha
From: Boyhood
Played by: Lorelei Linklater
Though Samantha's story might live in the shadow of her brother Mason's spotlighted coming-of-age, she is no doubt as important a function of the magnificent story as the "boy" in question. Linklater never allows Samantha to get too sappy or sentimental in tandem with Mason's steps forward. Instead, she serves as one half of a real, tactile American sibling relationship... and a decent Britney crooner in her own right.
4. Darla
From: Dazed and Confused
Played by: Parker Posey
No digs at the wonderful Cynthia, but there is no presence in Dazed and Confused more authentically teenagery and wholly watchable than Parker Posey as the borderline villainous Darla. Posey is strikingly vicious from her very first seconds on screen, but is joyful to watch in such form. She makes what could have been a caricature something familiar and fun.
3. Olivia
From: Boyhood
Played by: Patricia Arquette
Just as amazing as watching young Mason grow and change over the 12-year span of Boyhood's story is watching the same of transformation in his mother, Olivia. Intermittently at odds with her professional goals, her love life, her son, and herself, Olivia is the most challenging character offered by the film. By the same token, she's often the most commanding presence in the story.
2. "Madonna Pap Smear"
From: Slacker
Played by: Teresa Taylor
Gen X's weirdness, as placed on display in Slacker, reaches an all-time high with one particular Austin oddball: the flat-brimmed and bespectacled space cadet touting possession of a bona fide Madonna pap smear. Though onscreen for a few minutes, Butthole Surfers drummer Teresa Taylor singlehandedly embodies everything that Linklater aimed to depict in Slacker, and, you might even say, in the bulk of his filmmaking career in the 1990s.
1. Céline
From: Before Sunrise, Before Sunset, and Before Midnight
Played by: Julie Delpy
The Before movies might well be Linklater's masterpiece, which is in so small way thanks to Céline. She is enchanting without expensing humanity, and grows to be right-minded without ever giving up that her whimsy. She's more valiant, interesting, and funny than any character you'll find headlining a romantic movie these days. What's more, Céline is likely the very best role that Linklater has written, or Delpy has embodied, to date.
All in all, whether they're lounging around the streets of Austin, traversing the dream realm, organizing students' bands, peddling supernatural narcotics, or falling in love in Europe, the women of Linklater's films are always engaging to watch.
Images: Gramercy Pictures (3); Sony Pictures Classics; Fox Searchlight Pictures; Lionsgate; Millennium Entertainment; Warner Independent Pictures (2); Paramount Pictures; IFC Films (2); Orion Classics