Clip Of 'The Danish Girl' Leaves You Wondering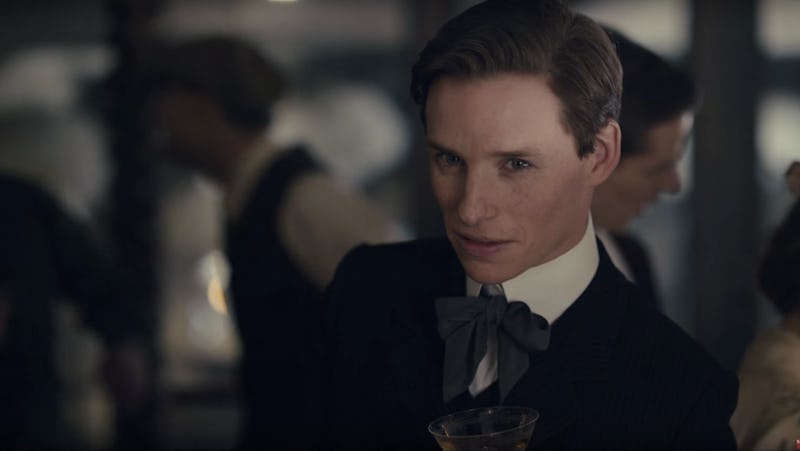 Ever since it was first announced last year that Eddie Redmayne was attached to star in Tom Hooper's big screen adaptation of The Danish Girl, I've been dying to see the film. The story, which follows a decade in the life of Lili Elbe, the first person known to have received gender confirmation surgery, seemed utterly compelling and Hooper, who directed Les Miserables and The King's Speech, seemed like he would be up to telling it well. While there was some controversy surrounding Redmayne's casting, it now seems like the British actor might be in the running for his second Oscar win. The film, which has a limited release on Nov. 27, has an outstanding supporting cast as well, including Alicia Vikander and Amber Heard.
In a new clip from early in the film, we see Redmayne's character and wife Gerda (Vikander) have a playful conversation about their unorthodox first meeting. It was quite the scandalous affair, apparently. Gerda was "flaunting her ankles" and had the gaul to make the first move. It sounds pretty tame by today's standards, but in the Rotterdam in the 1920s, this was not how things usually went down. So, we already get the sense that this is not a couple that will be confined to societal norms.
The clip is excellent, but it leaves so many questions lingering. With another week to go until the film's release, we'll just have to ponder for now, but here's a list of six things I want to answers to.
1. Can Amber Heard Make Us All Flower Crowns?
Seriously. This is fantastic. Who knew flower crowns could look so chic and sophisticated? She makes it look like much more than something your teen cousin wears to a music festival. Flower crowns for everyone!
2. Can Alicia Vikander Be In Every Movie Now?
She is crushing 2015. She's been in great films like Testament of Youth and Ex Machina and she may even be the new Girl With The Dragon Tattoo. She's an amazing actress and let's hope she sticks around for a long, long time.
3. Can I Decorate My Apartment With Tutus?
I think the scene takes place in a theater of some kind, but are tutus still acceptable decor? Because I'm into it.
4. Can We Bring Bowties That Look Like This Back?
Those things were downright dapper. Menswear today can be a bit boring. Let's collectively agree to bring this look back, OK?
5. Can Extravagant Balls Also Be A Thing Again?
I don't know what The Artists' Ball is, but I want to go! It's not fair that we grew up hearing about these fabulous events like balls and the closest most of us will get is going to the prom.
6. But Really, What Do All These Glances Mean?
This clip is filled with so much tension. It's seriously intriguing.
The Danish Girl hits select cities next week and has a wide release in December.