9 Beauty DIYs To Make From Thanksgiving Leftovers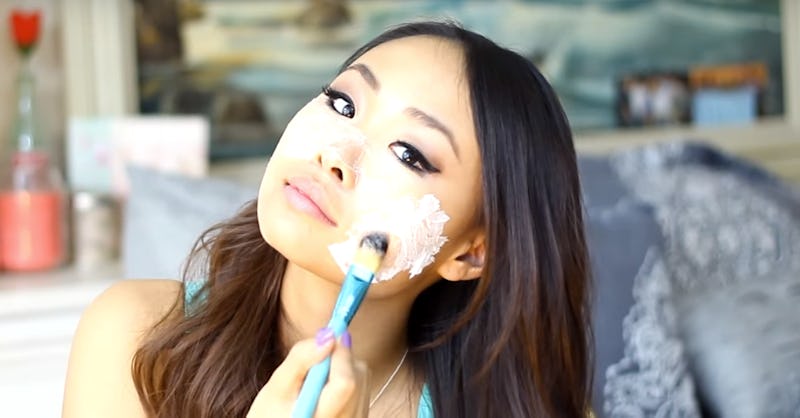 The best part of Thanksgiving is by far the leftovers, but it can get boring eating the same thing for a week after the holiday has ended. Instead turn your Thanksgiving leftovers into DIY beauty treatments, so you can do something interesting will all that day-old stuffing. Now that's something to be thankful for!
In my house, relatives are quick to pack up the good stuff — turkey, gravy, and stuffing — and leave all the less favored sides in the fridge. Although most years I'm left throwing away the congealed cranberry sauce and soggy sweet potatoes a week later, this year will be completely different. Why? Because food-based face masks and hair treatments are super easy to make from Thanksgiving leftovers. Now I can say thanks for those unwanted leftovers and actually mean it!
From sweet potatoes in your hair to pumpkin on your face, you can basically incorporate an entire Thanksgiving feast into your beauty routine. Who knew there were so many ways to use your holiday meal? Just take what you've already got in the fridge, add a few more ingredients, and you're ready to go. Who knows, maybe your family will even want to get in on the post-holiday fun!
1. Jello Hair Dye
Put that leftover dessert to good use and try a new hair trend at the same time! This is the perfect way to try out a bold color without hurting your hair or having to completely commit.
2. Cranberry Face Mask
Does anyone ever eat the cranberries anyway?
3. Sweet Potato Hair Mask
Who knew the secret to smoother hair was hiding on your Thanksgiving table?
4. Nutmeg Acne Mask
Honey, nutmeg, and milk serve as the holy trinity of this acne mask — all things that you have in your fridge thanks to the holidays.
5. Cinnamon & Apple Body Scrub
Nothing says "the holidays" quite like these two ingredients. While you're making your apple pie, make sure to set some aside for this mask.
6. Pumpkin Face Mask
Odds are you have some extra pumpkin laying around, so why not benefit from it?
7. Mashed Potato Skin Brightener
This mask is perfect for irritated skin that you might get after eating a little too much sugar on Thanksgiving.
8. Beer & Vodka Hair Rinse
That hodge podge of random leftover drinks in your fridge is really just a selection of haircare products.
9. Egg-White Blackhead Peel
Sheet masks are expensive, but egg-whites aren't.
So grab your leftover pie and a glass of wine and get to DIY-ing!
Want more beauty tips? Check out the video below, and be sure to subscribe to Bustle's YouTube page for more hacks and tricks!
Images: BabamitsANNE/YouTube