Plus Size Alternatives To Holiday Dresses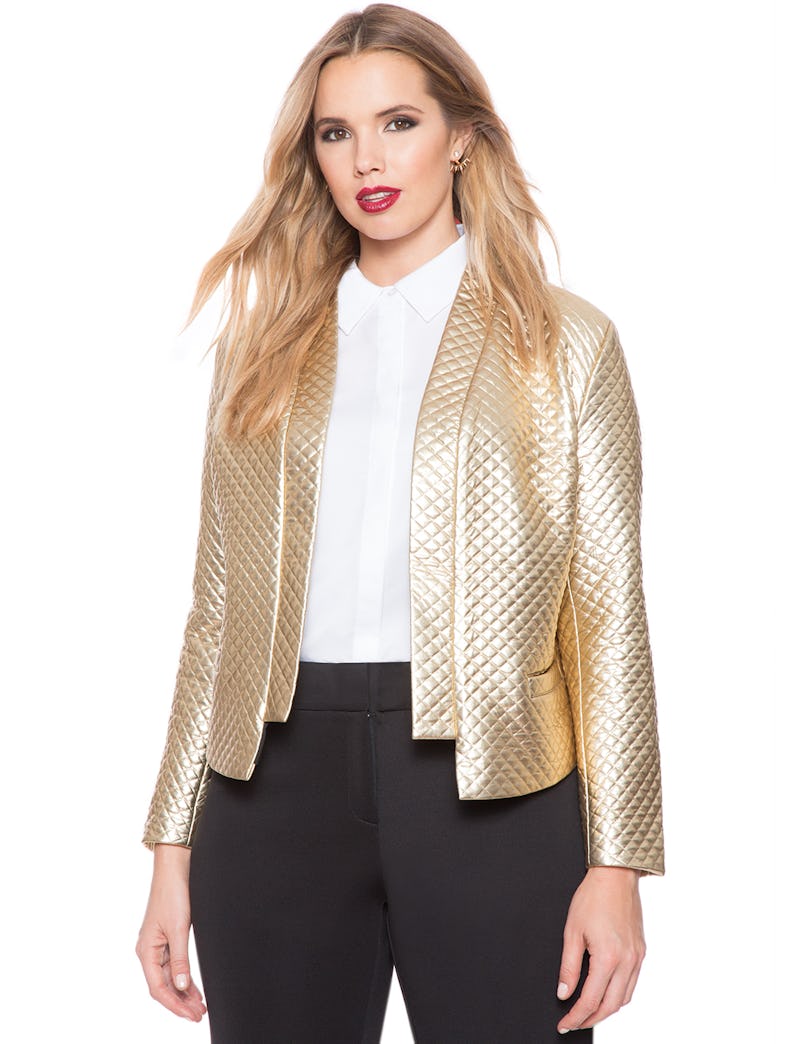 There are usually two schools of thought when it comes to plus size holiday fashion: One is to buy the perfect holiday dress to wear to all your soirees, balls, and fetes. And the other is to find a plus size holiday dress alternative that will take your outfit game to a whole new level.
Personally, I see the value in both approaches. Fancy plus size holiday dresses are easy to find, fun to wear, and give you an excuse to rock sequins, because sequins are always awesome. Then again, it's also fun to venture into the realm of creative holiday dressing: The kind that lets you experiment with garments you'd never normally buy, and figure out how to style them in an awesome new way. For that reason, I tend towards the latter: Instead of buying a holiday dress, I seek out other festive garments to add to my party circuit. Ones that force me to think outside of the proverbial holiday box.
Again, purchasing a holiday dress or 10 is not a bad move, and the most social plus size fashion wizards will definitely find an opportunity to wear all of them. But for those moments when the idea of a dress just seems like a bore, check out these amazing plus size holiday alternatives.
1. The Glam Jumpsuit
The Paloma Fleece Jumpsuit, $128, monifc.com
It's simple, it's chic, and despite the so-called rules that claim big girls shouldn't wear them, jumpsuits have rapidly become a favorite in the plus size fashion world. Pair a simple jumpsuit with a bold necklace and pair of killer heels, or find a more complicated print or silhouette so you can keep the accessories to a minimum. There's no wrong way to pull off this look.
Boat Neck Mid Sleeved Denim Jumpsuit, $250, jibri.com
Checker Lace-Paneled Jumpsuit, $29.90, forever21.com
Overlap Banded Jumpsuit, $110, eloquii.com
2. The Party Ready Romper
ASOS Curve Bell Sleeve Romper in Grid Check, $51, asos.com
It's like a jumpsuit, but perfect for those who celebrate the holidays in warmer climates. I also find that the romper is a great alternative for tall plus size women who worry about jumpsuit hemlines. This way, you can simply pair the romper with a great pair of opaque tights and a fierce set of ankle boots or heels.
Wrap Front Romper, $25, charlotterusse.com
3. The Coordinate Set
Grey Culottes, $51, and Grey Split Vest, $59.90, missguided.com
Coordinates had a big year, and they're still going strong. As someone who appreciates all things matchy-matchy, the coordinate is a trend I can definitely get behind. The best part? The types of coordinated sets available are abundant, from minimal, clean looks to statement florals to tummy-hugging bodycons.
The "Take The Night" Skirt, $69, and Crop Top, $42, zelieforshe.com
"The Hills" Two Piece Midi Skater Skirt Set, $44.50, rebdolls.com
4. The Statement Jacket
Quilted Metallic Jacket, $129.90, eloquii.com
What's the easiest way to wear a pair of jeans to your holiday party and not have your auntie yell at you for not being dressed up? Add an unmistakably fashionable jacket and take your casual outfit to auntie-approved holiday levels. When you're sick of wearing dresses and cardigans, a pair of jeans and a plus size statement jacket are definitely killer replacements.
Plaid Moto Jacket, $78.50, torrid.com
Elvi Prima Grey Sequin Bomber Jacket, $150, elvi.com
Studio Sequin Blazer, $144.90, eloquii.com
5. The Epic Skirt
Studio Sequin Maxi Skirt, $110.90, eloquii.com
Skirts often get overlooked around the holidays, as many people are in search of a seriously festive holiday dress. My advice to you? Don't sleep on the holiday plus size skirt situation. As you can see, there are a lot of really show-stopping numbers out there, and a great skirt also gives you a chance to practice your impeccable styling skills and build an entire outfit around it. May the holiday skirt odds be ever in your favor.
High Waist Floral Brocade Flare Skirt, $140, jibri.com
Red Velvet Skater Skirt, $45, chubbycartwheels.com
See? There are plenty of ways to let your fatshion flag fly this holiday season besides wearing a dress.
Love plus size fashion and want to learn more about the body positivity movement? Check out the video below and subscribe to Bustle's YouTube page for more!
Images: Courtesy Brands