'The Good Wife' Takes On Planned Parenthood Tapes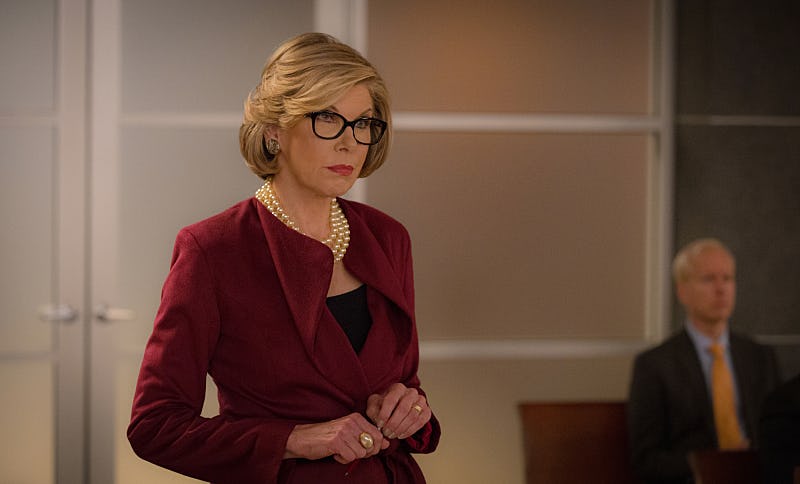 The Good Wife addressed the recent news story of the Planned Parenthood tapes head-on Sunday night. However, instead of directly discussing Planned Parenthood, it focused on a fictional women's clinic that was targeted by a Christian group for selling fetal tissue, though there were many similarities between the real life controversy and the one that played out in The Good Wife 's "Restraint." In this episode, Diane Lockhart, who has championed women's rights on the show in the past, found herself in the awkward position of defending the group releasing the videos, claiming that it was a matter of first amendment rights.
The videos in The Good Wife were extremely similar to those Planned Parenthood videos released in July. The fictional version showed a woman representing a women's health clinic speaking about selling tissue from aborted fetuses over a business lunch. Diane is brought into the case to represent the group trying to "expose" the clinic by releasing the tapes online, as the clinic tries to keep the videos from hitting the web entirely — a legal strategy Planned Parenthood allegedly attempted over the summer. For Diane, an unapologetic pro-choice advocate, representing the anti-abortion side was a tough decision, but one she made on the basis of defending the First Amendment. An honorable cause, perhaps, but also a dangerous one given her political beliefs (not to mention her business with women's groups).
It's an interesting position for Diane, as well as for a female-driven TV show. Instead of making a statement about Planned Parenthood, The Good Wife chose to look at it through the lens of free speech, making it a complex issue for both pro-life and pro-choice supporters.
In the end, Diane got herself thrown off the case so that she wouldn't have to turn her back on the First Amendment or go against her political beliefs. But, her involvement in the case might have already cost her some friends, and cost Lockhart, Agos & Lee some major business.
Images: Paul Sarkis/CBS; Giphy