'GoT's New Poster Doesn't Mean Jon Snow Is Alive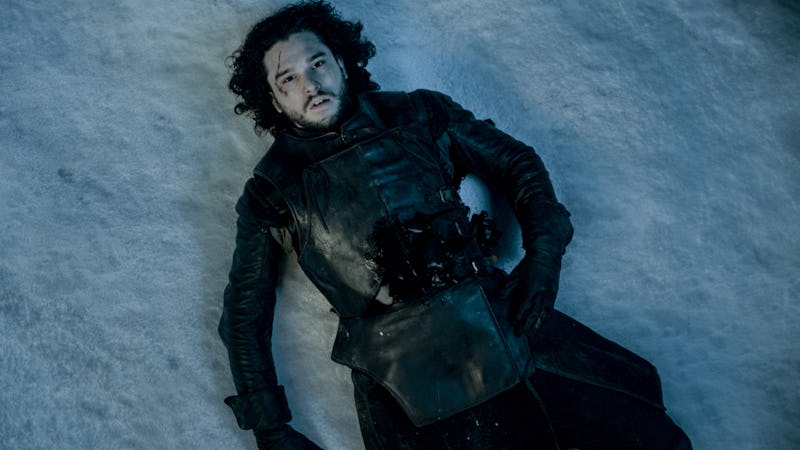 Just in case you were looking for a little something extra to ponder over this Thanksgiving, HBO has treated its fans base with some very interesting news — the potential return of Jon Snow to Game of Thrones ! OK, well technically we still don't know if our beloved Lord Commander is alive or dead. However, given the fact that Jon Snow is featured on the newly released Game of Thrones Season 6 poster, it certainly does seem to provide a little semblance of hope. (After all, why would the series make him front and center of their Season 6 poster if he wasn't going to be a pivotal character throughout the season, right?) But before we all get too excited about what this poster could imply, let's play devil's advocate for a minute here and consider the possibility that this further proves Jon Snow really is still dead.
Now, don't get me wrong, I don't enjoy being the bearer of bad news. In fact, I would love nothing more than to believe that Jon Snow is alive and well. (Or at the very least resurrected.) But the release of this image seems a little too on the nose for it to be considered a confirmation of anything. After all, many members of the Game of Thrones cast, including Kit Harington himself, have assured viewers that Jon really is dead and not coming back. So you'd think that if they were lying, they wouldn't want the cat to get out of the bag before the show returns, which means featuring a Snow-centric poster really wouldn't make any sense.
So could this just be another way the GoT writers are toying with our emotions? I'd like to think that no one (not even Cersei) would be that cruel. However, considering the bloody state that Jon seems to be in on the poster, this could just be a homage to a very beloved (but still very deceased) character. At this point, though, it's really anybody's guess.
Check out the post below and decide where you stand on Jon Snow's fate. We may still be facing a Snow-less season after all, despite the fact that winter is coming.
Image: HBO