'The Night Before' Has The Best Musical Duet Ever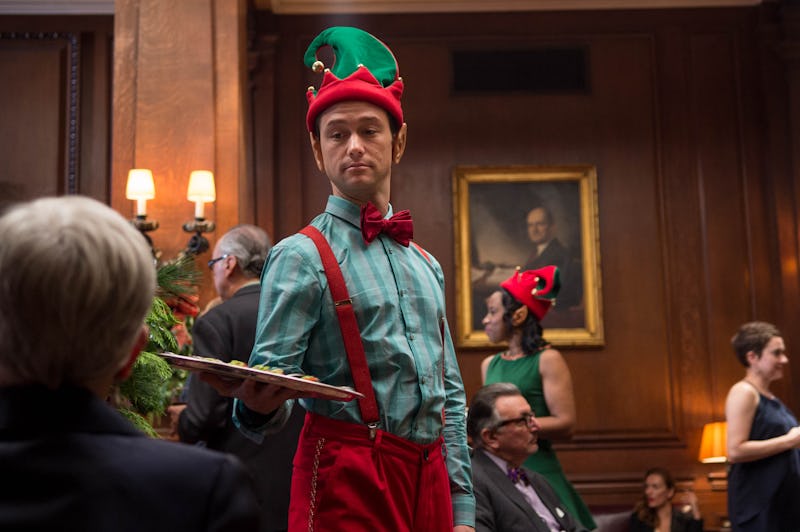 There are many holiday duets out there, but few compare to the one the world witnessed in The Night Before. In one of the most pivotal scenes in the stoner holiday comedy, Joseph Gordon-Levitt takes the stage with Miley Cyrus to sing a stirring rendition of "Wrecking Ball" that's destined to be a holiday classic like "Baby It's Cold Outside." Sure, it doesn't have any lyrics associated with the holiday season, but it's the passion of the song that makes it worthy of the season. The performance in the movie was so awesome that it has many people asking if the Gordon-Levitt and Cyrus duet will be on The Night Before soundtrack. I hate to break the news to you, but there are no plans for a soundtrack for The Night Before, so don't expect to hear that gorgeous song again anytime soon.
Which is so disappointing. Everybody has connected with "Wrecking Ball" at least one time in their lives. As Mindy Kaling says in the Night Before trailer, you can cry to it, you can run to it, and you can party to it. The song is indeed a timeless piece of music. Yet as awesome as the JGL and Miley duet is in the movie, you will only get to witness the magic on screen... or until the film comes out on BluRay or digital download. That's the only way to listen to the duo's angelic voices over and over again.
Bummer, I know — but don't fret! You may not be able to get hold of the memorable "Wrecking Ball" duet any time soon, but you can listen to these covers of the song, which are just as cool.
Haim
The trio puts an indie electro-rock sound to the song. Only the women of Haim can do something like this. Sounds like a totally different song, but still manages to keep that "Wrecking Ball" spirit.
The Dixie Chicks
When are The Dixie Chicks going to make their giant comeback? They need to do it soon, because after seeing their country-infused version of the song, I just want more of them.
Petntatonix
The masters of a cappella did a medley of hits which included a beat boxin' version of "Wrecking Ball" (fast forward to 2:36 if you want to go straight to the song).
Kelly Clarkson
The original American Idol is known for doing covers of hits at her concerts, but she slayed when she belted out Cyrus' ballad.
Anne Hathaway
This is not necessarily a cover of the song considering the Oscar winner was lip syncing — but it is still an awesome performance. From the outfit to the licking of the sledgehammer, she pretty much nailed it (skip ahead to 2:20 to see her rousing performance).
If "Wrecking Ball" isn't considered a holiday song after this, then it is now.
Images: Columbia Pictures (2)