20 Funny Gifts For Feminists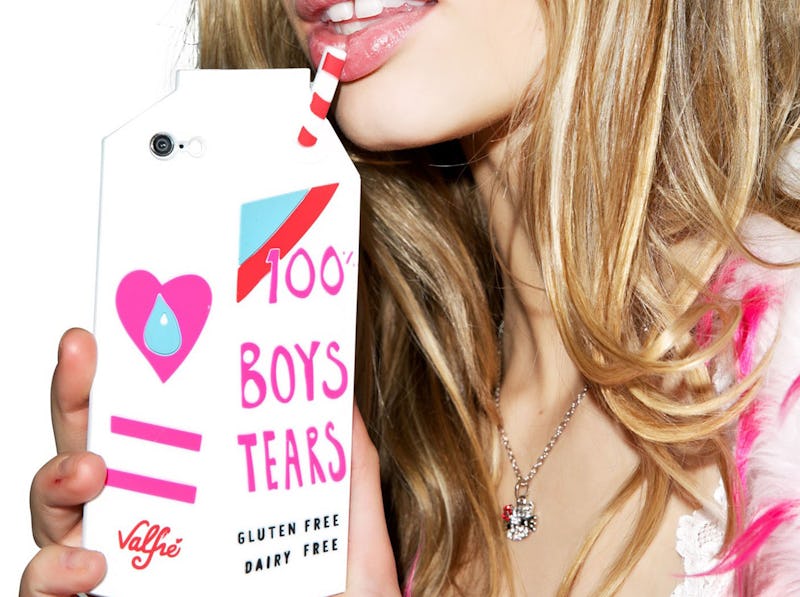 Despite the fact that feminism is incredibly important, being labeled a feminist is still considered controversial by some people. Why? I couldn't tell you, but as these funny feminist gift ideas show, one of the best things we as feminists can do is continue to embrace our fight for equality — and have some fun with the haters along the way.
If you are struggling to think of the perfect present for the feminist badass in your life, struggle no more. Instead of buying a cliche gift for your friend, get her something that makes a bold statement. These feminist apparel pieces and accessories show that we know how to laugh at ourselves and all of the silly stereotypes floating out there in the universe. Any of these options would make an amazing gift that your friend or family member will definitely love. Plus, there is a bonus to impressing them this way: you are helping to spread the feminist message of equality. So let us all use the holiday season to embrace the term "feminist." Here are 20 funny feminist gifts for the badass chicks in your life... or, you know, for your own wish list. Seriously, they are just that good.
1. Statement Earrings
Feminist Earrings, $10, Etsy
If your friend is the type of person who isn't afraid to talk about feminist issues with anyone, and she has a sense of humor about it, get her these earrings. Hey, if you're going to be a feminist killjoy, you might as well be proud of it!
2. A Vagina T-Shirt
Valfre Grow A Pair Muscle Tee, $48, Shop Nylon
Is this not the most perfect feminist shirt ever? It makes a big statement: girls are just as strong, if not stronger, than dudes, so why do we only say "grow a pair" when we refer to balls?
3. A Tote Bag
Because, really, who wouldn't rather eat pizza? I mean, come on. This bag is amazing.
4. A Bold Necklace
Lavender Floral Riots Not Diets Necklace, $15, Etsy
There are way, way more important things to think about than diets. The saying on this contrasts perfectly with the girly, feminine floral pattern behind it.
5. A Statement Tee
After Party Vintage Topless and Free Tee, $48, Nasty Gal
Something doesn't need to scream "feminist" for it to be a perfect feminist gift. This t-shirt makes it clear that the girl wearing it doesn't give an eff about what others think of her... or her boobs. And that's kind of awesome.
6. A Boob Shirt
The Twins Tee, $30, ban.do
Yes, these little smiley face hearts are in the exact spot you think they are. Buy this for the friend who isn't afraid to show off her body, boobs and all.
7. A Badass Phone Case
Valfre Carton of Boys Tears iPhone 6 Case, $21, Dolls Kill
Not only is this phone case amazing, it's the perfect gift for your badass friend.
8. A Girl Boss Mug
Get Her Own Money Mug, $19, Tees In The Trap
Do you know someone who makes her own money instead of relying on other people? I'm SURE you do. Give her this mug to show her just how awesome she truly is.
9. A Badass Tote Bag
Baby Got Books Tote Bag, $25, Feminist Apparel
Because there is so much more to girls than the stereotypes that are out there. Give this to your friend who loves reading and is seriously smart.
10. A Sassy Crop Top
Valfre Beat It Creep Crop Top, $48, Dolls Kill
It's not funny that we have to resort to wearing shirts like this to get weirdos to leave us alone, but it will be funny when you check out the reactions you'll get from wearing this shirt. Ask for it for yourself, or give it to a friend.
11. A Feminist Book
Feminist Ryan Gosling book, $12, Barnes and Noble
Oh, I'm sorry, did you think I meant a serious feminist book? No, I meant this feminist Ryan Gosling book that is actually in no way affiliated with Ryan Gosling other than the fact that it includes cute pictures of him next to feminist quotes. So, really, the best gift ever.
12. A Snarky Shirt
Don't Tell Me To Smile Shark Shirt, $30, Feminist Apparel
Sick of being told to smile all the damn time? Same, girl. Get your friend this perfect t-shirt that should stop dudes from telling her to "smile" everywhere she goes.
13. A Statement Making Backpack
Sugarbaby Not Yours Mini Backpack, $45, Dolls Kill
The person wearing this backpack will remind everyone that she owns her body and herself, and no one else does. The sweet, feminine font and color of the backpack contrasted against the message is what makes me LOL.
14. A Funny Shirt
She Wants The Destruction Of Patriarchy Shirt, $30, Feminist Apparel
Shut down all of those annoying "she wants the D" jokes with this shirt, which explains which "D" she REALLY wants.
15. The Best Tote Ever
Notorious R.B.G. Tote Bag, $25, Look Human
Has there ever been a better tote bag than this? Has there ever been a better feminist gift than this? The answer for both questions is hell no.
16. A Shirt For Smart Girls
This Is Why I'm Hot Shirt, $30, Feminist Apparel
Is your friend hot because she's gorgeous on the outside? Sure, but also because her brain is amazing. Get her this shirt so she can show everything she's got.
17. A Flask
Male Tears Flask, $12, Etsy
Get this for your feminist friend who loves to drink (so, probably all of your friends). It's hilarious, snarky, and seriously badass.
18. A Cool Patch
Au Naturale Patch, $8, Etsy
I don't know if you've noticed, but patches that make a statement are awesome. Give them to the friend who has a very cool sense of style, and can make this look amazing on her jacket, shirt, or bag.
19. A Pillow
Feminist Conversation Hearts Pillow, $26, Look Human
Yassss this pillow is amazing. Also, can we please start a petition to get real, edible conversation hearts that say these things?
20. An Embroidery Hoop
Bitches Get Stuff Done Embroidery, $27, Etsy
Get your fave feminist a decoration that reminds her of everything she can achieve every single day.
For more holiday ideas, check out Bustle on YouTube.