'Young & Hungry' Christmas Has A Special Guest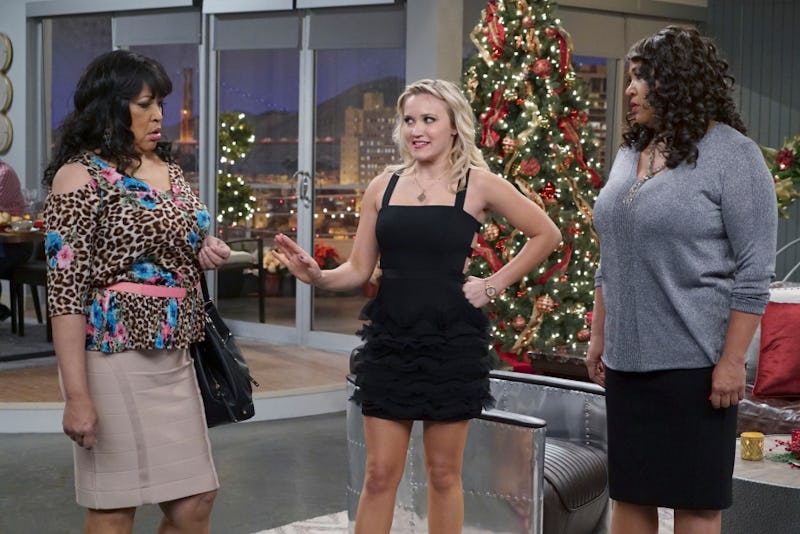 It seems like just yesterday that Gabi and company wrapped up Young & Hungry Season 2 on ABC Family. But, now, they're back and funnier than ever to kickoff the holiday season. The Young & Hungry Christmas special, called "Young & Christmas," premieres Tuesday night and will feature the actress Jackee Harry (227, Sister Sister, and Girl Meets World) as Yolanda's sister — who is named Jolanda. It also sounds like Gabi and Sofia will be getting into some holly jolly trouble during the holidays — and I wouldn't want it any other way.
Even though Gabi ended Season 2 by driving off in a food truck with Josh's brother, this Christmas special takes place outside of the series' usual timeline, according to Hidden Remote, so rest assured that Season 3 will pick up on those adventures next year. Kym Whitley, who plays Yolanda, told Hidden Remote that people often confuse herself and Harry in real life, so they got to have fun with that by bringing her on the show. "This is really our very first time to show the world that we are on the same screen at the same time as we are different people!" Whitley told the publication. "So, for me, it's just going to be fun to see everyone's reaction when they say 'Oh, well they do look alike but they're actually different people.'"
Here's what else you should know before kicking off Christmas with Young & Hungry.
Gabi & Sofia Volunteer At A Homeless Shelter
According to the official press release, Gabi and Sofia can't afford to go home for the holidays, so they decide to volunteer at a homeless shelter on Christmas Eve. No word if hi-jinks ensue, but it's nice to see these ladies giving back.
Yolanda & Jolanda Don't Exactly Get Along
The press release also says Gabi once again butts in and tries to brighten Yolanda's holiday by inviting Jolanda — but these two siblings have a relationship filled with old grievances and secrets.
Sofia Gets A Good Deal (& Guilt)
While Christmas shopping, Sofia gets a deal that's too good to be true — because a department store clerk (played by Mindy Sterling) makes an error that benefits Sofia's wallet, according to the official description.
Alan Won't Be There
Alan, Elliot's hubby, has become one of my favorite characters, but sadly, it doesn't sound like he'll be around for the holidays in the Young & Hungry universe. According to Whitley, Elliot will be "sad and lovesick" without Alan. Aww!
Josh Cheers Up Elliot
According to the episode description, Josh will take it upon himself to cheer up lonely Elliott on Chirstmas. I wonder if karaoke will be involved, because we know how much Elliot loves it. Whatever green suit Josh is wearing in the pic above seems to be definitely involved.
The Special Was Filmed In The Summer
Whitley told Hidden Remote it was kind of weird to film the episode in the summer, but it was still fun. "Let's just be honest, it was a little weird," she said in the interview with a laugh. "You know after Halloween is over you're like 'OK, here we go,' but in the middle of the summer [you're not really thinking about the holidays yet]. So, it was a bit harder. If we had filmed it a bit closer to the holidays it might have been different."
The Final Scene Is Whitley's Favorite
According to Whitley, the episode ends with a very funny and touching scene. "I think the final scene in Josh's apartment at the end is my favorite," she said to Hidden Remote. "All the scenes are really, really funny but that scene has emotions and laughter and really stands out."
Sounds like it'll be a hilarious and sweet Young & Hungry Christmas.
Images: Eric McCandless (7), Ryan Tam/ABC Family