If The 'Pump Rules' Cast Had 'Housewives' Taglines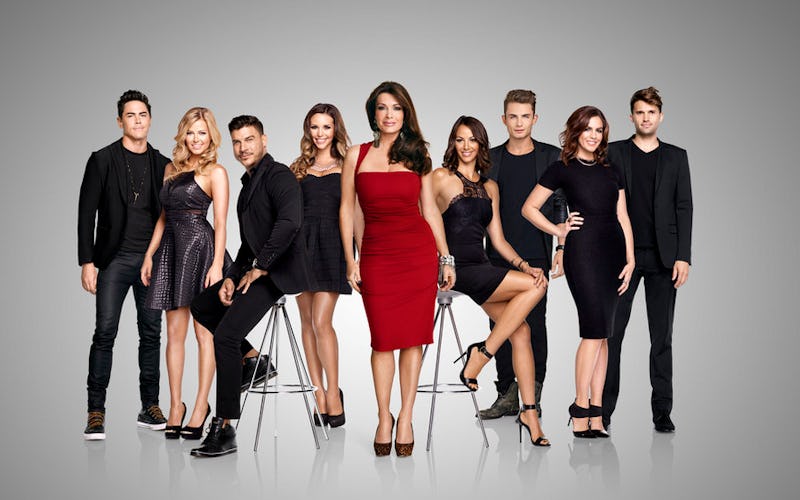 What's your favorite tagline? No, I don't mean from a commercial. Obviously, I'm talking about the Real Housewives taglines. It's hard to choose a favorite. I mean, they're are so many good ones. The famous taglines are a staple for the Bravo franchise and something fans look forward to with every new season. Even during Watch What Happens Live, Andy Cohen asks his guests to come up the tagline they would use if they were ever on Real Housewives. With that said, why not come up with taglines for the cast of Vanderpump Rules if they were on Real Housewives of Beverly Hills along with their boss, Lisa Vanderpump?
It's really hard to narrow down just one for each cast member. They present so much material with each episode, but I think I managed to create the perfect tagline for the employees at SUR. Obviously, boss and queen Lisa Vanderpump is not included, because she already stars on RHOBH. However, if she needed another one, it might be something like this: "I don't have time for stupid and neither does Giggy." I have a feeling she just might use that in the future.
Anyways, here are the taglines I've crafted for each member of Vanderpump Rules. Enjoy, because if I do so say myself, they're pretty glorious.
Jax Taylor
"Commitment isn't in my vocabulary, but plastic surgery and lying is."
Tom Sandoval
"People think I'm a professional bartender, but they don't know the real me until they hear my music."
Ariana Madix
"I'm smarter and prettier than you, so get over it."
Tom Schwartz
"Professionalism isn't my thing, but I sure know how to put a ring around someone's neck."
Katie Maloney
"Serving is my thing — and so is making ultimatums."
Kristen Doute
"I may not work at SUR, but don't worry, I have my T-shirt line."
James Kennedy
"Girls come and go, but DJing is with you forever."
Scheana Marie
"It's my party and I'll cry if I want to."
Stassi Schroeder
"I'm not really sure what I've done to you, but I'll take a Pinot Grigio." (Yes, that is an actual Stassi quote. It's just that perfect, it doesn't need tweaking.)
Did you enjoy the taglines as much as I did creating them? I know Jax did. He's clearly giving me a round of applause.
Images: Tommy Garcia/Andrew Eccles/Bravo; realitytvgifs, bricesander (3), sidewindervx, sleeplesshipster, f**kyeahvanderpumprules, eaidiario, the-sword-in-the-stone (2)/Tumblr