15 Thanksgiving Memes That Are Downright Hilarious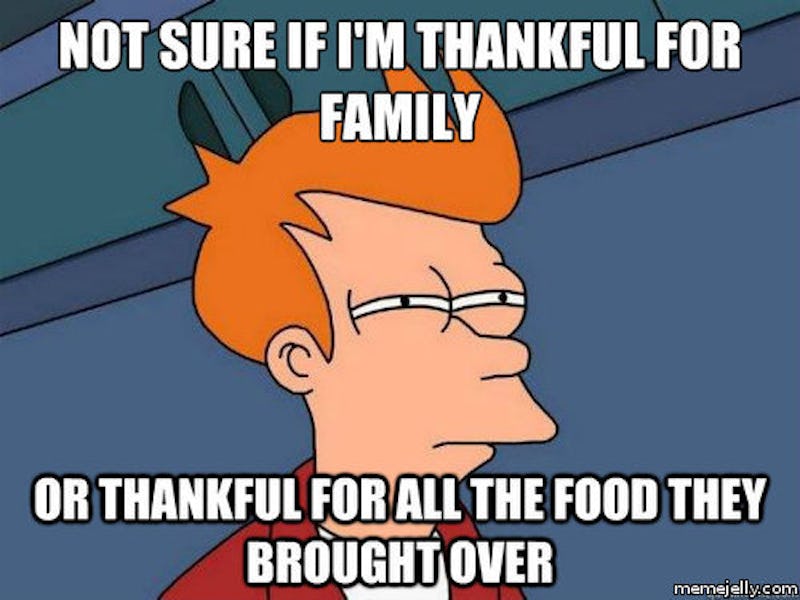 Thanksgiving can be a joyous time, when families come together to celebrate all that they're thankful for, make memories around the dessert table, and bask in the cheer and good tidings of the holiday season. It can also be stressful AF. These funny Thanksgiving memes sympathize more with the latter — not to mention, they give you something to laugh about when, having listened to your drunk uncle spew politics for the last 45 minutes at the table, you feel your eyes glazing over, and your soul shriveling up into a tiny peanut of its former, vibrant self.
Nothing offsets awkward tension and stress better than a little laughter, so should things begin to feel a bit strained at Thanksgiving today, refer to a few giggles to get you through. Show these to your fam, or simply sneak a chuckle by yourself when things start to seem really dire. Or, better yet, share them on Facebook when you want to break up the monotony of all the "I'm thankful for food and family" posts that are about to clog your newsfeed. I mean, you're thankful for all of those things too, of course, but who doesn't love to switch things up?
At any rate, here are 15 memes to help you survive Thanksgiving.
Things I'm thankful for on Thanksgiving: Ryan Gosling.
Real food that's also free.
The difference between me and this Thanksgiving kitty? I never wait for everyone else to get their food before I start eating.
Thankfully, dinner starts at, like, 2:30 in the afternoon.
I wouldn't say that, if I were you....
Joey, on the other hand, has the right idea.
This guy again.
On Thanksgiving, we are all Darth Vader.
Ain't that the truth.
Thankful for both, obviously, but oh man pumpkin pie.
When the worst possible Thanksgiving scenario has happened.
This one resonates so hard, y'all.
A Thanksgiving pun that's music to my ears.
They do, but I'm too busy stuffing my face with seconds to show you how it's done.
Same, TBH.
For more Thanksgiving ideas, check out Bustle on YouTube.
Images: MemeCenter; FunnyThanksgivingImages; Conduit1; The FW; We Know Memes; Memes Happen; Meme Generator; Tumbr